1
Reevaluate Your Agreement If Needed
While it might be a good idea to write down your rules, don't write them in stone. There's always the chance that adjustments will be needed. Class schedules usually change from one semester to the next, bringing new requirements that may affect your dorm mates. Your boss may ask you to start working nights. A roommate takes up yoga and needs a quiet place to practice.
While it may seem frustrating at the time, trying to resolve differences and renegotiate the rules with your roommates is great learning experience. You'll wind up using those same communication and negotiation skills throughout your life -- at work and in your personal affairs.
When working out a new agreement with your roommate, know that effective communication is honest but polite, assertive but not aggressive. Stay on topic and avoid judgments. A willingness to bend can open the door to creative solutions that might be an improvement upon your original agreement.
Author's Note: 10 Privacy Tips for Dorm Living
It's interesting: We live at a time when people post alarmingly intimate photos of themselves on social media, blog on the most mundane details of their daily lives and carry on highly charged conversations on their cell phones in the supermarket. Yet privacy still matters. In fact, because we reveal ourselves in so many ways to so many audiences, willingly or otherwise, we may prize and appreciate the right to privacy more now than ever.
Related Articles
Sources
Arnsdorf, Isaac. "No More New Kid on Campus." The Wall Street Journal. Aug. 5, 2010. (July 31, 2012) http://online.wsj.com/article/SB10001424052748704017904575409203223872556.html

Earlham College. "Computing Resources Acceptable Use Policies." May 27, 2005. (Aug. 2, 2012) http://www.earlham.edu/ecs/html/policies/ecs-aup.html

PayPro Global, Inc. "Lock My Computer -- More Info." (Aug. 2, 2012) http://www.pc-safety.com/lockmc.html

Shades Shutters Blinds. "Sliding Panels and Panel Track Blinds." (Aug. 3, 2012) http://www.shadesshuttersblinds.com/sliding-panels.asp

Verdeyen, Meagan. "Places to Study at Dartmouth." Dartmouth College. 2001. (Aug. 4, 2012) http://www.dartmouth.edu/~acskills/doc/dartmouth_study_places.doc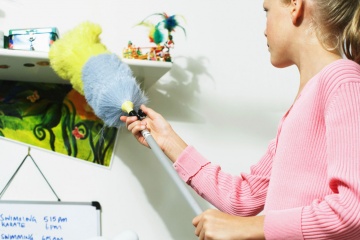 Up Next
If you're not dusting regularly, you're letting all kinds of gross things drift around your living space. Get tips on keeping your dorm dust-free.
---