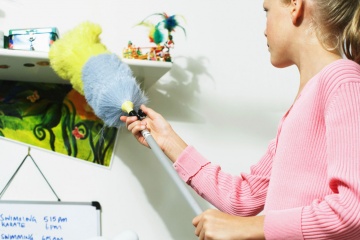 Up Next
If you're not dusting regularly, you're letting all kinds of gross things drift around your living space. Get tips on keeping your dorm dust-free.
---
Author's Note: 10 Privacy Tips for Dorm Living
It's interesting: We live at a time when people post alarmingly intimate photos of themselves on social media, blog on the most mundane details of their daily lives and carry on highly charged conversations on their cell phones in the supermarket. Yet privacy still matters. In fact, because we reveal ourselves in so many ways to so many audiences, willingly or otherwise, we may prize and appreciate the right to privacy more now than ever.
Related Articles
Sources
Arnsdorf, Isaac. "No More New Kid on Campus." The Wall Street Journal. Aug. 5, 2010. (July 31, 2012) http://online.wsj.com/article/SB10001424052748704017904575409203223872556.html

Earlham College. "Computing Resources Acceptable Use Policies." May 27, 2005. (Aug. 2, 2012) http://www.earlham.edu/ecs/html/policies/ecs-aup.html

PayPro Global, Inc. "Lock My Computer -- More Info." (Aug. 2, 2012) http://www.pc-safety.com/lockmc.html

Shades Shutters Blinds. "Sliding Panels and Panel Track Blinds." (Aug. 3, 2012) http://www.shadesshuttersblinds.com/sliding-panels.asp

Verdeyen, Meagan. "Places to Study at Dartmouth." Dartmouth College. 2001. (Aug. 4, 2012) http://www.dartmouth.edu/~acskills/doc/dartmouth_study_places.doc