We love creative groupings on tables and shelves -- and on mantles and windowsills -- even on the floor. Piles of pillows and clusters of candles make a home cozy. If the home is small, though, decorative displays can appear muddled and chaotic. Even expensive pieces can start to look like garage sale fodder if there are too many of them. To avoid giving your studio apartment a jumble sale look, provide open spaces where the eye can rest, and be selective about the objects you display. Choose one distinctive piece over a large collection of smaller pieces. If you do use groupings, make sure they share features in common, like a shape, color or texture. Vary the height of objects in a group, and keep groupings to three objects or less.
Related Articles
Sources
Bernstein, Fred A. "A Studio That Refuses to Think Small." 3/30/06. (1/18/11).http://www.nytimes.com/2006/03/30/garden/30pica.html?8hpib

Better Homes and Gardens. "Making Small Rooms Seem Big." Undated. (1/18/11).http://www.bhgrealestate.com/views/live/makeover.aspx?id=170

Gillingham-Ryan, Maxwell. "Ten Tips for Small Spaces." Apartment Therapy. 2006. (1/18/11).http://www.rentaldecorating.com/0406/ten_tips_for_small_spaces.htm

HGTV.com" Less Space Doesn't Mean You Can't Have More Style." Undated. (1/18/11).http://www.hgtv.com/decorating/less-is-more/index.html

Hillstrom, Susan Boyle. "The Smart Approach to Small-Space Living." Federal Marketing Corp. 2007

Langdon, Libby. "Libby Langdon's Small Space Solutions: Secrets for Making Any Room Look Elegant and Feel Spacious on Any Budget." Knack Publishing. 2009

Harris,Pamela Cole. "Arranging your Living Room Furniture." Life Organizers. Undated. (1/18/11).http://www.lifeorganizers.com/cm_articles/17_arranging_your_living_room_furniture_201.html

Oberlin College. "Interesting Facts about Recycling." Undated. (1/18/11).http://www.oberlin.edu/recycle/facts.html

Walton, Stewart and Sally Walton. "The Complete Home Decorator." Anness Publishing Ltd. 1997

Watkins, Carol E. MD "Seasonal Affective Disorder: Winter Depression." NCPAMD. 12/11/04. (1/18/11).http://www.ncpamd.com/seasonal.htm

Weiner, Rachael. "Studio Apartment Decorating Tips." 12/29/09. (1/18/11).http://ohmyapt.apartmentratings.com/studio-apartment-decorating-tips.html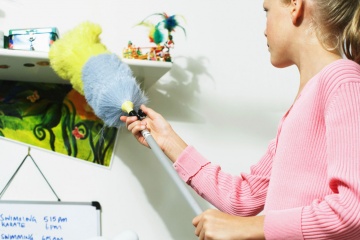 Up Next
If you're not dusting regularly, you're letting all kinds of gross things drift around your living space. Get tips on keeping your dorm dust-free.
---