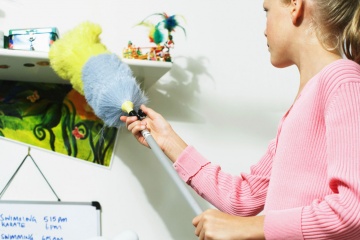 Up Next
If you're not dusting regularly, you're letting all kinds of gross things drift around your living space. Get tips on keeping your dorm dust-free.
---
Author's Note: 5 Dorm Room Accessories You Really Do Need
Last year, all three of my kids were in college, so I had a pretty good idea of what the top 10 or 15 dorm room accessories would be. But it was interesting to discover the truly critical items -- and to realize how much things have changed since I was in college. Who else remembers how cool the long-gone hot pots were? And I'd rather eat popcorn made in a hot-air popcorn maker than a microwave any day!
Related Articles
Sources
Beginner's Guide. "Dorm Room Essentials." (June 19, 2012) http://www.beginnersguide.com/college/dorm-room-decor/dorm-room-essentials.php

College and Finance. "18 Overlooked Things Everyone Should Bring to College." (June 19, 2012) http://www.collegeandfinance.com/18-overlooked-things-everyone-should-bring-to-college/

College Bound. "Top 10 Dorm Room Must-Haves." (June 19, 2012) http://www.collegebound.net/content/article/top-10-dorm-room-must-haves/19691/

Consumer Search. "How to Buy a Mini Fridge." August 2011. (June 21, 2012) http://www.consumersearch.com/mini-fridges/how-to-buy-a-mini-fridge

Dorm Smart. "Dorm Storage Supplies Tip: Raising Your Dorm Bed + Storage Bins = Lots of Dorm Storage Space; A Great Underbed Solution For Organizing A Small Dorm Room." (June 21, 2012) http://www.dormsmart.com/Storage-Organization-_c_1189.html

Grannis, Kathy. "Back-to-School Sales Expected To Be Flat As Parents Practice Restraint, According To NRF." July 21, 2011. (June 19, 2012) http://www.nrf.com/modules.php?name=News&op=viewlive&sp_id=1157

PR Newswire. "Is There A Mouse In My ... Dorm Room? d-CON(R) Offers Tips for a Mouse-Free Semester." (June 20, 2012) http://www.prnewswire.com/news-releases/is-there-a-mouse-in-my--dorm-room-d-conr-offers-tips-for-a-mouse-free-semester-76721862.html

Rosenfeld, Laura. "The Ultimate Dorm Accessories Guide!" Seventeen. (June 19, 2012) http://www.seventeen.com/college/dorm-accessories#slide-1

Student Advisor. "10 Best Dorm Room Products." Oct. 14, 2010. (June 19, 2012) http://blog.studentadvisor.com/StudentAdvisor-Blog/bid/46649/10-Best-Dorm-Room-Products

Switched. "10 Must-Have Dorm Room Gadgets." Aug. 10, 2007. (June 19, 2012) http://www.switched.com/2007/08/10/10-must-have-dorm-room-gadgets/

Szewcow, Gabriela. "The Top 10 Things No One Told You to Bring to College." Her Campus. Aug. 11, 2011. (June 19, 2012) http://www.hercampus.com/dormlife/top-10-things-no-one-told-you-bring-college

The Container Store. "The Dorm Room Basic Six." (June 21, 2012) http://www.containerstore.com/tip/college/basicsix

The Dormitory. "What to Bring to College." (June 21, 2012) http://www.thedormitoryonline.com/WhattoBringtoCollege.html

Wal-Mart. (June 21, 2012) http://www.walmart.com/search/search-ng.do?search_query=dorm+room+size+refrigerator

Xatal. "108 College dorm necessities to have on your checklist." Aug. 11, 2008. (June 19, 2012) http://xatal.com/life/108-college-dorm-necessities-to-have-on-your-checklist/

Xatal. "Why you should wear flip-flops in college dorm showers." Oct. 29, 2008. (June 21, 2012) http://xatal.com/college/why-you-should-wear-flip-flops-in-college-dorm-showers/