Some of the most fun you'll have in dorm life are the impromptu gatherings of several people cramming into a small dorm room. And as soon as your first guest drops in, you'll be glad you spent time opening up your dorm space. But you'll want to be prepared with plenty of places to sit. The problem is, how do you have a hospitable dorm room with plenty of seating when you've downsized your furniture to open up your space?
College students are usually game for sitting on the floor with small cushions. Bean bags are standard dorm furniture, but they tend to take up more space than they're worth. Modest floor cushions, on the other hand, can be stowed away pretty easily when not in use.
Designers also solve this problem by recommending foldaway chairs. These foldaway chairs are even more hospitable than floor cushions. You can impress your parents with them, and spare dear old mom and dad from having to crouch on your bunk bed. Small, simple wood or sturdy plastic chairs are preferable to large polyester chairs or cold metal folding chairs.
Related Articles
Sources
Augustin, Sally. "Place Advantage: Applied Psychology for Interior Architecture." John Wiley & Sons, 2009. (July 30, 2012) http://books.google.com/books?id=hoRooqUJwVsC

Holt, Linda. "Does This Color Make My Room Look Big?" LindaHoltInteriors.com. May 15, 2012. (July 30, 2012) http://www.lindaholtinteriors.com/2012/05/does-this-color-make-my-room-look-big/

Lowes. "Ten Ways to Make a Small Room Look Larger." Lowes. (July 30, 2012) http://www.lowes.com/cd_Ten+Ways+to+Make+a+Small+Room+Look+Larger_506205068_

Mee, Brad. "Design is in the Details: Living Spaces." Sterling Publishing Company, Inc., 2005. (July 30, 2012) http://books.google.com/books?id=MzX1djPyVEUC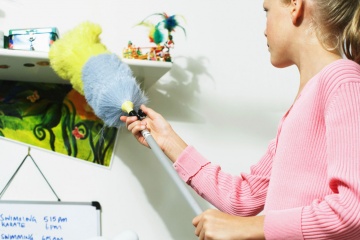 Up Next
If you're not dusting regularly, you're letting all kinds of gross things drift around your living space. Get tips on keeping your dorm dust-free.
---