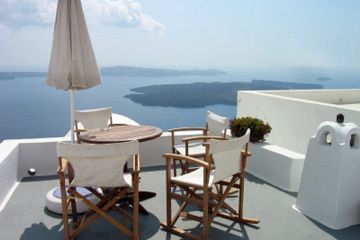 A patio can be a perfect place to bask in the sunshine or rest in the shade. Here, deck chairs and an umbrella sit on a minimalist patio with and an astonishing view of the caldera of the Santorini volcano.
Dappled shade keeps this patio cool, and it overlooks a manicured garden with stone walkways. Intricate scroll work adorns the table and chairs.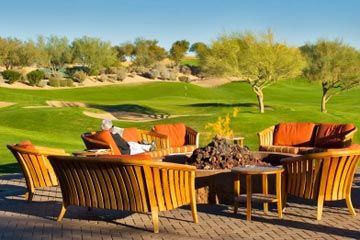 The view can be one of a patio's most appealing features. Here, a fire pit surrounded by wooden, cushioned chairs overlooks a golf course in Scottsdale, Ariz.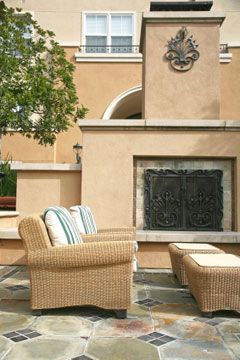 iStockphoto.com/Terraxplorer
The wicker-like texture of these chairs complements the neighboring fireplace at an apartment complex in San Jose, Calif. Accents in the stonework also pick up the color of the furnishings.
iStockphoto.com/Elenathewise
A bench can provide a quiet resting place along a garden path. Here, brightly blooming flowers provide all the décor for a seating area in a formal garden.
iStockphoto.com/Elenathewise
A single Adirondack chair looks out over a natural stone pond. Hanging flowers provide a colorful accent.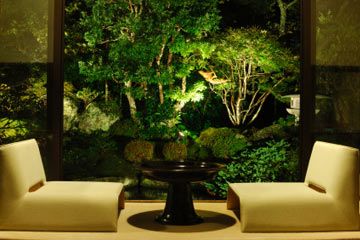 A Japanese luxury looks out onto an illuminated Japanese garden and pond at night. Carefully manicured trees frame the scene.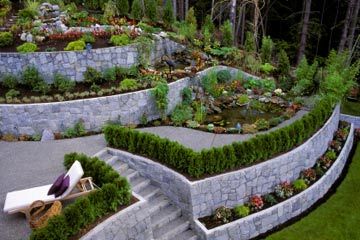 iStockphoto.com/laughingmango
Stone retaining walls do dual duty here, holding back the soil while creating a beautiful, terraced garden. Dark pillows provide a dramatic accent on a white chaise longues.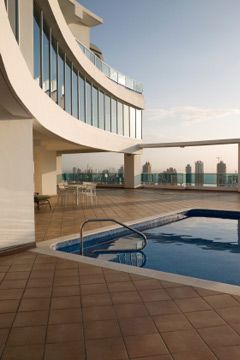 Not all patios are at ground level. This rooftop patio frames an urban swimming pool.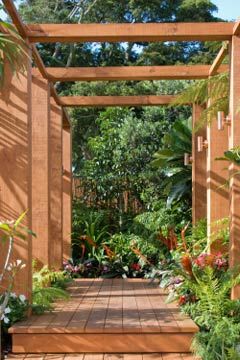 iStockphoto.com/K9woolley
Wooden beams provide the framework for a hanging garden. A collection of low, medium and tall plants grows outside the deck's surface.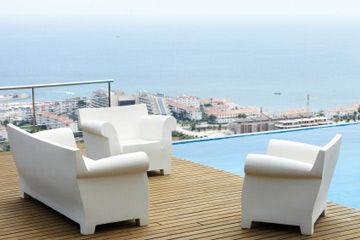 iStockphoto.com/evilknevil
Modern white furniture and a minimalist arrangement creates a striking rooftop patio overlooking the sea.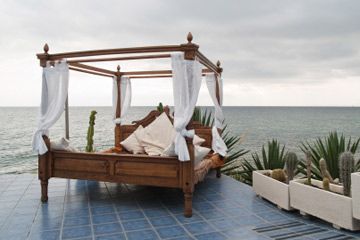 This seaside patio has an unusual furniture feature -- a bed. The blue tile complements the color of the sea.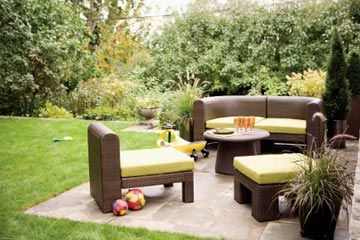 iStockphoto.com/MentalArt
A few accents can make an ordinary backyard into a colorful, restful area. Here, yellow cushions set off chocolate brown furniture.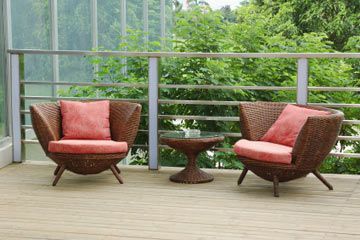 Simple wicker chairs accented with red cushions decorate an elevated patio.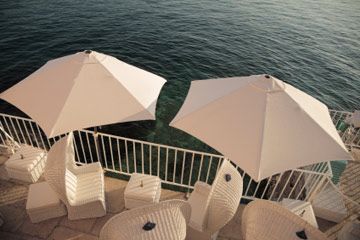 Cream-colored furniture and linen umbrellas make this oceanfront deck look fresh and appealing.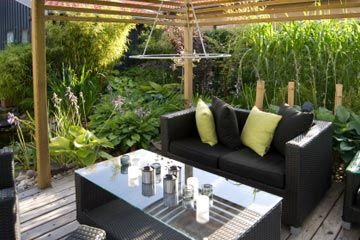 iStockphoto.com/Eirasophie
Small spaces are no deterrent to impressive patio décor. A couch and accent cushions sit in front of a reflective table on a covered patio.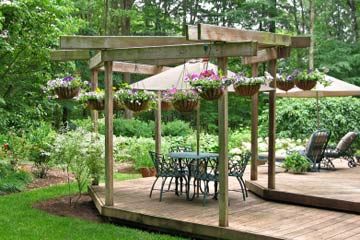 iStockphoto.com/tinabelle
Hanging baskets of petunias completely surround the seating area on one corner of a wooden deck. Umbrellas shade other parts of the deck.