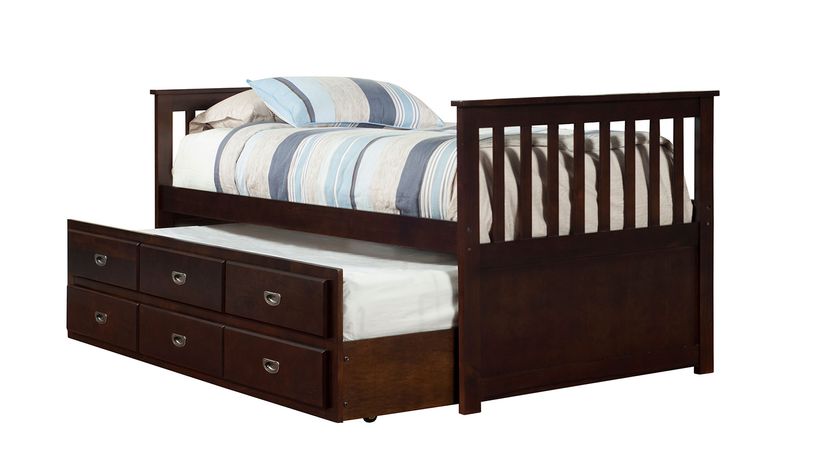 When selecting a trundle bed, the bed's frame type and style are the most important considerations, along with the mattress.

The cost range is roughly $100 to $600.

Some trundle beds require assembly.

Trundle beds are typically taller (parent bed) and lower (lower bed) than a regular bed, and may not be appropriate for people with mobility issues.
A trundle bed is a mattress on a bed frame, typically set on castors that can be rolled or slid underneath a taller bed. While most trundle beds are designed to fit under a twin bed, some tuck under full-sized beds, bunk beds, daybeds or lofted bed systems. Trundle beds are great space savers, as you only need to pull them out when in use. They're popular options for kids' sleepovers, overnight guests and for use in small quarters, such as studio apartments. The beds come in a wide range of styles, from modern to rustic.
Trundle Bed Construction
Most trundle bed frames are made from either solid wood or metal, the two sturdiest materials. If you prefer the look of a wooden bed, oak and mahogany are good choices due to their durability. Wooden trundle beds sometimes come equipped with drawers for extra storage. Metal frames are lighter than wooden ones and easier to move around. They're also less expensive. Due to a trundle bed's construction — a lighter mattress on a bed frame — they generally can't withstand heavy weights, which is one reason they're popular for kids.
Trundle Bed Size and Mobility
Trundle beds are typically twin-sized, with mattresses measuring 38 x 75 inches (96 x 190 centimeters). But if you're purchasing one as a space saver, remember that you will need double the space on the floor when the bed is pulled out and in use. Since most trundle beds come with castors, they're easy to roll out on hard floor surfaces. However, they may be a little more difficult to maneuver on carpeting. Check to see if the one you're eyeing has wheel locks, which keep the bed from sliding around. While trundles under couch-like daybeds are a great choice for living rooms or offices, remember that if you set a heavy piece of furniture in front of it (e.g., a bulky coffee table), you'll have to move it every time you use the bed.