A recreation room is the perfect place to express your fun side with family and friends. The typical rec room has a nice mix of games like pool and ping-pong, and many have a home theater and entertainment system. Paying homage to a particular era can add some playful style. Here are 10 blast-from-the past ideas to spice up your rec room.
Nothing like a little flower power to take you back to the '60s. A rec room with a laid-back hippie vibe will ensure a cool atmosphere in your chill-out space. Shag carpet is a must, and don't forget plenty of bean bag chairs. Psychedelic posters, daisy chain curtains and some tie-dye prints scream Woodstock. And what '60s rec room would be complete without a few lava lamps? Finally, add a vintage turntable to complement your modern entertainment system and you'll be ready to turn on, tune in and drop out. Yeah, baby!
Disco was the hottest thing in the 1970s, and you can create that same burn, baby, burn vibe in your rec room for a little Saturday Night Fever fun. No disco room would be complete without the requisite spinning disco ball and, of course, plenty of space to boogie. A great sound system is a must if you're going to be cranking the Bee Gees all night long. Frame some '70s albums for the walls and dust off that old fondue set. Bell-bottoms optional.
The Old West may conjure up images of tumbleweeds and quick draws, but turning your rec room into a Western saloon can be a slightly more civilized undertaking. If you're going for a saloon look, don't skimp on genuine items like swinging saloon doors and a big wooden bar. Touches like Old Western bar stools and a tin ceiling can add authenticity. Frame some old "wanted" posters, and hang a set of bull horns on the wall. If you've got some extra dough, a player piano can round out your theme. Then, invite your cowpokes over for a cold sarsaparilla.
"Happy Days" and "Grease" may have been made in the '70s, but it was clear people still yearned for the days of sock hops and soda fountains. You can capture the 1950s era with diner decor. Start with a jukebox stocked with plenty of period music. An ice cream parlor vibe is perfect for the main hangout area. Add a real soda fountain for period detail, neon signs and a few retro chrome tables with vinyl tops. Vintage accessories like Pepsi or Coca-Cola bottles will complete a rec room that even the Fonz would give a thumbs-up.
The '80s was a much-maligned decade, thanks to parachute pants, break dancing and Cabbage Patch dolls. But that doesn't mean you can't have some fun with an '80s-inspired rec room. A wall of full-size vintage video games is a must. "Flock of Seagulls" and "Duran Duran" posters are a nice touch. Rather than blast MTV out of a television with an actual picture tube, buy some music video DVDs from the era to play on your flat screen. Then get a jar of quarters ready and call your friends.
Thanks to the hit television show "Mad Men," the late '50s/early '60s era is back with a bang. Make your rec room a vintage space-age bachelor pad that The Brat Pack would be proud of. Clean lines and mid-century furniture should be the focal point of your design. Shop thrift stores and Craigslist for retro-groovy accessories like an RCA radio. Break out your martini shaker, throw some Sinatra on the hi-fi and remember -- you're nobody till somebody loves you … and your rec room.
4
Take Me out to the Ballgame
Ladies, don't surprised if your husband has a desire to turn your family rec room into a classic Major League ballpark. Old-school baseball parks have made a comeback as stadium architects shun modern designs in favor of classic looks. If you want the same style for your rec room, start with popcorn and cotton candy machines. Team pennants and other baseball memorabilia should adorn the walls. And there's no better way to capture the sights and sounds of an afternoon ballgame than with a flat screen television. Accessorize with baseball mitts and Cracker Jack boxes for the seventh inning stretch.
3
It Don't Mean a Thing if It Ain't Got That Swing
Swinging grooves filled the air in the 1940s and '50s jazz clubs in Manhattan, Miami Beach and Los Angeles. Dizzy Gillespie and Ella Fitzgerald mesmerized audiences, and you can, too, in your own jazz-themed rec room. Think retro-lounge vibe with plenty of velvet and mood lighting. If you want to throw in a little Miami, add some pink flamingos and palm fronds. If your jazz look is more Cotton Club, ditch the beach accessories and go with some classic jazz prints and performance posters. Make sure you have plenty of be-bop on hand and some room to cut a rug if the spirit moves you.
2
And We'll Have Fun, Fun, Fun
The beach scene of the early 1960s was known for its modern styles and laid-back feel. Think Gidget and her itsy bitsy teeny weeny yellow polka-dot bikini. Hang a vintage longboard on the wall, or repurpose it into a coffee table. A bamboo tiki-bar is the perfect spot for refreshments, and a wave machine is a nice touch for background ambience. Have some fun props on hand like beach balls and period beach blankets. Leave your flip-flops at the door and hang ten.
Not all retro rec rooms have to go back 30 or 40 years or more. If you look into the not-too-distant past, you may be inspired by a music movement that was all about shaggy hair, flannel shirts and distorted guitars. For a 1990s grunge theme, channel your inner Kurt Cobain and repurpose those old flannel shirts into curtains. Decorate with rock posters for a dive bar feel, with a pool table and dart board for gaming fun. Microbrew beer on tap is a must, as is an ample stereo system. Then just load up your Pearl Jam CDs, crank the volume and prepare to rock. Hold the mosh pit.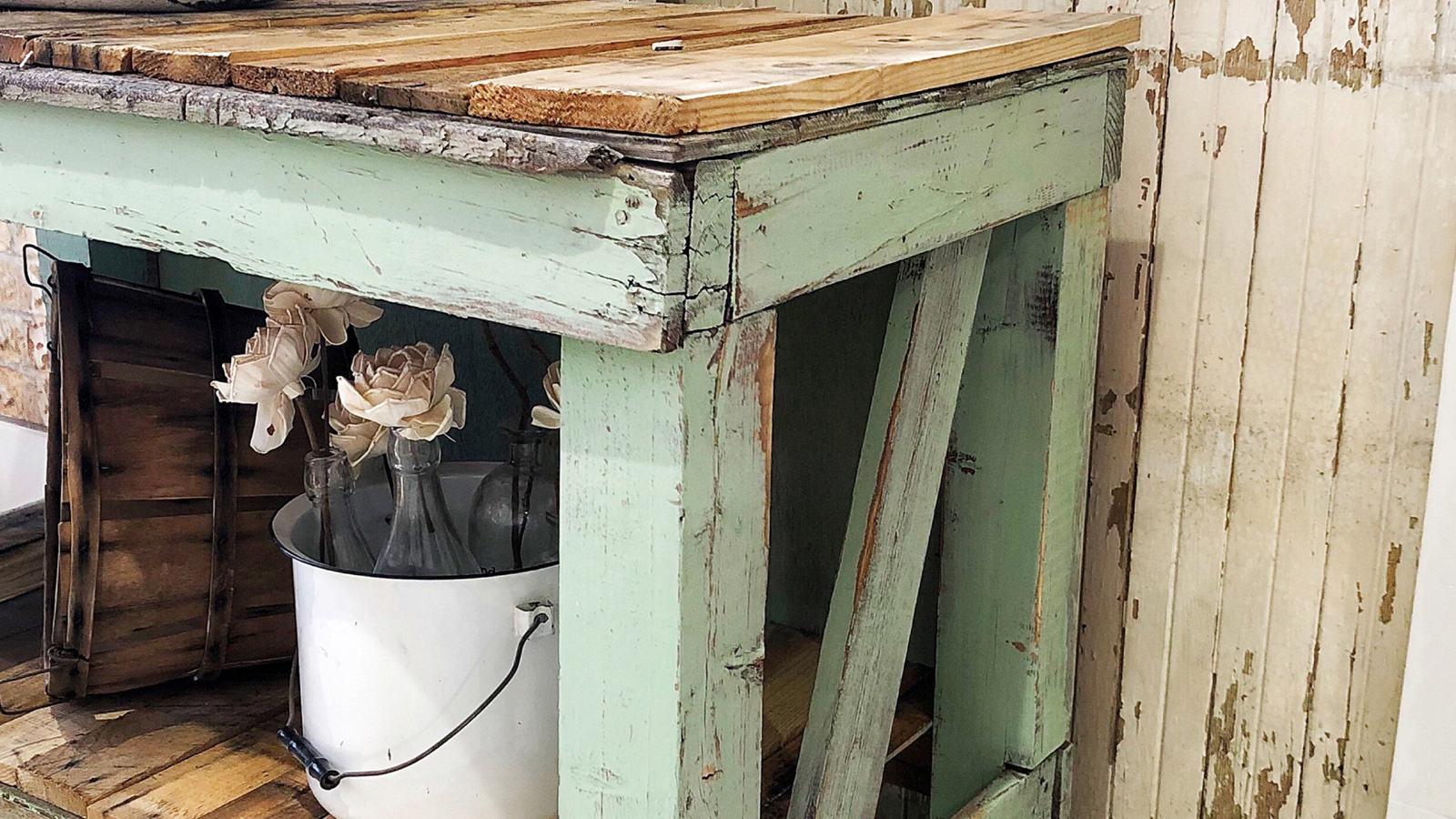 Up Next
Milk paint is the super inexpensive and easy to both make and use. HowStuffWorks looks at this trendy paint alternative.
---
Related Articles
Sources
"Mother McCree's Uptown Jug Champions," musicbox-online/com, May 1999. 7/22/10.http://www.musicbox-online.com/gd-mcree.html

"60s Theme Party Ideas." fun-theme-party-ideas.com, 2010.http://www.fun-theme-party-ideas.com/60s-theme-party.html

"Beach Blanket Bingo." imdb.com 2010.http://www.imdb.com/title/tt0058953/ "Decorate with Coca Cola Old Style." toy-train-table-plans-store.com, 2010.http://www.toy-train-table-plans-store.com/retro-collectables.html

"Elvis Presley Box Office." the-numbers.com, 2010.http://www.the-numbers.com/people/0EPRE.php

"Old West Saloon Basement." hgtv.com, 2010.http://www.hgtv.com/decorating/old-west-saloon-basement/index.html

"Outlaws, Gunfighters, Lawmen & More." legendsofamerica.com, 2010. http://www.legendsofamerica.com/loa-outlawsandlegends.html

"Take Me Out to the Ballgame!" National Institutes of Health, Department of Health & Human Services, 2010http://kids.niehs.nih.gov/lyrics/ballgame.htm

http://bucknergarcia.com, 2010