You update your wardrobe each season, but what about your home? Just like fashion design, home design changes with the seasons, and new trends arrive each year. You may pick up an accessory here and there while browsing in Pottery Barn, but have you really considered the look you are trying to achieve? Before your next house-dressing splurge, take a moment to consider your home's design as a whole. If you take time to determine what fashion statement you're making, you can purchase with purpose. If you're not up to speed with the latest trends, don't worry. We've compiled a list of the top 10 cutting-edge design trends to help you get started. If home decor had a runway, these trends would steal the show.
Organization isn't a new trend, at least not for everyone. But what is new about organization is its new-found style. Organizing has recently become a visible part of home design, and with the increasing number of telecommuters, home offices are staples in most homes. Instead of keeping things locked away in closets, designers now incorporate file boxes, storage bins and desktop organizers in a room's decor, leaving everything at your fingertips. Cute containers are now available in bright, bold colors and fun, colorful prints. If you can't find the right organizer to mesh with your style, innovate by repurposing a reclaimed object like an old bread box for keeping your products all in one place.
9
Salvaged Building Materials
If you've ever built a house, you're well aware that many mistakes can happen. But, what you may not know is those shelves that were ordered by mistake could end up in a landfill because they can't be returned to the manufacturer. Enter the latest trend in green home design -- salvaged building materials. You can find everything from exotic wood floors and cabinets to refrigerators and plumbing materials at your local salvage lot. If you can't find a salvage lot nearby, check online. Not only is this trend green, it's budget-friendly too, as these materials are often sold at a fraction of retail price. But you have to be willing to put in the time it takes to find that perfect piece and understand you might be salvaging something that's damaged, like a chandelier with bad wiring.
Minimalism is sleek, simple and easy on the wallet. If your life needs a bit of de-cluttering, pay attention to this design trend, because it focuses on the necessary elements of a room. Minimalists don't waste their design budget on unnecessary accessories. You won't find extra throw pillows, adorned lamps, or decorative knickknacks in a minimalist space. Instead, they invest in things like elegant hardwood floors and furniture with beautiful lines and classic colors. Minimalism isn't for everyone, though. Many find the lack of accessories to be harsh or cold.
7
Unusual Floor and Countertop Applications
Everyone today is striving to be different, so it's no surprise unique materials are popping up in the world of home design. Whether it's rustic wood countertops in the kitchen, volcanic slab countertops in the bathroom, or cork, concrete and exotic wood flooring, the possibilities for making a statement are endless. Your budget will help you determine which of these materials is right for you. Exotic woods and volcanic slab can be quite expensive, but cork and concrete are easier on the wallet.
Outdoor living has come a long way from Ralph Waldo Emerson's "Walden Pond." There's no "roughing it" outdoors these days. Instead, designers are finding inspiration indoors and bringing it outside, including everything from flat-screen TVs and overstuffed couches to billowing curtains, outdoor kitchens and walls of shrubbery that give the illusion of a room. Designers have even found ways to extend the outdoor living season by adding ceiling fans, heaters and outdoor fireplaces. The sky is literally the limit for your outdoor space design.
5
Colorful Prints and Pops of Color
You've seen it on the runway; now bring it into your living room. Colorful prints and pops of color can add spice to your room and your attitude. If you're in need of some inspiration, try using your favorite couture fashion design as a mood board for your room redesign. Just be careful not to overdo it. Pick a few things to deck out in color like throw pillows and curtains or a great piece of artwork and a colorful rug.
If flipping through design magazines and trying to decide on your style has you running to the doctor to cure your designer's ADD, don't worry. Now, you can call yourself a trendsetter. Mixing and matching colors and styles is a popular trend in home design. There's no limit to the pairing possibilities. Have fun with your combinations. Whether it's a variety of textures and unexpected colors or a mash-up of country and modern minimalism, indulge in everything you love. Embrace your lack of decision-making skills and create your own eclectic style.
If you're intrigued by the idea of energy-efficient lighting, but worried about the hassle of disposing of fluorescent lights, LED lighting is your answer. LEDs give off less heat and last much longer than regular incandescent light bulbs. Not only will they save you money over time, they can help you create an exciting design statement with creative applications in chandeliers and other lighting accessories. Although they are a bit expensive upfront, LED lights have an incredible lifespan and are the most economical choice over time.
Add some sparkle to your home by embracing metallic accents. Walls, kitchen backsplashes and accessories are all blank canvases awaiting a little touch of shimmer. Even the smallest touch of sheen could be just the thing to update your style. We love all of the metallic wallpapers by British designer Villa Romo, especially this cheeky raspberry and silver number. It would make a great accent wall, if you're daring enough to try it.
We've been hearing the trumpet sounds about going green for several years now, and it is finally starting to catch on. Everywhere you look there are green, sustainable options for your home. Whether it's using rapidly renewable materials like bamboo flooring, adding energy-efficient lighting and appliances, or reusing and repurposing found objects, this design trend can help you reduce your carbon footprint and really make a difference. The increased demand for eco-friendly design has produced beautiful materials to choose from. Features such as recycled glass countertops and artwork made from salvaged wood and metal will help you create a striking and sustainable space.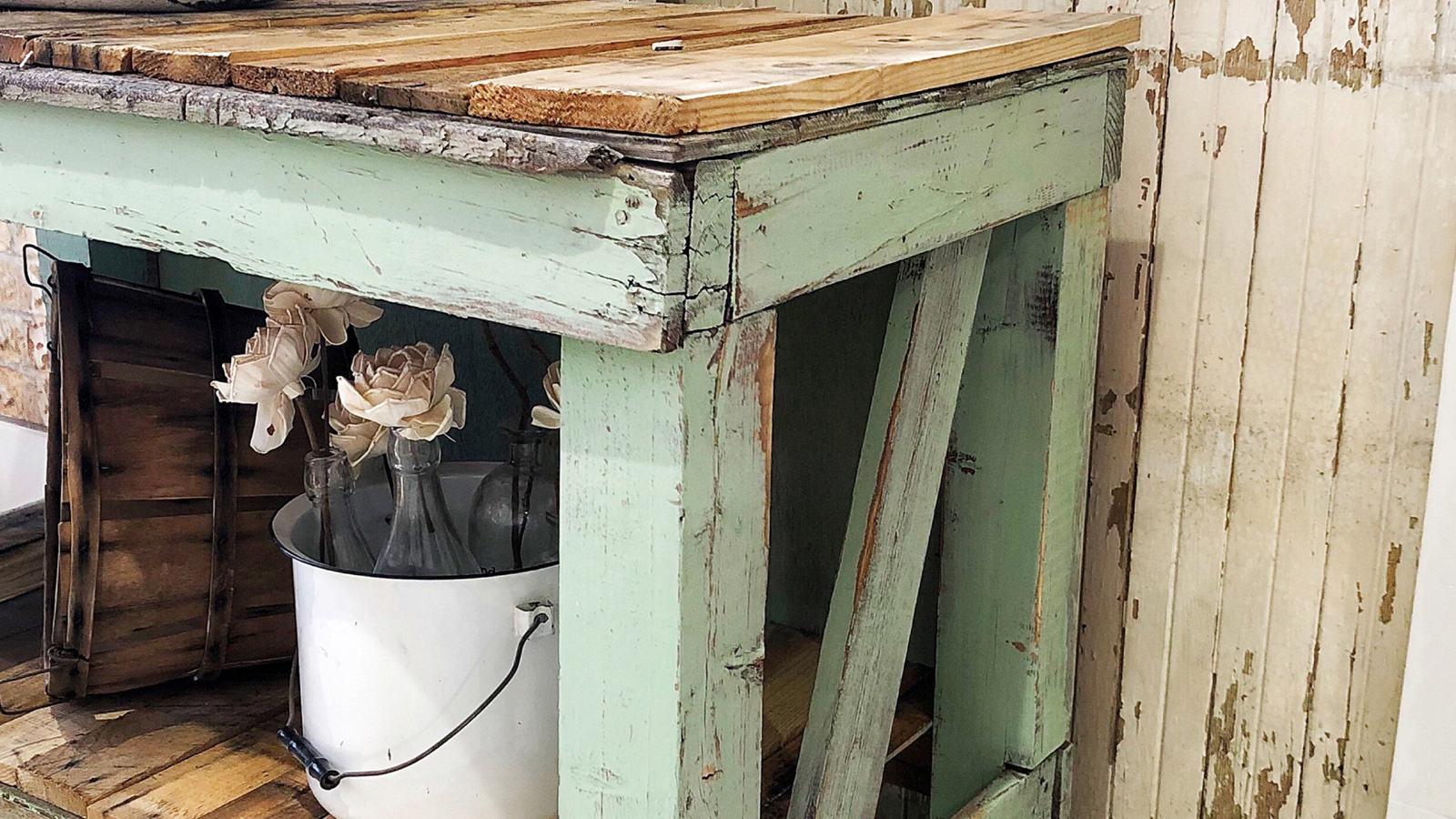 Up Next
Milk paint is the super inexpensive and easy to both make and use. HowStuffWorks looks at this trendy paint alternative.
---
Related Articles
Sources
Abrams, Amanda. "Saving Money with Salvaged Building Materials." HouseLogic. March 8, 2010. (Oct. 30, 2010) http://www.houselogic.com/articles/saving-money-salvaged-building-materials/

Better Homes and Gardens. "Fabric Makeovers for Outdoor Rooms." Bhg.com. Feb. 8, 2010. (Oct. 16, 2010) http://www.bhg.com/decorating/room/decks/outdoor-fabrics-and-rooms/

Better Homes and Gardens. "Home Office Storage on a Dime." Bhg.com. Jan. 18, 2010. (Oct. 16, 2010) http://www.bhg.com/home-improvement/storage/around-the-house/cheap-home-office-storage-ideas/

Boston Design Center. "Design Trends 2011." BostonDesign.com. 2010. (Oct. 16, 2010) http://www.bostondesign.com/design-inspiration/trends-report.php

Bradley, Jenny. "Oscar de la Renta fashions an alluring new fabric collection for Lee Jofa." Traditional Home. Vol. 21, Issue 6. Page 34. Oct. 2010.

Burney, Teresa. "New Life for Old Building Materials." The Builder. Nov. 24, 2009. (Oct. 16, 2010) http://www.builderonline.com/building-materials/new-life-for-old-building-materials.aspx

Christian, Rebecca. "Inside Out." Traditional Home. Vol. 21, Issue 6. Pages 140-145. Oct. 2010.

ConcreteNetwork.com. "Report Offers New Insights into Concrete Flooring Trends." PRWeb.com. Oct. 14, 2010. (Oct. 16, 2010) http://www.prweb.com/releases/concrete/trends/prweb4642794.htm

HerHome.com. "From Drab to Dramatic: Decorative Lighting Trends." Her Home Magazine. 2010. (Oct. 16, 2010) http://www.designbasics.com/PDF/HHM/from-drab-to-dramatic-decorative-lighting-trends.pdf

Jordan, Carla. "12 Cutting Edge Kitchen Designs." Elle Décor. 2010. (Oct. 16, 2010) http://www.elledecor.com/home-remodeling/articles/12-cutting-edge-kitchen-designs

Kohler. "Design & Create: Dream Bathroom." Us.Kohler.com. 2010. (Oct. 16, 2010) http://www.us.kohler.com/planning/detail.jsp?aid=1115489476097     

Lombardi, Candace. "Philips offers LED replacement for 60-watt bulb." Cnet News. May 12, 2010. (Oct. 30, 2010) http://news.cnet.com/8301-11128_3-20004766-54.html

Niz, Ellen Sturm. "Hot or Knot?" K+BB. March 16, 2010. (Oct. 16, 2010) http://www.kbbonline.com/kbb/content_display/news-and-features/e3i873a43a2fac70426039b5059b03f2626?imw=Y

Room Interior Design. "Inspiring Interior Design Trends for 2010." Oct. 6, 2010. (Oct. 16, 2010) http://roominteriorsonline.com/blog/2010/10/06/inspiring-interior-design-trends-for-2010-2011/

Sanders, Julie. "Green Living." Home and Design. May/June 2010. (Oct. 16, 2010) http://www.homeanddesign.com/article.asp?article=21010

Sanders, Mat. "Roundup: Metallic Wallpaper." ApartmentTherapy.com. Oct. 5, 2010. (Oct. 16, 2010 http://www.apartmenttherapy.com/ny/roundup-metallic-wallpaper-128720

Watson-Smyth, Kate. "New chapter in wall-to-wall style: Unrolling the latest wallpaper trends." The Independent. May 14, 2010. (Oct. 16, 2010) http://www.independent.co.uk/life-style/house-and-home/interiors/new-chapter-in-walltowall-style-unrolling-the-latest-wallpaper-trends-1972850.html