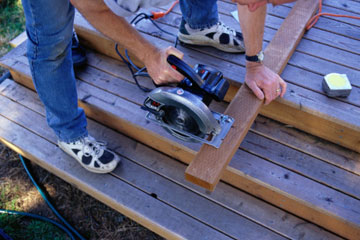 Up Next
Do you know How to Extend an Existing Deck? Keep reading to learn the proper way to Extend an Existing Deck.
---
Author's Note: 5 Ways to Tear Down an Interior Wall
This article was interesting to write because it was something I had zero prior experience with. My family has never overly concerned itself with walls -- except for the fact that they're real estate to hang pictures and artwork on.
That being said, I was intrigued with how much prep work needs to go into this process. I had never really considered what needs to happen before someone takes down a wall. Once I researched the topic, it made sense, but it's one of those things that I'd never given much thought to before. I'm glad I know now, in case at some point I get the urge to go sledgehammer happy!
Related Articles
Sources
Burnett, Bill and Burnett, Kevin." Tear down the walls, here's how." Aug. 23, 2008. (April 18, 2012.) http://www.sfgate.com/cgi-bin/article.cgi?f=/c/a/2008/08/22/HO4Q12E77G.DTL

Fauth, Fred. "How to Remove Stud Walls to Create an Open Floor Plan." OneProjectCloser.com. Jan. 12, 2012. (April 18, 2012.) http://www.oneprojectcloser.com/how-to-remove-stud-walls-to-create-an-open-floor-plan/

"How To: Basic Wall Demolition. DIY Network. (April 18, 2012.) http://www.diynetwork.com/how-to/how-to-basic-wall-demolition/index.html

"How to Demolish a Knee Wall and Patch the Area." DIY Network. (April 18, 2012.) http://www.diynetwork.com/how-to/how-to-demolish-a-knee-wall/index.html

"How to Knock Down a Wall." DIY Network. (April 18, 2012.) http://www.diynetwork.com/how-to/how-to-demolish-a-knee-wall/index.html

"Types of Insulation." U.S. Department of Energy. (April 18, 2012.) http://www.energysavers.gov/your_home/insulation_airsealing/index.cfm/mytopic=11510