Organization usually makes life easier and less stressful. But it can be even more important -- perhaps even essential -- before, during and after a major holiday. Just imagine what it would be like to haul out poorly labeled boxes of haphazardly packed holiday supplies in a last-minute attempt to find what you need. Before you know it, you may be drowning in a sea of musty tablecloths, burned-out lights and broken ornaments -- without having accomplished your holiday preparation goals.
Taking the steps to get everything in order ahead of time can help you avoid these situations and have much more fun with every holiday. For example, when Christmas ornaments are organized and easy to find, there's more time left to enjoy the process of hanging them on the tree. And the same goes for other aspects of the holiday seasons -- from parties and family dinners to gift giving. Simple actions like making lists, setting deadlines and choosing the right storage containers can help ensure you have the best time possible. And putting it all in order again afterward sets the stage for next year's celebrations.
But before you can take the first steps toward getting organized, you need to start with a little advance planning. Keep reading to find out more about this and several other strategies for managing the holiday season.
Start planning for the holiday early -- at least a month in advance [source: BellaOnline.com]. Begin by filling out a centralized, all-encompassing holiday calendar for the weeks leading up to, during and after the holiday. Include everything you already know about or that's already been scheduled, such as travel plans, guest arrival days, pageants, parties and work functions. Continue to pencil in events as they are announced and planned, and only accept invitations for open dates. Make sure to block off shopping and preparation days, and factor in deadlines for shopping, shipping and baking, just so you don't miss anything. Also, here's a tip for relieving stress: On your calendar, be sure to mark a few "off" days to rest.
Holidays usually last longer than just one day. What's more, many include an elaborate series of events that require many different levels of planning. So for optimal holiday organization, it's a good idea to make separate, categorized to-do lists. During the winter holidays, for example, you could make a gift shopping list, itemized by person. Also, try making a list of rooms or locations that need to be decorated, as well as a related list of decorations that need to be purchased. You can create lists for baking projects, travel plans, and people to whom you need to send cards and correspondence, too. Plan holiday menus first, then make the grocery list. You get the idea. To minimize the chance that you'll forget anything, always have these lists with you when you are heading out to the store or the mall.
Make the holidays easier on yourself by setting reasonable goals and limits. For instance, if you have relatives scheduled to arrive the Monday before Thanksgiving and depart the Sunday after, then you probably shouldn't schedule a potluck dinner with friends that week, nor would you try to Christmas shop that weekend. It would just be too hectic and prevent enjoyment of your family's visit and of the holiday itself.
Here's another tip: Break every task or project into palatable chunks. For example, does decorating for Halloween always take you longer than you think it's going to? Then give yourself plenty of time. Taking it one step further, set a reasonable decorating timeframe -- say seven days, for example. Decorate one room or area on each of those seven days. This way, the work is manageable, and it doesn't dominate several whole days.
Now that you've done some planning, the actual physical work can begin. However, after you trudge into the garage or cellar and pull out the decorations and other holiday stuff, pause for a bit. Before anything goes up, this is a good time to take inventory and assess what you've got. Many of us have been using the same holiday items for years, whether we like them or not. Here's a simple sorting tip: If you hate it, give it away. If it's broken, throw it away. In other words, don't let an ugly tree skirt take up space or broken tree lights sit around in a tangled mess. (Now also would be an excellent time to test everything with electrical or moving parts, by the way.) Get rid of anything that's crumpled or soiled. Now that you know what you've got that's usable, you can add to your to-do list of new decorations that need to be purchased. To make next year easier, it's a good idea to repeat this inventory step at the end of the holiday season, too.
6
Set and Respect Deadlines
Deadlines are a good way to help you get stuff done and crossed off your list. Determining them and abiding by them can help you to prioritize a multitude of tasks when it feels like you have too much to do at once. Simply determine what needs to be done in what order, and set your deadlines accordingly. Then, tackle the tasks that have the soonest deadlines first. Of course, external deadlines may influence your priorities as well. For example, if you need to ship gifts to friends and relatives, find out through the U.S. Postal Service (or your preferred private carrier) what the cutoff dates are for holiday shipping. If you can, make it a priority to mail things out as quickly as possible -- that can help you avoid clutter and to-do piles around the house.
News flash: You don't have to organize, decorate and plan everything on your own. Try delegating tasks to family members. Not only does it break up the work, but it creates responsibility for others and can make holiday planning a fun family activity. Get the kids involved, especially. Holiday planning for you is a burden -- for them, it may be very exciting. They can make decorations, help put them up, and maybe even assist you with the baking. Chore swapping is another time-saving idea. Do you love to bake Christmas cookies, but hate to decorate? Does your best friend love decorating but can only burn a baked good? Then swap tasks -- you bake for two, and she can decorate for two. That way, you're both happy.
Thick, plastic, transparent storage bins are one of the best holiday storage solutions around, because you can easily see what's inside of them. Also, they're available with lids in many different colors, which gives you the option of color-coding your storage bins according to the holiday (i.e. a green lid for Christmas box, orange for Halloween, yellow for Easter, etc.). These are generally inexpensive. That means it may be affordable to have a lot of bins if you need them. Try setting aside one bin per room for Christmas: a living room bin, a dining room bin, etc. They can also be used to store gifts and gift-related tools -- for example, a wrapping paper bin filled with paper, gift bags, tags and scissors.
Plastic bags can also store some holiday items, and they're even cheaper and more versatile than bins. Baggies are a particularly good place to store food-based crafts such as dough ornaments and macaroni crafts, because they can be both water- and bug-proof. You could put them in a lidded tin box for extra protection. And don't throw away garment bags or those zippered bags from new pillows - these are ideal for storing plastic, odd-shaped outdoor decorations.
Of course, if you've got a lot of bins, you've got to have a way to keep track of what's in them. Labeling can help. Try placing an index card on the outside of each holiday box. Include on the card what holiday the box is for, as well as its general category: "Easter -- Decorations," or "Christmas -- Ornaments," for example. Include a few bullet points on the index card about the general contents.
Another approach is to number each box (i.e., Halloween 1, Halloween 2, Halloween 3, etc). Then, write down everything that's in each box and create a document on your computer or a file of index cards that lists the complete contents of each box.
One more labeling tip: For each holiday, designate a certain box to be the "open first" box. This will help ensure that you kick things off in a logical way. For example, you probably wouldn't want to open the tree skirt box if the tree box hasn't been opened yet.
Don't just throw tree ornaments and other fragile decorations into boxes unprotected. If possible, save the original cardboard packaging they arrive in. (Barring that, sandwich baggies may work fine). And then, rather than just tossing each one into a regular box or bin, try using old wine or liquor boxes -- they're often partitioned into 12 or more slots. Place each object into each individual slot, then pad them all with tissue paper or newspaper. For smaller items, consider using egg cartons in the same way: Wrap fragile things carefully in tissue paper, fill each egg-divot with an item, then place the full cartons into boxes and bins - near the top, of course. The pressure from being underneath other items may break them.
If you have the energy, a holiday party after the holiday may be the most effective way to kill off a number of birds with one stone. For instance, it's a holiday party that won't compete with other parties taking place during the season -- or your own massive to-do list. And it helps get things back to normal in a fast, fun, social way. For example, you could serve party guests holiday leftovers and gifted wines and food you don't want. Ask your friends to potluck their own leftovers and unwanted gift food, too. Additionally, try inviting your guests to take a look at your holiday-specific decorations before you box them up. It may help you find out what's broken, damaged or unwanted. Whatever you're getting rid of can go directly to the trash or in a charity pile -- or home with your party guests if they want it.
For lots more information on getting organized, follow the links on the next page.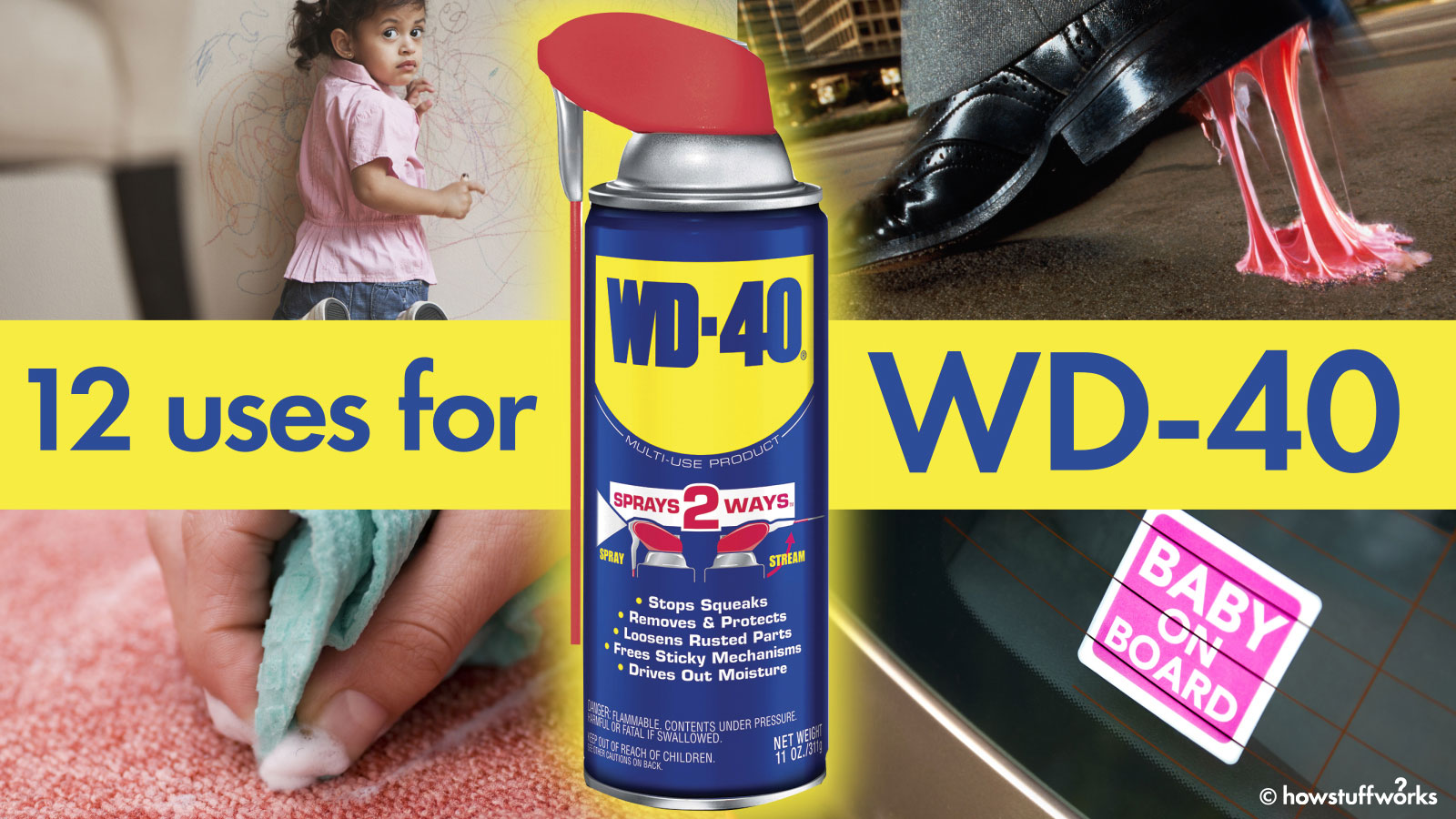 Up Next
There are thousands of reported uses for WD-40, an aerosol lubricant that's as handy as duct tape. We look at 12 of the more creative ones we've found.
---
Related HowStuffWorks Articles
Sources
BellaOnline.com. "Holiday Organizing." Accessed 10 February 2010. http://www.bellaonline.com/subjects/7114.asp

ChildFun.com. "After Holiday Organizing." Accessed 10 February 2010. http://www.childfun.com/index.php/daily-tips/179-december-2009/2291-

Novak, Jamie. "Organizing for the Holidays." iVillage.com. Accessed 10 February 2010. http://home.ivillage.com/cleanandorganize/organize/0,,9zdt03vl,00.html

Rust, Suzanne. "12 Clever Holiday Tips and Ideas." RealSimple.com. Accessed 10 February 2010. http://www.realsimple.com/holidays-entertaining/holidays/christmas/simple-list-december-00000000006383/index.html

Squires, Kathleen. "Storing Holiday Decorations." RealSimple.com. Accessed 10 February 2010. http://www.realsimple.com/holidays-entertaining/holidays/christmas/storing-holiday-decorations-10000001133623/index.html

Van Nevel, Franny. "Holiday Organizing Tips." Holidash.com. Accessed 10 February 2010. http://www.holidash.com/christmas/decorating/holiday-organizing-tips

WellSphere.com. "3 Post-Holiday Organizing Tips." Accessed 10 February 2010. http://www.wellsphere.com/stress-relief-article/3-post-holiday-organizing-tips/947976