Every kitchen comes equipped with the basics -- sink, stove, refrigerator and at least some storage space where you can put all of the tools you need to create your culinary masterpieces.
If you aren't much of a chef, you could always use these things to whip up a simple mac and cheese. But if you're a serious cook with a lot of tools, or you just have a very small kitchen, you may be suffering from a severe shortage of space. Piling a lot of cooking tools into a limited area leads to clutter, which leads to you not being able to find the right pot, pan, spoon, or spice when you're right in the middle of a recipe.
To help you solve your organizational needs, we've compiled a list of the top 10 kitchen storage solutions. The products suggested in this article can save you time and help you make the most of the kitchen space you have.
Why fumble with piles of pots and pans in a dark, cramped cabinet, when you can quickly reach for them? If you have a pot rack, you can hang your pots and pans over your kitchen island, mount them on a wall or have them freestanding exactly where you need them.
When choosing a pot rack, consider both its design and function. Racks come in several different finishes, including wrought iron, stainless steel, copper, gold and wood. They also come in different shapes -- rectangular, round, oval or square. Pick a style and shape that best matches your kitchen and storage needs. Some pot racks even come equipped with built-in lights if you need extra illumination.
Take a look at your pots. How many do you have? How large and heavy are they? The more pots you have and the larger they are, the bigger the rack you'll need.
Finally, decide where to place the rack. Pots and pans should be easily accessible, but you don't want them to be in your way while you're trying to cook.
If you like to cook, you've probably accumulated a variety of pots, pans, spices and other cooking accessories over the years. Unless you have a huge kitchen, eventually you're going to run out of room to store everything.
Kitchen storage towers follow the same principles as high-rise buildings in big cities. When you don't have room to build out, you build up. Storage towers are high and narrow, so they can fit into places where other storage systems would never be able to go, such as a small pantry or against the wall of your kitchen. They enable you to add shelves' worth of extra space without taking up much extra room in your kitchen.
Some storage towers allow you to customize based on your needs. You can buy several individual shelves and stack them, or get a unit with adjustable shelves to accommodate both large and small items.
Before you buy your storage tower, check to see how much weight each shelf can hold, especially if you have heavier items to store.
When you open your kitchen cabinets, does everything inside fall out? Do you have to remove everything from your cabinets just to find the one item you need way in the back? Cabinet door organizers make it easier to find what you need in your cabinets, exactly when you need it.
Some organizers are mounted inside the cabinet. Others sit inside the cabinet or hang from its door. Anything that is mounted or installed is likely to be more expensive than a product you just buy and hang up.
Cabinet door organizers come in many different varieties. Lazy Susans are similar to the tabletop models of the same name: They spin around to give you easy access to everything inside the cabinet. Some organizers are designed for a specific item, such as kitchen towels or cleaning products. Choose the design that best fits your needs.
Mom's cookie jar was an old-fashioned example of how to create extra counter space using canisters. Today's countertop canisters hold much more than cookies. There are canisters for kitchen utensils, cakes, paper towels, napkins, fruit and just about anything else you want to store on your countertop. Some canisters come in sets of different sizes, so you can store a variety of items in a row. Canisters not only add a decorative touch to your countertop, but they also help keep your food fresh for longer than it would keep sitting out.
Countertop canisters come in a variety of styles, colors and finishes, from the simple to the ornate. The more elaborate they are, the higher the price tag. A plastic paper towel holder might cost only a few bucks, while a handcrafted cake pedestal from Europe could run in the hundreds of dollars. When choosing a style, consider your kitchen design and who else is using the kitchen (like young children with slippery fingers, who could send your expensive canister hurtling to the floor).
Kitchen carts are just like kitchen islands, except they're more portable. A good kitchen cart will give you extra space for food preparation, serving and storage, and you can put it exactly where you need it.
Prices and styles of kitchen carts can vary. A simple cart that costs $50 will be little more than a basic serving tray. The higher-end kitchen carts -- which can cost $500 or more -- look like real pieces of furniture.
When buying a kitchen cart, first determine how much space you have in your kitchen. Then, think about how much storage and cooking space you're going to need. Ask yourself how easily you want to be able to move your kitchen cart: Some carts come equipped with wheels. If you do get a wheeled cart, make sure it's sturdy enough to stay in one place (or that it has brakes), so it won't slide out from under you while you're in the middle of chopping vegetables.
Finally, determine which accessories you need. Many carts come equipped with extras like drawers, built-in wine racks, spice racks and paper towel holders. If you're going to be doing a lot of cooking on the cart, you might want to buy one with a countertop finish, such as granite or butcher block.
Drawer organizers are among the most basic -- and most useful -- kitchen accessories. Everyone is familiar with silverware drawer organizers, and almost everyone has one. There are also organizers for spices and various kitchen odds-and-ends.
When buying an organizer, you can choose to buy one with an open tray or one with partitions. For silverware, partitions are best because you'll have a much easier time finding the right utensil each time you open the drawer. Depending on your needs and budget, you can get away with a simple plastic organizer, or invest a little more money and buy one made of wood or metal.
Generally, silverware organizers are one-size-fits-all, but it can help to measure your drawer before you go to the store to make sure the one you buy is a good fit. Also consider getting an organizer with a non-slip bottom, so it doesn't slide around every time you open the drawer. And if you're not sure exactly how much storage space you'll need, some organizers will expand to accommodate your growing collection of kitchen tools.
You don't have to be a multi-millionaire to have your own wine collection. You just need a few bottles and a good wine rack.
When choosing a wine rack, look for a style that fits the décor in your home. You can choose from finishes such as wood, metal or stainless steel in a variety of colors.
To determine what size rack you need, count how many bottles of wine you have and then double it. Buying a larger rack will give your collection room to grow. Just don't buy a rack so big that your few bottles of wine get swallowed up in empty space.
Test out the wine rack in the store to make sure it's sturdy enough so it won't tip over easily and destroy your entire wine collection. It also should be able to accommodate different sized bottles, and not just the standard 750 ml (0.198 gallon) ones.
Finally, when you bring your new wine rack home, place it in a cool, dark location. Extremes of heat, cold, humidity and light can damage the wine collection you've carefully cultivated.
Sliding shelves are an easy way to increase the accessibility and storage space of your kitchen. They're especially helpful for people with arthritis or other conditions that make it difficult to get down on the floor and lean inside low cabinets, or stretch to reach inside high cabinets.
Depending on how handy you are, you can install sliding shelves yourself, or hire a professional to do it. The drawers sit on glides/tracks that are mounted on either side of the cabinets. If you need extra storage space, you can add more shelves to a single cabinet and double or even triple your existing space. You can even install sliding shelves in your pantry.
Once your shelves are installed, be sure to add slip-resistant shelf liners so that the items inside don't roll around every time you pull the shelves in or out.
If you cook on a regular basis, you've probably accumulated dozens of different spices. Storing them in a kitchen cabinet can make it difficult to find the right seasoning when you need it. A spice rack is an easy and inexpensive way to keep all of your spices organized.
Spice racks seem simple to purchase, but think carefully about your cooking needs before you buy. Spice racks come in a lot of different styles, so research a little before you head out. If you like to keep your spices right on the counter, get a carousel spice rack that spins around. If your counter space is more limited, install a wall-mounted rack, a rack that hangs inside your kitchen cabinet or one that slides inside a drawer. Another way to save space is with a magnetic rack, which hangs the spices right underneath your cabinets. Put the spice rack in a place that is cool, dry and close to your cooking space.
Some spice racks come pre-equipped with their own containers of spices. If you purchase one of these, make sure you know where to buy refills. The spices at your grocery store might not fit.
Spices have a long shelf life, but eventually they will start to lose their flavor. After about two to four years, clean out your spice rack and buy new bottles.
When Tupperware containers were introduced in the 1940s, they revolutionized kitchen storage. At Tupperware parties in suburban neighborhoods throughout the country, housewives learned how to keep their potato salad fresher and easily separate their chips from their dips.
Today, Tupperware isn't the only game in town when it comes to plastic containers. There are an almost infinite number of plastic storage options for keeping food organized and fresh.
Plastic containers typically come in sets of different shapes and sizes. Sets range from a couple of containers to 100 or more. Some even come with their own storage systems, which can make finding the right container a snap. Containers that fit inside one another or lock together are also helpful.
Before you buy plastic containers, check to see whether they are dishwasher-safe and microwavable. Otherwise, you might find melted plastic soup when you go to wash them or cook with them. Also make sure they seal securely, so your Aunt Edna's bean dip doesn't get mixed up with your chocolate pudding. However, you don't want them to seal so securely you can't open them up, especially if you have joint pain or weakness.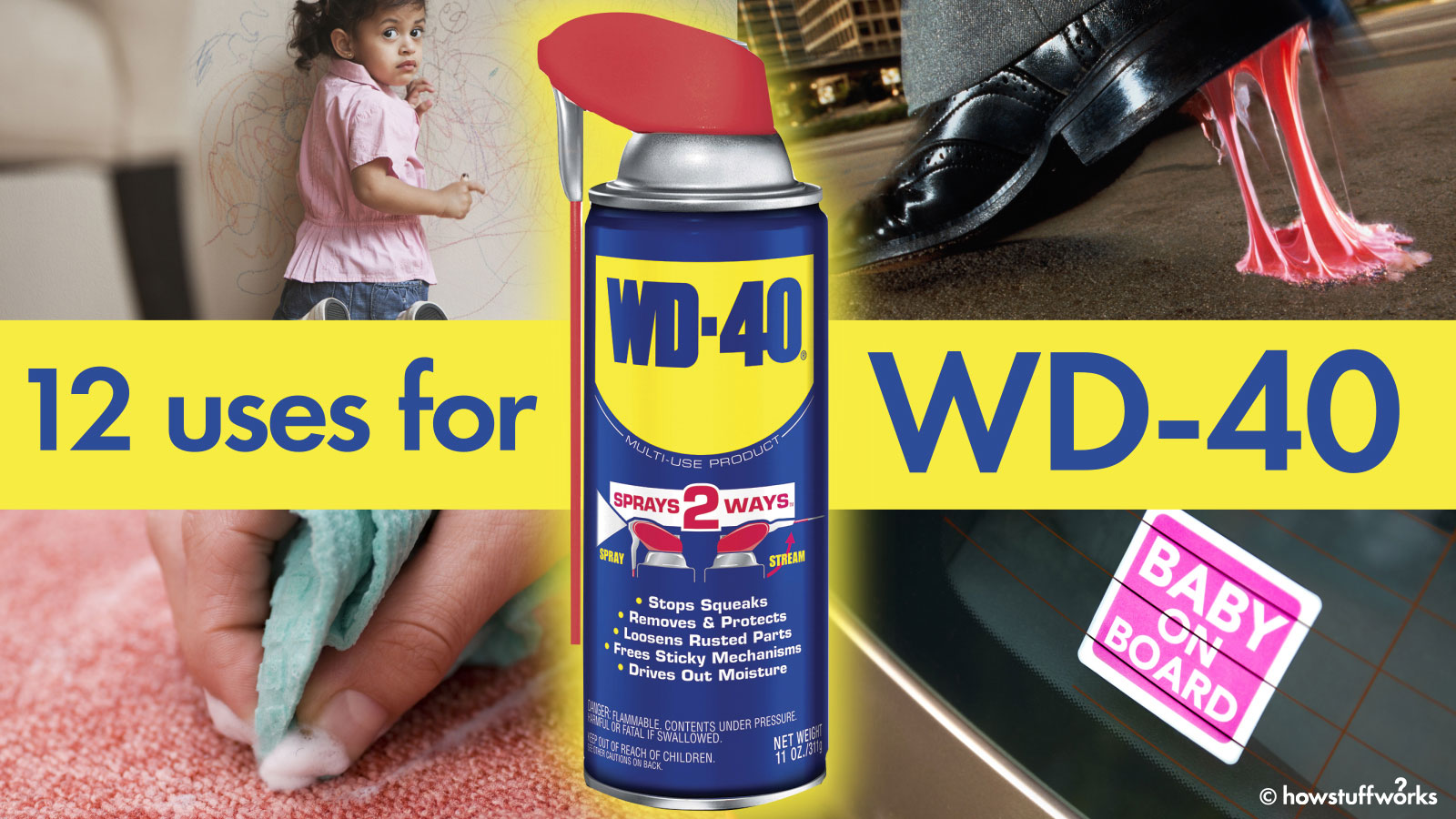 Up Next
There are thousands of reported uses for WD-40, an aerosol lubricant that's as handy as duct tape. We look at 12 of the more creative ones we've found.
---
Related HowStuffWorks Articles
More Great Links
Sources
Fritscher-Porter, Karen. "Choose Spice Racks That Help You Organize Your Home." http://www.creativehomemaking.com/organizing/choosing-spice-racks.shtml. (Jan. 26, 2010.)

Intowine. "Wine Storage."http://www.intowine.com/cellar.html?page=0%2C0. Accessed (Jan. 26, 2010.)

Lifeorganizers.com. "How to Choose a Pot Rack For Your Kitchen." http://www.lifeorganizers.com/Organize-Your-Home/Kitchen/How-To-Choose-A-Pot-Rack.html. (Jan. 26, 2010.)

OnlyCookware.com. Cookware Consumer Guide.http://www.only-cookware.com/choosing_a_pot_rack.html. (Jan. 26, 2010.)

Ron Hazelton's House Calls. "How to Install Pull-Out Shelves." http://www.ronhazelton.com/article/home/kitchens/UDEwMg/How_to_Install_Pull_out_Shelves. (Jan. 26, 2010.)

S. Erica. "How to Shop for a Wine Rack: 3 Factors." March 24, 2009. http://blog.wineenthusiast.com/2009/03/24/how-to-shop-for-a-wine-rack-3-factors/. (Jan. 26, 2010.)

The Spice Hunter. "FAQs."http://www.spicehunter.com/faqs/product.asp. (Jan. 26, 2010.)

Tupperware. "Five Decades of Change." http://order.tupperware.com/pls/htprod_www/tup_company.decades?fv_item_category_code=80000. (Jan. 26, 2010.)