It can be fun to dump a bunch of stuff on the curb and watch your neighbors stroll by and stop to pick through the pile and collect some free loot -- unless of course no one wants your old castaways. Then it's a bit embarrassing waiting for the scornful shakes of the garbage men's heads come collection day.
But it can be even more enjoyable to get some cash for the clutter you no longer want around the house. There are lots of ways you can make money, depending on the items in question, how much you're hoping to get and how much effort you're willing to put into the project. Are you more of a quiet homebody, or are you big into vigorous haggling? Do you want the stuff gone as soon as possible, or are you willing to hold out for the best price you can get? Consider questions like these as you read through this list of 10 ways you can ditch clutter and earn some cash while doing it.
10
Resell It: at a Garage Sale
Ah, that old go-to, the garage sale. (Or perhaps yard sale, if your garage is ground zero for your clutter.) Garage sales are perfect for folks who want stuff gone in a hurry and don't mind debating -- and discounting -- prices for potential purchasers.
If you like the sound of that, it's worth spending some time ensuring your garage sale will be a success. For starters, it's smart to get your neighbors in on the action. One yard sale will probably draw lots of diehards, but a neighborhood-wide yard sale is much more likely to bring out a crowd. Next, you want to run an effective publicity campaign. Post fliers at businesses around town, take out an ad in the local paper and make eye-catching signage for passing motorists. That means big thick letters and clear arrows indicating which way shoppers should go to reach your neighborhood, along with the date and time your garage sale is going down.
Then gather everything you have to sell, price it smartly and simply, and have it ready first thing in the morning. Yard-sale-goers are often early birds. Remember to be safe, too: Recruit some family or friends to help you watch the merchandise and periodically drop off your earnings inside your locked house. By the end of the day, you'll have hopefully made some money and rid your home of lots of pointless possessions.
9
Resell It: to a Consignment Shop
Consignment shops put your goods on display so you can potentially get some dinero in exchange for your castoffs, provided they're in nice enough condition. Of course, if you go to check in on something you're selling on the rack or shelf, expect it to be marked up over what you're planning to receive. Consignment shops require a cut for helping you sell your stuff.
Consigning is especially great for barely worn designer clothes, on-trend brand-name pieces, or baby and children's items. Specialty stores will also take secondhand items like video games, sports equipment and musical instruments that they can sell used to others. So that old lacrosse stick that is languishing in your garage on a shelf, the discarded violin that hasn't made a peep in years hiding in the back of your kid's closet, or the stack of video games covered in dust cluttering up your family's living room floor could all earn you a few bucks if you get them to the right people.
8
Resell It: to an Antiques Store
If you've got something you think is pretty unique -- and aged enough to be considered an antique -- then this might be the route you want to go. Whether it's your grandparents' hutch or some other oldie-pants item, an antiques store might be just the place to find a new (and more excited) owner for said piece.
Different antiques stores operate on different business models. Some might rent you a space for your stuff to attract customers' eyes, while others might purchase it outright on the assumption they have a knack for knowing what will sell. Some operate like consignment shops, simply housing your antiques until they sell, then charging you for their efforts.
Whichever the case, if that hideous -- yet expensive -- brooch you inherited from your nasty great-aunt Gertrude isn't your cup of tea and no one else in the family would touch it with a 10-foot pole either, consider an antiques store as a means of getting the clutter out of your life.
7
Resell It: Through an Auction House
Remember when you used to be able to park in your garage? Before that classic car your husband acquired and planned to fix up called dibs on your protected parking space? Those were the days. Or how about that still-packaged 1950s toy you've been holding onto all these years? Ready to turn it into cash? Or are you finally going to break down and open the box to play with it? We're guessing selling is the smarter option.
If you're in possession of some truly rare items, an auction could be your answer. For high-end clutter, auctions are a great way to go. The experts who run them are able to determine how much what you consider clutter is worth. They also advertise well, and typically take care of shipping.
And speaking of options ...
If you don't want to have to cart your crap around town to get rid of it, consider online avenues. The online auction house eBay is a great example. You simply sign up for an account, get PayPal good to go, and use eBay's handy reference guide to get an idea of how much your prices -- the bottom-line bidding price, the fixed price or the "buy it now" price -- should be. Pop up a couple of photos, a title and description of each item, plus your preferred method of payment and your shipping options and your listings are pretty much done. Then sit back and wait for the bidding window to close, and ship whatever has sold.
But if waiting around with your fingers crossed while the auction clock counts down isn't for you, there are other online options to get the word out that you have goods for sale.
5
Resell It: Through Craigslist or Amazon Marketplace
Craigslist is another platform you can use to advertise items you'd like to be rid of. The postings can range from seriously simple to quite complex, depending on the level of effort you wish to make. If no one contacts you with interest in, say, your redundant dining room set, your old washer and dryer, or your used set of garden tools, you can simply repost and hope to have more luck the next time around. One option, for example, is to lower your asking price and see if you get any takers at that price point. Just keep safety in mind. As with most anything on the Internet, you should always use caution when dealing with people you don't know.
Another avenue to try is Amazon Marketplace, where you can sell as an individual. The process is fairly straightforward: Choose a category of products, enter as much info as you have, then search Amazon's list of matches for the specific item you wish to sell. Describe the condition of the object, the price you want to sell it for, how many you have to sell and how you plan on providing shipping. The page will show prices for items already posted at list, new and used price points.
For older items -- especially decorative, fun or fancy ones -- Etsy could be the online route you want to take. If they're not handmade, items have to be at least 20 years old to count as vintage (as we'll politely call your house's clutter cache). Aged jewelry pieces, outmoded outfits, ornamental tea sets or childhood toys all qualify and could be made ready for a new debut. Even items that aren't ready-to-wear could still sell: Crafty people who hang out on Etsy are interested in any manner of articles for artistic projects and other undertakings.
Selling on Etsy is pretty easy. Once you register, you can set up your Etsy shop, and start shuttling out goods that are irrelevant to you but fascinating to someone else in next to no time. And perhaps the best thing about Etsy is the kindness of the community. Respect is the modus operandi. It's an online site that's about celebrating creativity and cool stuff, not about bashing others unnecessarily.
3
Recycle It: Through the Manufacturer
As manufacturers get on the e-waste bandwagon, some offer incentives, meaning you can turn old electronics into cash or new electronic goodies. Apple, for instance, offers a 10 percent discount on a new iPod if you toss them your old one. Other products of theirs, and even PCs, might also be deemed of value if you send them in. It's not a guarantee, but if your poor machine is so battered from use they consider it a lost cause (hey, grandma, stop downloading malware!), at least they'll recycle it responsibly.
There are lots of other sites on the Web that offer cash for old electronics, too. So if you have your last four generations of cell phones taking up space in a drawer (I'll admit it, sigh, I do ...) check them out and see if you can't trade them in for some cash monies.
2
Recycle It: Through a Junkyard
It might come as a surprise that junkyards are often willing to take old items -- especially stuff that is metallic in nature -- and give you cash in return. Even stuff that garage sale perusers and neighborhood curb sharks might turn their noses up at!
If you have a car that's been slowly sinking into the grass in your side yard for years because it doesn't run anymore, check with your local junkyard because chances are, not only will someone pick it up, they'll pay you for the chance. Other seemingly worthless items -- say bent fencing, rusted lawn furniture, a beat-up barbecue grill, an old air conditioner, decrepit bed frames, leftover wiring -- still have inherent value, as long as you make the effort to get what they're worth.
1
Donate It: and Get a Tax Break
If you donate stuff to a legit charity or other qualified organization, then you may get a little kickback from the government come April 15. It'll mean a bit more work on your tax forms, but you -- and the people who got your unwanted but still useful possessions -- will all benefit from those few extra minutes. Just ask the diligent folks at H&R Block.
Anyway, the key is to save any records from the donations. Then when the grueling process of filling out your taxes rolls around, you'll have everything you need to document how awesome you were at helping others throughout the year. Check the IRS Web site to find out which forms you need to fill out. More on that in this article: 10 Tips for Getting the Biggest Tax Refund.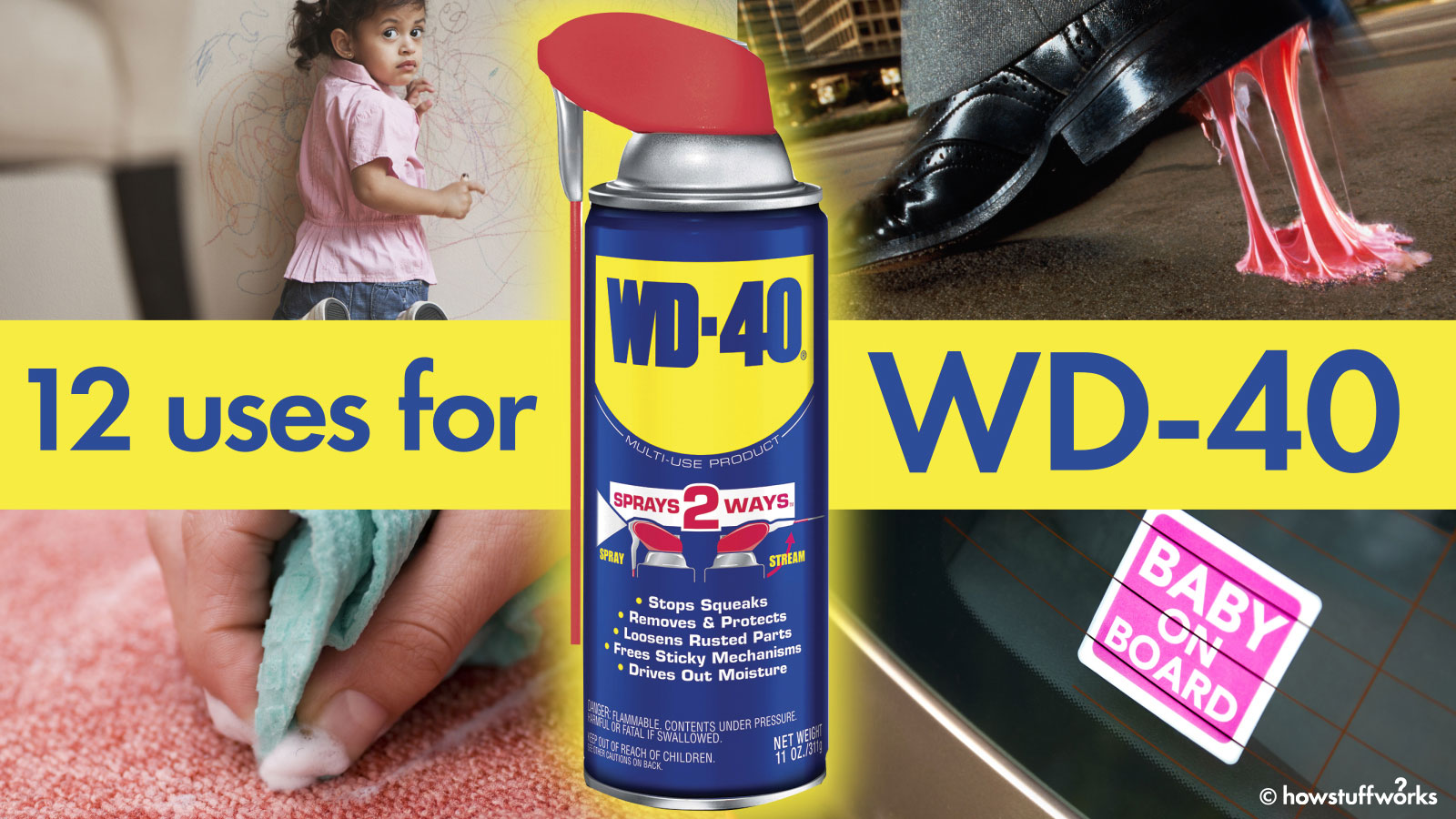 Up Next
There are thousands of reported uses for WD-40, an aerosol lubricant that's as handy as duct tape. We look at 12 of the more creative ones we've found.
---
Author's Note
This was a fun article to write because I learned a lot more details on sales processes I had only surface knowledge of previously. Take Etsy. I have an account with them, and have bought a few things off their site, but I have always wanted to become a seller. (Of what? SECRET!) Anyway, writing this article gave me a much better idea of what that process would entail, and what I would need to be successful in the venture. Cool stuff.
Related Articles
Sources
Amazon. (April 3, 2012.) http://www.amazonservices.com/content/sell-on-amazon.htm?ld=AZFSSOA#!how-it-works

Apple Recycling Program. (April 3, 2012.) http://www.apple.com/recycling/ipod-cell-phone/

Baker, Adam. "Sell Your Crap." (March 12, 2012.) http://manvsdebt.com/

"Best Sites to Sell Clutter for Cash." CBS News. (April 3, 2012.) http://www.cbsnews.com/2100-500164_162-7230070.html

Correa, Barbara. "Treasure in the Junkyard." The Junk Truck. http://www.luckinlove.com/junk.htm

Craigslist. (April 3, 2012.) http://www.craigslist.org/about/sites

DeLeo, Jennifer. "The Electronics Recycling Superguide." PC Mag. March 2, 2009. (April 3, 2012.) http://www.pcmag.com/article2/0,2817,2341912,00.asp

eBay.com. (April 3, 2012.) http://pages.ebay.com/sellerinformation/index.html

"Eight Tips for Deducting Charitable Contributions." IRS. March 22, 2011. (April 3, 2012.) http://www.irs.gov/newsroom/article/0,,id=106990,00.html

Etsy.com. (April 3, 2012.) http://www.etsy.com/

Heloise. "Take Control of Clutter!" Good Housekeeping. (March 28, 2012.) http://www.goodhousekeeping.com/home/heloise/clutter-control-sep04

LifeOrganizers.com. (March 12, 2012.) http://www.lifeorganizers.com/

Man vs. Debt. (March 12, 2012.) http://manvsdebt.com/

Mihaly, Julie. "Out with the Old: 25 Ways to Clean Out the Clutter." Good Housekeeping. (March 28, 2012.) http://www.goodhousekeeping.com/home/cleaning-organizing/clean-out-clutter#slide-1

Nevils, Brooke. "Turn Clutter into Cash." Woman's Day. (March 12, 2012.) http://www.womansday.com/life/saving-money/selling-used-items-online?link=emb&dom=yah_life&src=syn&con=blog_wd&mag=wdy

Pittman, Kyran. "Control Your Clutter in Six Weeks." Good Housekeeping. (March 28, 2012.) http://www.goodhousekeeping.com/home/cleaning-organizing/six-week-clutter-control-plan

Professional Organizers in Canada. (March 12, 2012.) http://www.organizersincanada.com/

OnlineOrganizing.com. (March 12, 2012.) http://www.onlineorganizing.com/Home.asp

Roth, J.D. "How to Turn Your Clutter Into Cash." Get Rich Slowly. March 17, 2010. (March 12, 2012.) http://www.getrichslowly.org/blog/2010/03/17/how-to-turn-your-clutter-into-cash/

The Organized Home Office. LifeOrganizers.com. (March 28, 2012.) http://lifeorganizers.com/cm_articles/42_the_organized_home_office.html

Thomas, Holly. "Yard-sale savvy: Turn clutter into cash." The Washington Post. September 9, 2010. (March 12, 2012.) http://www.organizersincanada.com/

"Where to Sell Your Antiques." Antiques HQ. Jan. 14, 2010. (April 3, 2012.) http://www.antique-hq.com/where-to-sell-your-antiques-and-collectibles-1226/