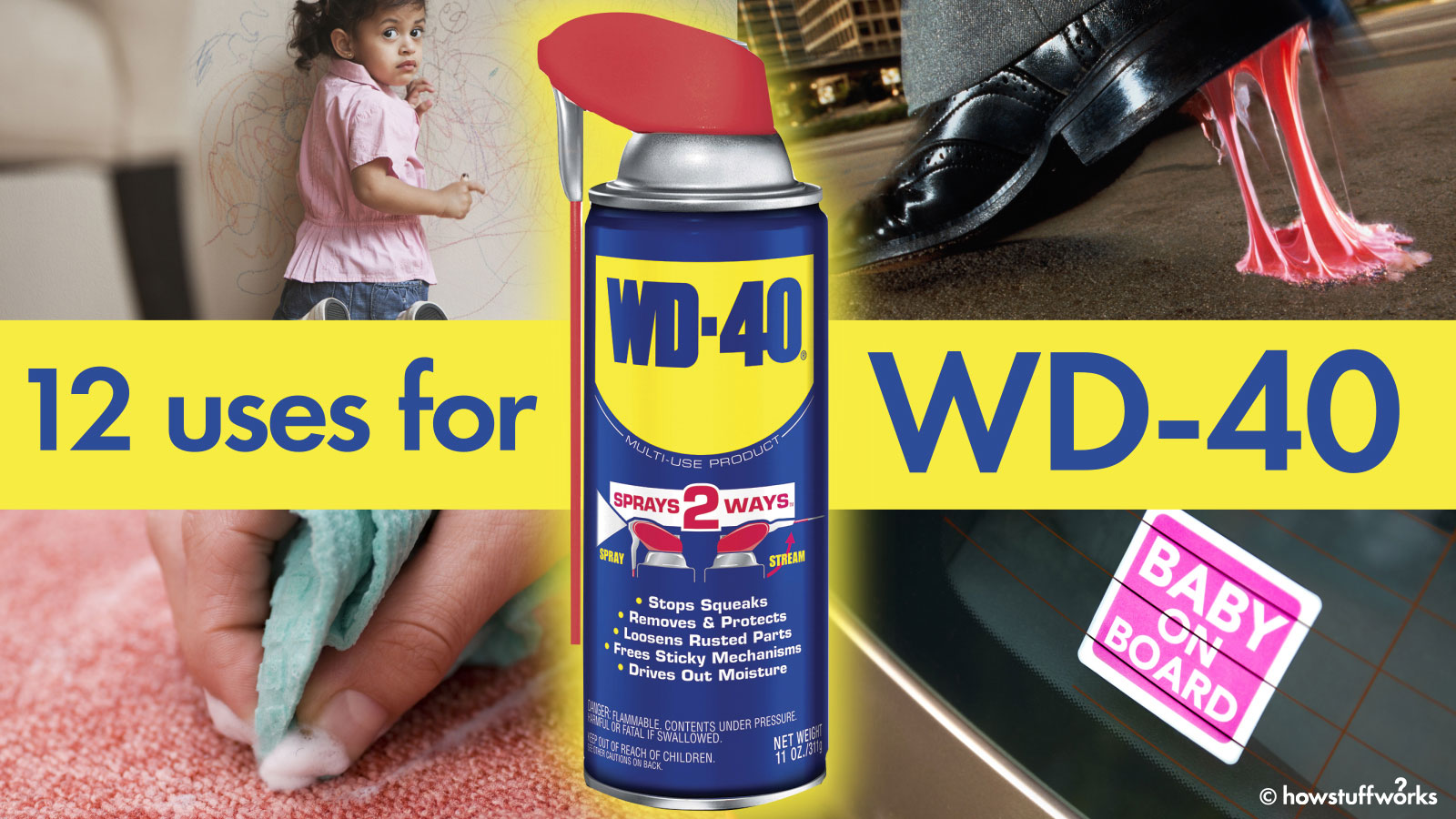 Up Next
There are thousands of reported uses for WD-40, an aerosol lubricant that's as handy as duct tape. We look at 12 of the more creative ones we've found.
---
Author's Note: 10 Window Cleaning Tips for Apartment Dwellers
I think that of all the valuable glass-cleaning tips I picked up researching this article, most of all I appreciated learning good technique for removing stickers, labels or any other adhesive-backed thing from glass -- I've also now used lemon juice as well as white vinegar to remove labels from the bottoms of kitchen tools and pots.
Related Articles
More Great Links
Sources
Andriani, Lynn. "There's a Wrong Way to Dust? And 5 Other Cleaning Mistakes." Oprah. Jan. 30, 2012. (June 14, 2013) http://www.oprah.com/home/House-Cleaning-Tips-and-Ideas

Apartment Therapy. "Quick Tip: Clean Scratched Glass with Toothpaste." Feb. 17, 2011. (June 14, 2013) http://www.apartmenttherapy.com/quick-tip-clean-scratched-glas-139567

Better Homes and Gardens. "How to Wash Windows." (June 14, 2013) http://www.bhg.com/homekeeping/house-cleaning/surface/how-to-wash-windows/

D'Agnese, Joe. "How to Clean Windows Like a Pro." This Old House. (June 14, 20130 http://www.thisoldhouse.com/toh/how-to/intro/0,,20364019,00.html

Forte, Carolyn. "Quick Window-Cleaning Tips." Good Housekeeping. (June 14, 2013) http://www.goodhousekeeping.com/home/cleaning-organizing/quick-window-cleaning-tips

GlassesCrafter. "How to Remove Scratches on Eye Glasses." (June 14, 2013) http://glassescrafter.com/information/remove-scratches-on-eyeglasses.html

LiveWell Network. "Glass Cleaner Wipes." (June 14, 2013) http://livewellnetwork.com/Deals/recipes/Glass-Cleaner-Wipes/8707431

Marvin. "Glass Cleaning." (June 14, 2013) http://www.marvin.com/cleaning_glass/

Palomo, Eulalia. "Natural Homemade Streak-Free Window Cleaners." National Geographic -- Green Living. (June 14, 2013) http://greenliving.nationalgeographic.com/natural-homemade-streakfree-window-cleaners-2457.html

Perratore, Ed. "Tip of the Day: How to Clean Windows." Consumer Reports. July 31, 2007. (June 14, 2013) http://news.consumerreports.org/home/2007/07/tip-of-the-da-1.html

Sansoni, Brian. "Happiness is ... Shiny Floors and Tidy Toilets?" American Cleaning Institute. May 14, 2008. (June 14, 2013) http://www.cleaninginstitute.org/happiness_is_shiny_floors_and_tidy_toilets/

Sansoni, Brian. "Spring Cleaning Survey Reveals Consumers 'Dirty' Little Secrets." American Cleaning Institute. March 20, 2013. (June 13, 2013) http://www.cleaninginstitute.org/spring_cleaning_survey_reveals_consumers_dirty_little_secrets/

Sansoni, Brian. "Windows, Blinds, Curtains and Carpets: Top Targets for Spring Cleaners." American Cleaning Institute. March 14, 2012. (June 14, 2013) http://www.cleaninginstitute.org/2012_spring_cleaning_survey/

The Family Handyman. "How to Clean Glass Windows and Doors." (June 14, 2013) http://www.familyhandyman.com/windows/how-to-clean-glass-windows-and-doors/view-all

The Family Handyman. "How to Wash Windows." (June 14, 2013) http://www.familyhandyman.com/windows/how-to-wash-windows/view-all

The Martha Stewart Show. "Washing Windows." (June 14, 2013) http://www.marthastewart.com/265525/washing-windows