1
Straightening Up the Playroom
Happiness is so much better when it's shared. So why should you be the one to experience all the joy of finding surprises like half-eaten lollipops or long-lost pet hermit crabs among the Legos, puzzles and building blocks strewn about the playroom floor? With a few storage bins, a dust cloth and a vacuum cleaner, your husband can have this room shipshape in no time. Just don't be surprised if you send him in to clean, only to check on him 45 minutes later and find him excitedly building "the coolest train track ever."
If all goes well, this list will set you on the path to domestic bliss and a more equitable workload. But if all else fails, you can always go for the ego: One creative wife and mother in the U.K. gave her husband his own column on their children's chore chart. Now the kids shame him into action by giving him a hard time when they earn more stars for the week than he does!
Related Articles
Sources
Dell'Antonia, KJ. "Why Children Need More Chores." The New York Times. March 13, 2012. (July 20, 2012) http://parenting.blogs.nytimes.com/2012/03/13/why-children-need-more-chores/

Gallup, Alec M. and Frank Newport. "The Gallup Poll: Public Opinion 2008." Oct. 28, 2009. (July 20, 2012) http://books.google.com/books?id=89V-OSF5ig8C&lpg=PA125&ots=9q6iR0ml_r&dq=U.S.%20gallup%20poll%20household%20chores&pg=PA125#v=onepage&q=U.S.%20gallup%20poll%20household%20chores&

Hartwell-Walker, Marie, Ed.D. "Chore War: Household Tasks and the Two-Paycheck Couple." (July 20, 2012) http://psychcentral.com/lib/2006/chore-war-household-tasks-and-the-two-paycheck-couple/

Jayson, Sharon. "Men relax best when wives are busy." USA Today. May 18, 2011. (July 20, 2012) http://www.usatoday.com/news/health/wellness/marriage/story/2011/05/Men-relax-best-when-wives-are-doing-housework-chores/47266972/1

McVeigh, Tracy. "Forty years of feminism, but women still do most of the housework." The Guardian. March 10, 2012. (July 20, 2012) http://www.guardian.co.uk/society/2012/mar/10/housework-gender-equality-women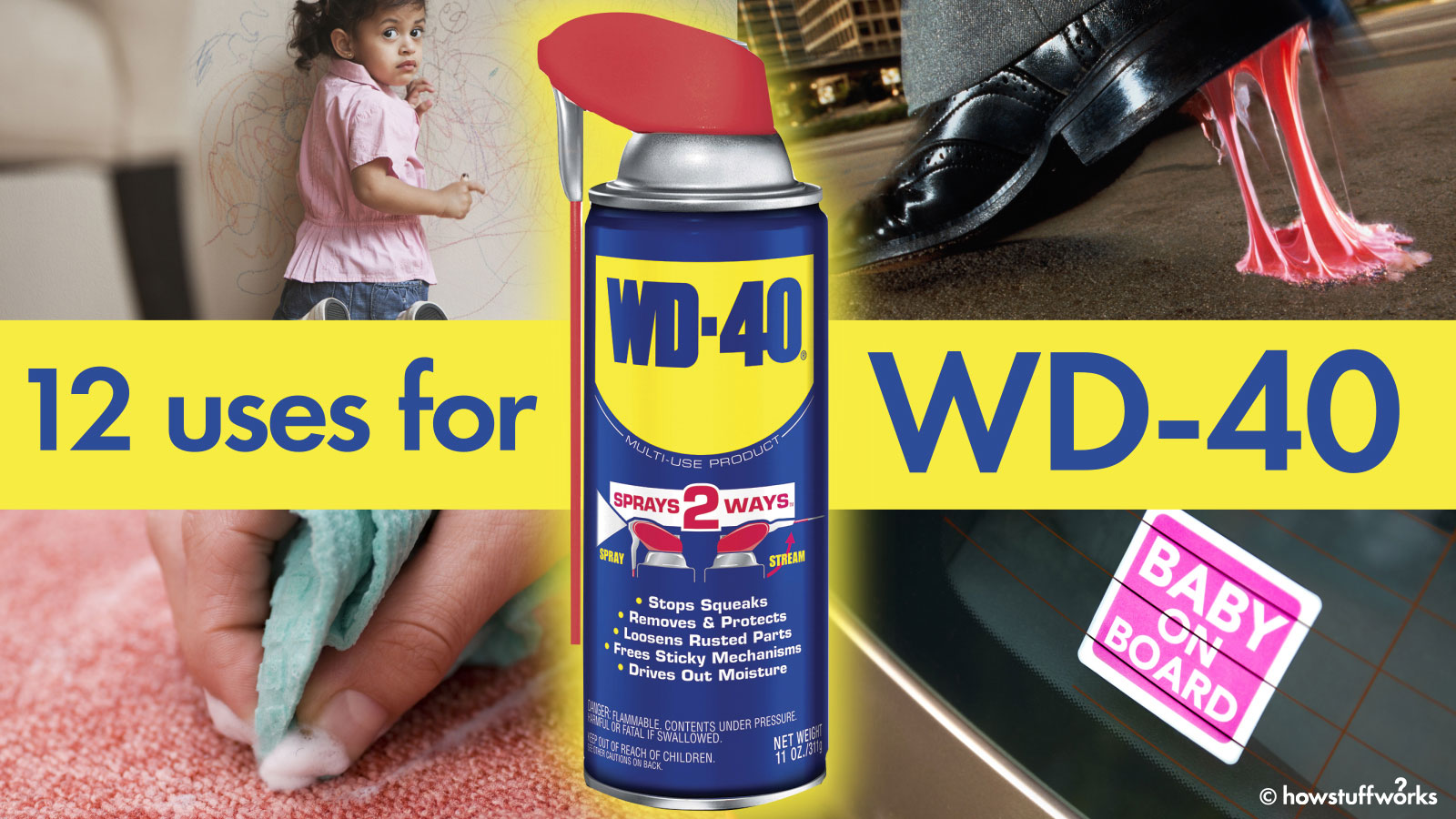 Up Next
There are thousands of reported uses for WD-40, an aerosol lubricant that's as handy as duct tape. We look at 12 of the more creative ones we've found.
---