Cleaning can be therapeutic in a number of ways. It's good exercise. You can actually burn around 240 calories vacuuming for an hour. And you don't need an expensive gym membership to do it.
It also gives you an opportunity to reacquaint yourself with all your great stuff. Remember how much you loved that black lacquered tray when you bought it? And isn't it nice to take a closer look at that crystal candy dish? How about the carved, wooden candlesticks your dad made for you? It's easy to take individual décor items for granted once your room gets too cluttered to notice them. Cleaning can help you recollect why you liked all that stuff in the first place. Oh, and it can also give you some good ideas about minor updates that can keep your home looking stylish.
Related Articles
Sources
Cummings, Betsy. "10 Things Your Cleaning Service Won't Tell You." Smart Money. 6/15/04. (5/9/12). http://www.smartmoney.com/spend/family-money/10-things-your-cleaning-service-wont-tell-you-15941/

Do It Youself. "Bathroom Cleaning Tips."(5/9/12). http://www.doityourself.com/stry/bathrooms

Good Housekeeping. "52 Home-Organizing Tips." (5/9/12). www.goodhousekeeping.com/home/cleaning-organizing/how-to-get-organized

Housecleaning Tips. "Quick Housecleaning Tips for Your Home." (5/9/12). http://www.housecleaning-tips.com/quick-housecleaning-tips.html

Kramer, Pamela S. "The "I Hate to Clean" Solution." Woman's Day. (5/9/12). http://www.womansday.com/home/cleaning-tips/the-i-hate-to-clean-solution-21548

Share Care. "How Many Calories Can I Burn Vacuuming?" (5/9/12). http://www.sharecare.com/question/how-many-calories-burn-vacuuming

Walmart. "Easy Cleaning the Affordable Way." Undated. (5/9/12). http://instoresnow.walmart.com/article.aspx?center=cleaning&id=77264

YouTube. "How to Make Natural Air Freshener." 1/25/10. (5/9/12). http://www.youtube.com/watch?v=iF1bbSym2ho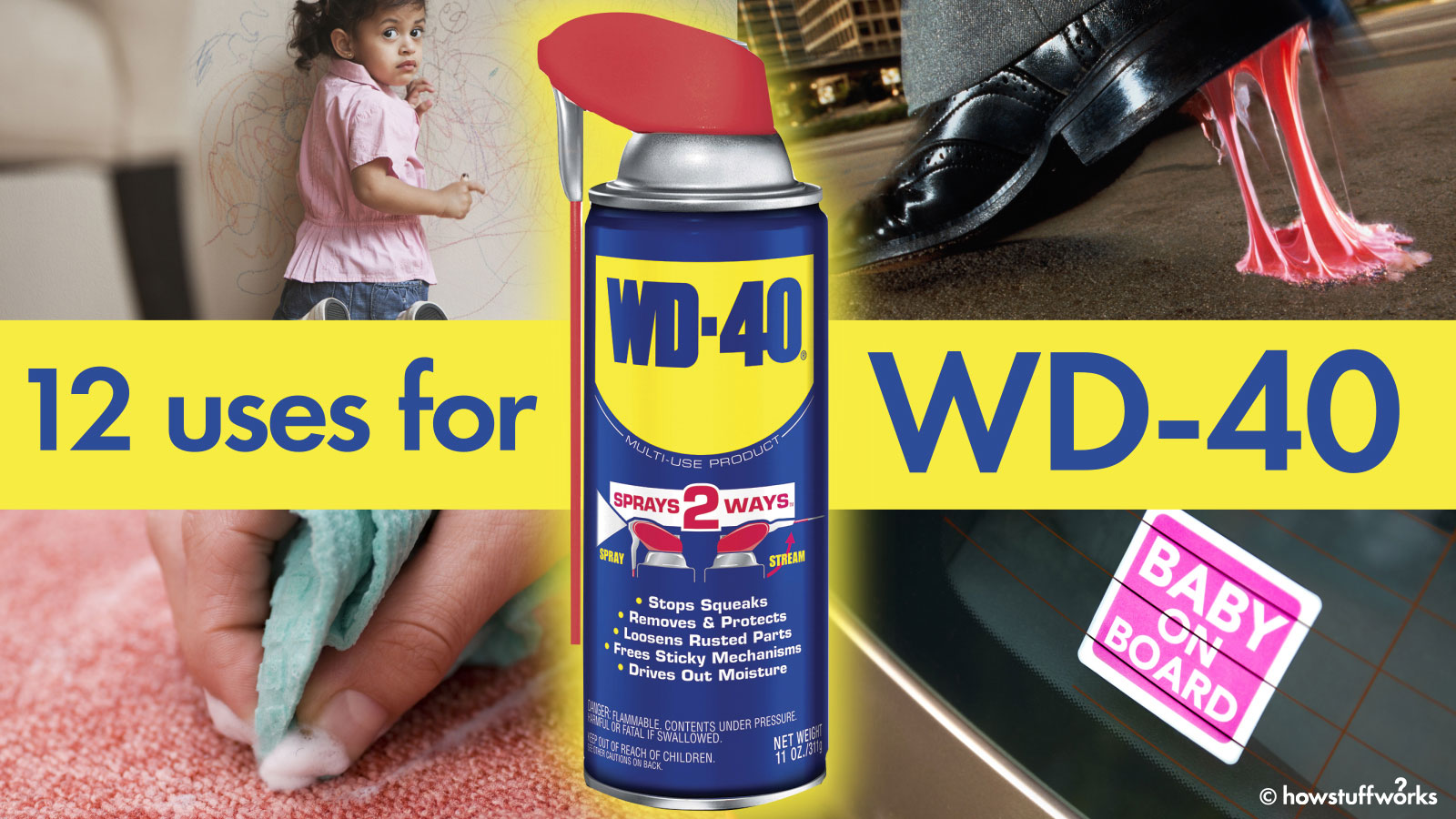 Up Next
There are thousands of reported uses for WD-40, an aerosol lubricant that's as handy as duct tape. We look at 12 of the more creative ones we've found.
---