The bathroom is not a fun room to clean. It's full of nooks and crannies that gather dust like a lint trap, not to mention being a breeding ground for bacteria and all other sorts of gross goo that you're not too psyched to get on your hands. And if you're a woman with long hair, you probably have enough on the floors and shower walls to make a wig.
But it doesn't have to get to that scary place. As they say, an ounce of prevention is worth a pound of cure, so the key is to keep it from ever getting to the point of no return in the first place. Here are five ways to prevent messes in your bathroom.
5
Clean Your Shower and Tub Regularly
One of our least favorite household jobs is cleaning the tub. It's an awkward space to maneuver in, and it's difficult to rinse the walls. But we've found that it's a lot less of a hateful task if we clean regularly rather than waiting until it's a big, crusty, mildewy mess. Giving it a regular rinse helps to prevent mildew growth and the buildup of tub scum, which means a lot less elbow grease on cleaning day. It's also a good idea to get in the habit of regularly freeing your drain from hair clogs and mopping up puddles right after you make them.
4
Supervise Young Kids in the Bathroom
Take one young child, add a room full of water faucets and you've got the recipe for a huge mess. Keeping an eye on your children will not only keep them out of trouble, it will help prevent injuries as well. Kids like to climb, and slick surfaces don't make good playgrounds. So, while you're in there, it's a good time to teach them about cleaning up after themselves in the bathroom. Small things like flushing the toilet when they're done and making sure tissues and toilet paper land in the proper receptacles will not only make your life easier, it will make for a lovely little house guest.
"If it's yellow, let it mellow," is a nice sentiment for saving water. But let's face it -- it's pretty gross to use a toilet that hasn't been emptied. Not to mention the yellow ring it leaves that you have to scrub off later. If you want to minimize your water usage, swap out your toilet for a low-flow model that lets you regulate the amount of water needed for each job. It's also a good habit to make sure you haven't left any remnants on the toilet seat.
2
Practice Good Ventilation
One of the most important aspects of a clean bathroom is proper ventilation. A fan is ideal -- not only does it help get rid of bathroom smells more quickly, the ventilation helps prevent the growth of mildew and mold, too. Not all bathrooms have fans, but there are other things you can do. If you have a window, pop it open right after a shower to let the steam escape. No window? Leave the door open while you shower. Want to do more to prevent mold? Be sure to wipe up any standing water and give your walls a quick towel down.
Bathrooms are often small, so it doesn't take much to make a mess. But if you have a place for everything, then it's much easier to make sure everything lands where it's supposed to. Add a hamper for towels and dirty clothes, and take a little time to assemble a well-organized medicine cabinet for pill bottles, shaving creams and deodorants. Use your linen closet for storage of cosmetics, product containers and a back stock of toilet paper. And make sure everyone in the family knows where everything goes, so they can clean up on the way out.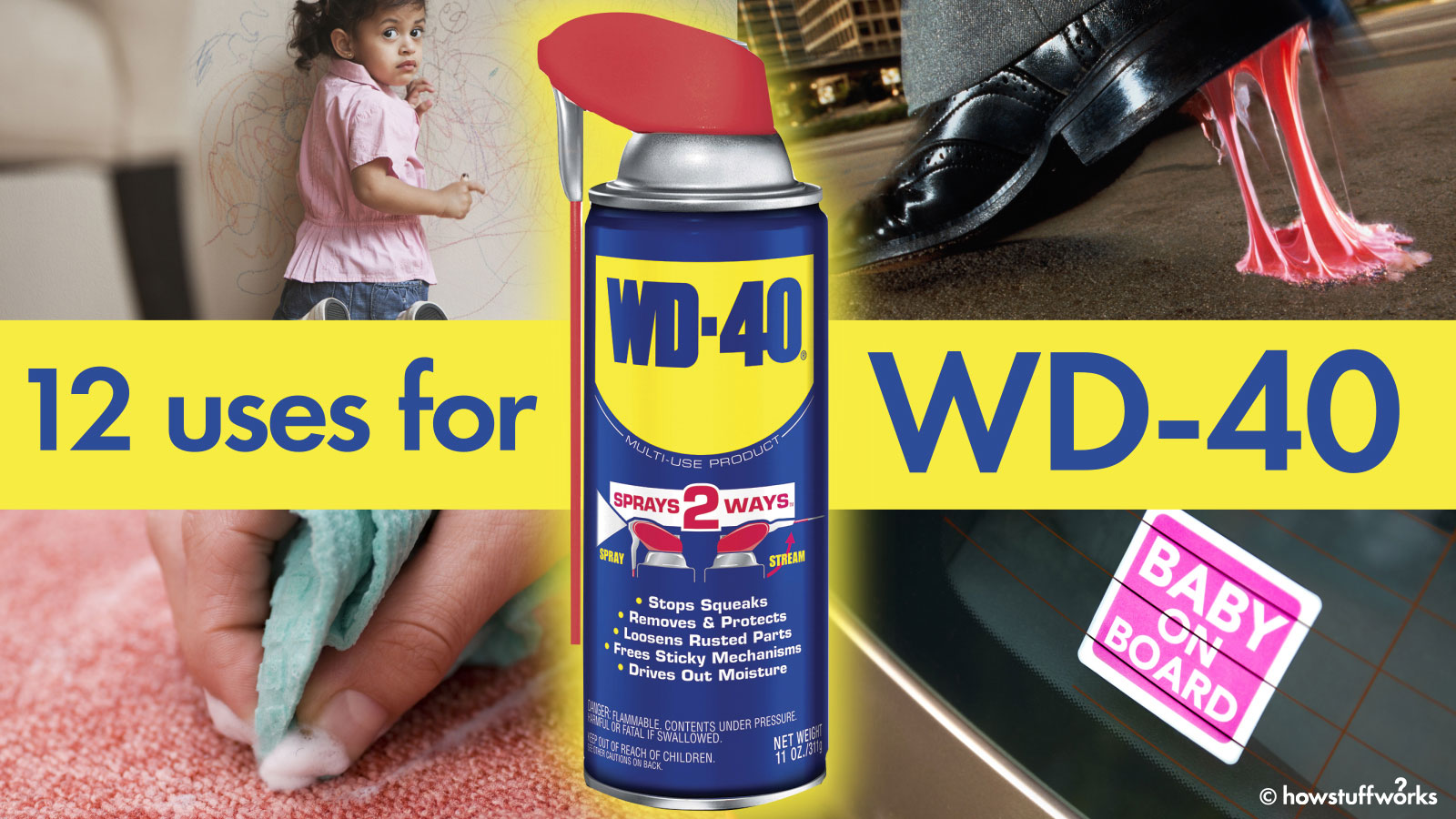 Up Next
There are thousands of reported uses for WD-40, an aerosol lubricant that's as handy as duct tape. We look at 12 of the more creative ones we've found.
---
Related Articles
Sources
Bauman, Rebecca. "Bathroom etiquette a must for dorm students." Psucollegio.com, July 28, 2005. http://media.www.psucollegio.com/media/storage/paper437/news/2005/07/28/CampusLife/Bathroom .Etiquette.A.Must.For.Dorm.Students-965510.shtml

"Best shower cleaners." Consumerreports.org, 2010. http://www.consumerreports.org/cro/appliances/laundry-and-cleaning/shower-cleaners/overview/shower-cleaners-ov.htm

Case, Zenaida. "How To Stop Shower Curtain Mildew." Howtodothings.com, 2010. http://www.howtodothings.com/home-garden/how-to-stop-shower-curtain-mildew

"Do You Really Save Money By Not Always Flushing?" thesimpledollar.com, April 15, 2010. http://www.thesimpledollar.com/2010/04/15/do-you-really-save-money-by-not-always-flushing/

Minor, Nik. How to Stop Mold Growing in a Bathroom Without Windows." Associatedcontent.com, April 15, 2010. http://www.associatedcontent.com/article/2882518 /how_to_stop_mold_growing_in_a_bathroom.html?cat=5

Turner, Jessica. "How To Clean a Bathroom Tub and Shower Without the Mess." Howtodothings.com, 2010. http://www.howtodothings.com/home-garden/how-to-clean-a-bathroom-tub-and-shower-without-the-mess