Let's face it, we're all pretty busy. With work, kids, running errands, cooking and whatever little bits of time you can set aside for yourself, a thorough house cleaning often has to take a backseat. It's a tough job to keep a house tidy, especially with kids making their own messes. In order to spend less time with the vacuum and more time with your family, here are some time-saving cleaning tips.
If you really want to save time on your big cleaning days, do a little cleaning every day. Just 10 or 15 minutes a day can really save you time in the long run. Spend a few minutes tidying up, and then concentrate on wiping down the surfaces. Then, a quick sweep and that's about all it takes to keep you from spending hours on a deep clean later on. And if you keep things from piling up over the course of the week, you can skip the decluttering process and dive right into the cleaning when the time comes.
Gravity controls all things, including house dust. To keep from having to go back and clean the floors again, save them for last. Start from the top down in each room, with the cobwebs that accumulate on the walls and in corners. Work your way down to the drapes or blinds, and then the furniture. By this time, your floors have probably picked up a lot more dust than when you started. Finish it off down low, and you won't have to do the floors twice.
Cleaning as you go is a tried and true way to save time, especially in the kitchen and the bath. When cooking, wipe surfaces as you go and transfer used prep bowls and utensils to the sink. You should also wipe the stovetop down as you're cooking. This will prevent you from having a crusted-on mess to deal with after dinner. Same goes for the bathroom. Wipe away any soap scum and toothpaste as you go and make sure to keep the toilet nice and clean on a daily basis. To keep your faucets from spotting, wipe them with a dry towel after each use.
In addition to the regular daily cleaning you can do to save time, pick one room per week and give it a little extra attention. Over the course of the week, perform a few deep-cleaning chores on that room. For example, if you choose the living room, pull the couches away from the wall and clean the floors underneath. If your drapes are washable, you can knock that out, too. Rotate the rooms from week to week, and you'll find that the regular whole house deep clean won't take you nearly as long.
Valuable time can be wasted looking for the right cleaning supplies for the job. Take an hour to assemble a well-stocked cleaning kit, and you'll save more time later on. Get some kind of plastic bin or box and keep all the supplies for the entire house in one spot. This should include all towels, sponges, dusters and cleaning solutions. If you really want to be on the ball, you can also keep a couple of necessities in each room for the quickie daily cleanings.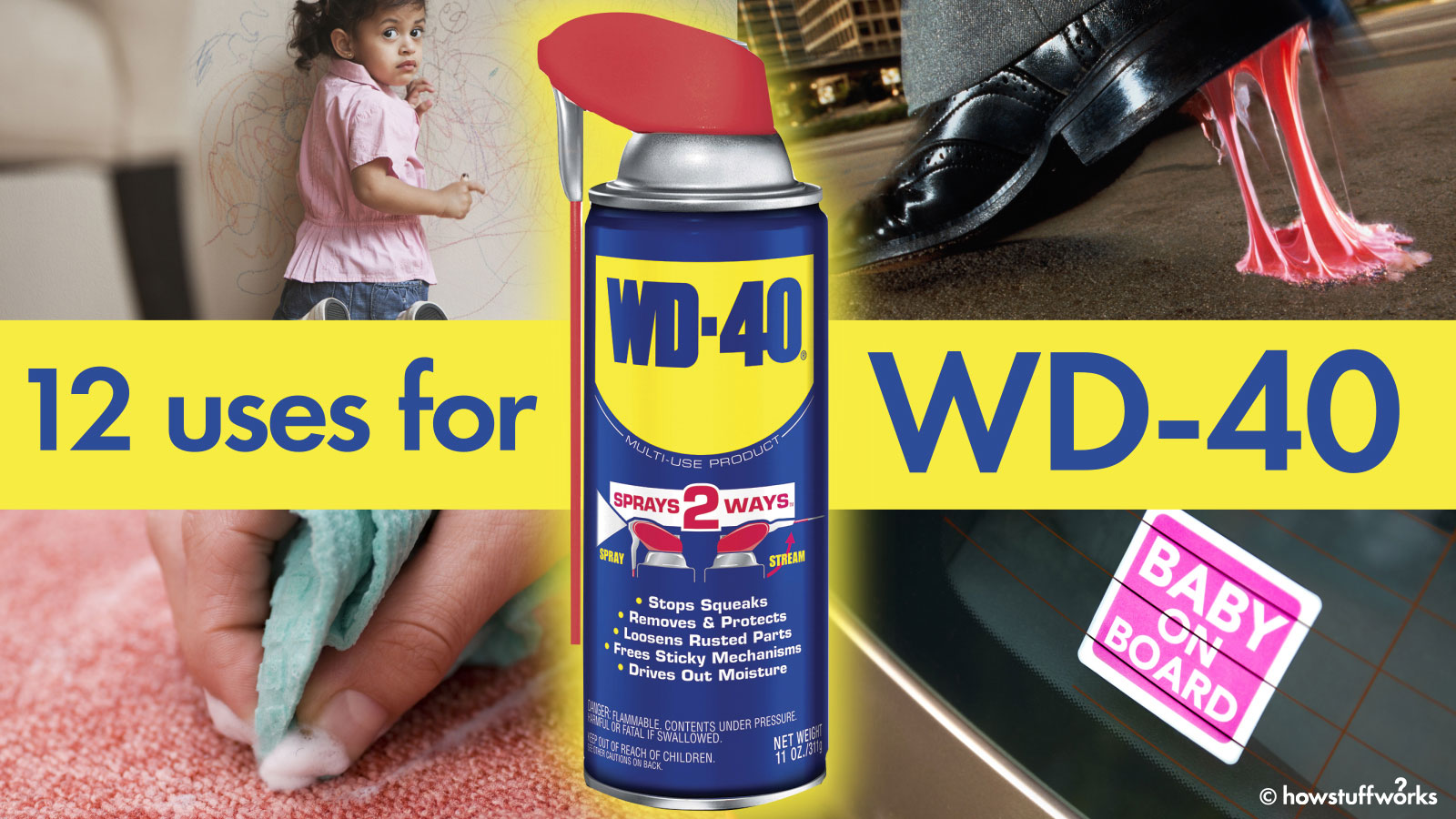 Up Next
There are thousands of reported uses for WD-40, an aerosol lubricant that's as handy as duct tape. We look at 12 of the more creative ones we've found.
---
Related Articles
Sources
Brown, Tracy. "Save Time Cleaning by Cleaning Daily." Associatedcontent.com, September 13, 2006. http://www.associatedcontent.com/article/59018/save_time_cleaning_by_cleaning_daily_pg2.html?cat=46

"Cleaning Products." Worldwatch.org, 2010. http://www.worldwatch.org/node/1484

"Kitchen Cleaning Tips That Save Hours of Time." Housecleaninglubbock.com, 2010. http://housecleaninglubbock.com/kitchen-cleaning-tips-that-save-hours-of-time/

"Soap up! The 12 germiest places in your life." Msnbc.com, November 12, 2008. http://today.msnbc.msn.com/id/21423163/ns/today-today_health/

"Time-Saving Cleaning Tips." Howstuffworks.com, 2010. https://tlc.howstuffworks.com/home/time-saving-cleaning-tips.htm