Making a house a home can be hard work and expensive, too. That adorable greenhouse window you want to install over the kitchen sink, the tile for the guest bathroom and the laundry room you want to build in the basement can be a challenge to design, a nightmare to do yourself and a hassle to contract out.
Even utilitarian upgrades can uncover problems, such as mold, asbestos or Chinese drywall, that you didn't even know you had. When you want to give your digs a facelift, you may not be able to anticipate all the hazards, but staying away from these boo-boos will save you time and money and keep you from going prematurely gray.
If you have a full-time job, a family and a desire to get a few hours' sleep at night, budget your remodeling projects by the time as well as the money they may cost you. Whoever ends up doing the work, most remodels involve inconvenience, mess and scheduling conflicts. It seems like a good strategy to go ahead and get the new countertops, cabinets and the family room bookshelves installed all at once. The reality is that, barring cloning yourself, you're better off doing projects one at a time where you can really monitor what's going on. This is wise from a budgeting standpoint, too. If one annual project goes over budget, you may be OK. If all three start hemorrhaging money, you could be in big trouble.
If you're an old hand at DIY projects, then you may already have a garage full of tools to use for your remodel of choice. If you're just starting out, though, the money it may cost you to buy the tools you want for your collection, rent others, and learn how to use them all accurately and safely can turn into a big, expensive annoyance. Those Italian tiles can get pricey. If you keep chipping or cracking them while working to install flooring in your entry, a simple weekend project can turn into the hobby you never wanted.
Inexpensive is good. Cheap isn't. Many of the tools and supplies you'll be buying may be more expensive for a reason. Some goods are rated for the applications they'll be used for. If you buy an inexpensive light-use material for a heavy-use location, it will wear out faster. From wood glue to roofing shingles, it pays to think carefully before you go for the bargain basement brand.
The story's similar with tools. Quality tools often have safety features and other components that make them worth the extra cost.
Cost overruns in the building industry are a cliché, and your project, even if it's just a new door for the utility closet, may end up the same way. A good strategy is to add 20 percent to any cost computations you make. If you come in under budget, treat the family to ice cream or yourself to some new shoes.
Taking good measurements is the basis for pricing, cutting and managing materials and other resources. It's one of the core elements of any remodeling project. If you get this part wrong, it will come back to bite you in many of ways. You know the old saying, "Measure twice, cut once"? Well, that's wrong. To be on the safe side, go ahead and measure three or four times.
Contractors are the experts when it comes to process, but you're the expert when it comes to what you want from your remodel. It can be intimidating to step up to the big kahuna and tell him you don't like the way things are going, but if you don't do it now, you'll have to live with the results long after the contractor's cashed your check and moved on. It pays to be involved in your project on a daily basis so you can catch problems early. If you see something going south, speak up sooner rather than later.
That pink and black refrigerator may be in this year, but before you've had a chance to go through a jar of pickle relish, it'll be so yesterday. Trends come and go in home décor the way they do with clothing and shoe styles. The best way to ride it out is to invest in the classics, go with quality materials, and build for the future. Sustainable is probably a new classic you can trust, but don't expect stainless steel appliances and open shelving to stand the test of time.
That Florida room you've always wanted may appear dynamic and refreshingly tropical on paper, but when it's actually installed in your backyard, it could end up nudging out your peony bed and making the rest of your yard look narrow and puny.
It could be the same sad story for your kitchen island installation or new fireplace if you aren't careful about scaling your remodel to fit the rest of your house or property. If you don't want your new ceiling fan to look like a small plane just crashed into your roof, pay attention to manufacturers' details about sizing, and do some 3-D mock-ups just in case.
Some home repairs and remodels require a permit and some don't. Laws vary depending on where you're located. The worst thing you can do is perform the work and worry about things like zoning and permits later. Even if you don't get caught, when you go to sell your home, your work could be called into question and delay or nix the sale. Worse, if something bad happens because of your workmanship, the new owners may have grounds to sue you.
Once the plans have been made up and work has begun, it's a little late to start second guessing yourself. Putting another electrical outlet in the kitchen for your new espresso machine may seem like a simple last minute add-on, but it might not be. If you have a creative bent or just can't envision the new layout until it starts taking shape, don't expect to make many changes without a hefty price tag attached. For a sane and in-budget remodel, do your recon and strategizing before the dust starts flying.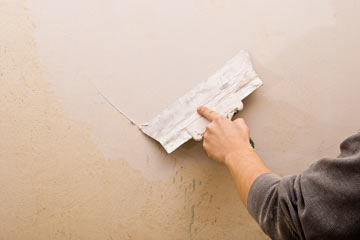 Up Next
Read Shared Walls: Why Fixing Cracks Should Be at the Top of Your DIY List. Keep reading to learn why fixing cracks should be at the top of your list.
---
Related Articles
Sources
Active Rain. "Kitchen Trends 2009." 7/23/08. 5/12/10.http://activerain.com/blogsview/624665/kitchen-trends-2009-stainless-steel-appliances-is-the-fad-over-

Ask Merv. "No Building Permit - Where's the Liability?" 4/21/06. 5/12/10.http://askmerv.choice3realty.com/000529.html

Better Homes and Gardens. "The New Remodeling Book." BHGM. 1998.

Davis, Sid. "Home Makeovers That Sell." Amacom Books. 2007.

Home Improvement and Financing. "Home Repair Improvement." Undated. 5/12/10.http://www.home-improvement-and-financing.com/home-repair-improvement.html

Miller, Mark R., Rex Miller, Glenn E. Baker. "Home Remodeling." McGraw-Hill. 2005.

Sennebogen, Emilie. "Top 5 Home DIY Mistakes and How to Avoid Them." Undated. TLC Home. 5/11/10.https://tlc.howstuffworks.com/home/5-diy-home-mistakes.htm/printable

The Handyman. "Do-It-Yourself Home Repair: "What You Should & Should Not Attempt." Undated. 5/11/10.http://www.handyman-business.com/Do-It-Yourself-Home-Repair.html