1
You Should Always Check His References
A man is only as good as his word, right? When you're dealing with a contractor, he's as good as his former clients say he is. Sure, there are plenty of skilled, honest and dependable contractors out there, but you having a better chance of finding one if you check his references. And we're not talking about calling a random name on the list to make sure he's provided you with real numbers. Try calling recent and repeat clients and asking what they think of him. Ask general questions and ones specific to your project. What kind of work did he do? How long did it take? Was he able to come in at (or even under) budget? Would they consider using him again? You'll only need to speak to a few references to nail down the quality of work a contractor provides.
Related Articles
Sources
Dahl, Jonathan. "1,001 Things They Won't Tell You: An Insider's Guide to Spending, Saving, and Living Wisely." (Aug. 8, 2010).http://books.google.com/books?id=s4aDwZ9RZTMC&pg=PA145&lpg=PA145&dq="Close+to+95+percent+of+home-improvement+contractors"&source=bl&ots=6Dx4eIqN9H&sig=vIs_cHBabOwLNE3lyjjixOmEqao&hl=en&ei=alRoTJ-RJoG0lQemp_mfBQ&sa=X&oi=book_result&ct=result&resnum=3&ved=0CCAQ6AEwAg#v=onepage&q=%E2%80%9CClose%20to%2095%20percent%20of%20home-improvement%20contractors%22&f=false

Home Reports. "Consumer Tips." 2010. (Aug. 9, 2010).http://www.homereports.com/Content/6/Consumer-Tips

Lipford, Danny. "Avoiding Contractor Scams." 2010. (Aug. 9, 2010).http://www.dannylipford.com/diy-home-improvement/financial/avoiding-contractor-scams/

Lombardi, Kate Stone. "A Contractor Horror Story? Join the Crowd." New York Times. July 1, 2007. (Aug. 9, 2010).http://www.nytimes.com/2007/07/01/nyregion/nyregionspecial2/01colwe.html?_r=1

Marks, Oliver. "The Top 5 Contractor Scams and How to Avoid Them." Houselogic. Jan. 7, 2010. (Aug 9, 2010).http://www.houselogic.com/articles/top-5-contractor-scams-and-how-avoid-them/

Nolo.com. "Home Improvement: How to Avoid Paying Twice" 2010. (Aug. 8, 2010).http://www.nolo.com/legal-encyclopedia/article-30220.html

Oregon.gov. "Construction Contractors Board: Consumer Help." 2010. (Aug. 8, 2010).http://www.oregon.gov/CCB/consumer_help.shtml

Yahoo! "Avoid Common Home Repair Rip-offs." 2010. (Aug. 8, 2010).http://loan.yahoo.com/m/living2.html

Yahoo! "10 Things Your Contractor Won't Tell You." 2010. (Aug. 8, 2010).http://loan.yahoo.com/m/living1.html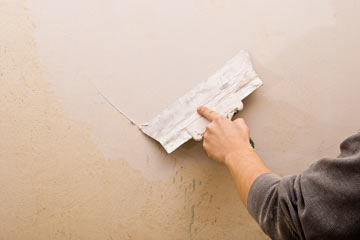 Up Next
Read Shared Walls: Why Fixing Cracks Should Be at the Top of Your DIY List. Keep reading to learn why fixing cracks should be at the top of your list.
---