Updating the old homestead by making a few important repairs now and then can keep you feeling at home. It's even better if you can do the labor yourself and save a little money. Before you grab your measuring tape and level, though, take a few minutes to determine the difference between the types of updates and overhauls you can perform yourself and those you should hand off to the professionals.
There are a couple of things to consider here. Some home repairs can be dangerous, as in nasty fall or life-threatening shock dangerous. Others could lead to gas leaks or water damage if they're not done properly. Even worse, you might not know there's something wrong until an expensive or unsafe condition exists.
There's even a chance you could perform a job perfectly -- better than perfectly -- but without the proper permits, you could end up running afoul of the powers that be when you try to resell your property. Beyond being really annoying, this could end up costing you a sale and a lot of money. The following five jobs may be worth paying for.
You're not a mountain goat, and chances are, you don't spend much time in trees or in high-elevation locations. It's one thing to look out over a majestic vista when you have a handrail to hang onto, but it's something else entirely climbing on your roof (backwards) to replace a missing shingle. If you get off lucky, it could be just a leg you break. But it can get much worse; you might land on your head and break your neck. Better to leave it to the high-wire experts.
Changing one of those little rubber faucet washers may be easy, but taking on larger plumbing projects can turn into a major mess. From differences in piping materials requiring change-outs or conversion fittings to dealing with water pressure issues, the prospect of saving money by doing your own plumbing work may seem attractive, but the reality is anything but. Oh, did we mention the ick factor involved in working with smelly drains?
Even if you do get the project completed, dastardly leaks could spring up that you may not see until they've done some major damage. Can you spell toxic mold?
3
Electrical Updates or Repairs
So, you've turned off the power at the circuit breaker panel or fuse box, and now you can get to work doing that little electrical update or quick fix, right? Not so fast. Is the power really off? Really really? How about testing the outlet, switch or ceiling receptacle with a voltage meter just to make sure? Or turning off the power at the master switch? Are you sure now?
There's really no way to put this delicately. Electricity can kill you, maim you and/or start a fire in your home. There's an old electrician's trick: If you have a doubt about a connection, lift your left leg off the floor and grab the wire with your right hand. That way any current going to ground will bypass your heart. Do you really want to risk it?
2
Gas Lines and Appliances
Like electricity, gas power in your home can be dangerous. Your gas appliances run off a plentiful and relatively safe fuel source, but the operative word here is "relatively." Natural gas has no odor. That foul smell comes from an additive designed to alert people to leaks. Even at that, accidents happen. Carbon monoxide poisoning kills more than 400 people in the United States every year, and you've probably seen those TV news stories about explosions and fires resulting from undetected leaks.
If you need to run a gas line, perform a repair or just feel it's been a while since your home's been checked, consult your power company or fire department for advice.
1
Hazardous Materials Handling
If you have asbestos or extensive mold in your home, you're better off calling in a professional than dealing with it yourself. These noxious materials have the potential to cause health problems not only for you, but also for your family -- and in the case of asbestos, even your neighbors.
Where you may be able to deal with a limited spot of mold, there's the possibility that more mold exists than may be visible from your vantage point. And once you start excavating, mold spores will be released that can take up residence in other parts of your home. When it comes to the noxious and toxic, forget the heavy-duty respirators and goggles. Call in the pros.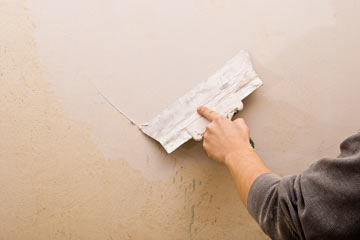 Up Next
Read Shared Walls: Why Fixing Cracks Should Be at the Top of Your DIY List. Keep reading to learn why fixing cracks should be at the top of your list.
---
Related Articles
Sources
Better Homes and Gardens. "The New Remodeling Book." BHGM 1998.

CDC. "Watch Your Step. Undated. 5/11/10.http://emergency.cdc.gov/disasters/pdf/flyer-watch-your-step.pdf

CDC. Carbon Monoxide Poisoning. Undated. 5/12/10.http://www.cdc.gov/co/faqs.htm

Davis, Sid. "Home Makeovers That Sell." Amacom Books. 2007.

EPA. ""A Brief Guide to Mold, Moisture, and Your Home" 9/18/08. 5/12/10.http://www.epa.gov/mold/moldcleanup.html

Home Improvement and Financing. "Home Repair Improvement." Undated. 5/12/10.http://www.home-improvement-and-financing.com/home-repair-improvement.html

Infrared Training. "Electrical Inspections& Flash Suits." 3/25/08. 5/11/10.http://www.infraredtraining.com/community/boards/thread/974/

Miller, Mark R., Rex Miller, Glenn E. Baker. "Home Remodeling." McGraw-Hill. 2005.

Sennebogen, Emilie. "Top 5 Home DIY Mistakes and How to Avoid Them." Undated. TLC Home. 5/11/10.https://tlc.howstuffworks.com/home/5-diy-home-mistakes.htm/printable

The Handyman. "Do-It-Yourself Home Repair: "What You Should & Should Not Attempt." Undated. 5/11/10.http://www.handyman-business.com/Do-It-Yourself-Home-Repair.html