If your garage looks like an overstuffed storage unit with oil-stained floors, and it won't even fit your car, then you're living in the past. The modern garage can be sleek, have plenty of room for storage (including your cars) and a floor as clean as your kitchen or bath.
Custom garage shops all over the United States will help you trick out what may be the largest open area in your house. Or you can take some of these cool options and do-it-yourself to save a few bucks. And if you really want to step outside the box, who says it has to exist simply as a haven for your autos? Here are 10 great ideas for the garage of your dreams.
Dream Garage Option 10: Flooring
If you think your garage floor has to be concrete stained with motor oil and a kitty litter topper, then think again. Polymer flooring has come a long way and is the material of choice for the discriminating garage enthusiast. This synthetic topcoat is applied to the finished cement floor, bonding with it to create a shiny, ceramic-like finish.
The best thing? It's both an aesthetically pleasing and a practical solution. The end result is tougher, more resistant to wear and staining, and is actually stronger than the concrete it sits on. It's also easy to clean, hides dirt well, helps to keep dust at bay and definitely adds value when it comes time to sell. A professional installer can grind your floor with a diamond grinder, clean it, apply a base coat, color chips and a final clear coat in one day. Most of the time, you can even move back in the very next day.
Dream Garage Option 9: Doors
The problem with most run-of-the-mill garage doors is that they're not too appealing to look at. They serve a purpose, but style is kind of lost in the shuffle. Curb appeal is one of the top ways to add value to your home. And what better way to do that than by replacing your old fiberboard overhead door with a classy carriage-style unit?
Also known as "coach-style," these wooden doors open like French doors instead of being pulled up to rest just under your garage ceiling. You can still get the automated version as well, so don't think you have to unlatch it and open both sides like the old days of the horse-drawn carriage it's named for. Aside from the added value and eye-catching appeal, it also leaves your ceiling free for hanging storage. If the wood versions are too pricey, you can opt for a less expensive look-alike made from steel.
Dream Garage Option 8: Car Lift
There aren't many cooler options for a dream garage than an automated car lift. These luxury items have been used for years in the commercial setting, but are now available for residential homeowners who want to maximize their space.
The concept is simple -- drive your car or light truck onto the flatbed lift, hit a button and up it goes. What you choose to do underneath is up to you, but most people park a second car -- making a two-car garage a three-car, or simply freeing up some floor space for let's say ... poker night?
A car lift can withstand a load up to 7,000 pounds, and some units even sit on casters to allow them to be moved around the garage. They also come in different colors, so you can match yours to your new polymer floor. Besides the convenience and space-saving factors, home mechanics can do away with the rolling backboard and work standing up like the pros for a change.
Dream Garage Option 7: Cabinets
Say goodbye to your father's old particleboard cabinets. You know the ones -- warped from humidity with drawers that won't slide quite right. Garage cabinet systems now are highly durable, attractive and can be configured in a virtually unlimited number of ways.
There are a lot of companies that manufacture the cabinets, so shop around for something that fits your storage needs and aesthetic tastes. Choose from birch-wood drawers and facing, brushed metal, or particleboard finished with durable melamine, a fire-resistant polymer. And that's only the beginning. European hinges add to the style, and they come in dozens of standard colors.
If those won't do, you can customize your own. When shopping around, check for drawer-load capacity -- something in the neighborhood of 125 pounds will serve you well. And if you're a stickler about showing off your flooring, mount your cabinets off the ground. It also makes it easier to clean underneath.
Dream Garage Option 6: Wall and Rack Storage
There's no better way to store things in a garage than to get it on a wall or over your head. Doing so frees up valuable floor space and helps keep things orderly -- the key to any dream garage.
If you want to keep it simple, head down to your local hardware shop or big-box hardware store and check out the grid walls. These are basically large metal grids with hooks like an old-school pegboard, but more durable. Your lawn tools can find a nice home on a grid wall. Or you can go with a slat wall system. These are heavy-duty thermoplastic walls that attach to your existing garage wall. They're made up of a series of horizontal slats and specially made accessories that fit into those slats. Hooks, baskets and shelving can all be attached to the slats for a custom storage solution.
And when you run out of wall space, just look up. Ceiling mounted storage racks are very popular and are a great way to store little-used items.
Dream Garage Option 5: Home Office
Once you've done the work to mack out your space, you may take a look and decide to put yourself in the garage and your car in the driveway. Your garage can make a great extra room, and installing your home office out there will allow you to close the door at the end of the day and leave your work at work -- unlike the room in your house that throws off a guilty, "there's more work to do" vibe every time you pass the doorway.
Create your very own executive suite by painting the walls a soothing blue to inspire many productive hours and add some throw rugs or carpet squares to warm up the floor. On gorgeous days, throw open the oversized office door and commune with Mother Nature.
Dream Garage Option 4: Music Room
Garage bands aren't just for angsty teenage boys clad in skinny jeans. Do you still enjoy the occasional jam session with the boys from the 'hood? Become the toast of the group by hosting the gang in your magnificent garage-cum-music room.
All you need is some sound proof material to keep the noise at bay. You can turn to the pros to create a space worthy of a recording studio, but if money is an object, there are ways you can go about it that will minimize the possibility of irritating your neighbors. The DIY guys suggest building a room within a room. You can use pallets for materials and egg crates for soundproofing since you're not worried about building codes. Instruments not included.
Dream Garage Option 3. Art Studio
If you have art materials stuffed into every free drawer and cabinet in your house, then you've probably always dreamed of having a dedicated space to create. Time to pack it all up and move it into the studio of your dreams, conveniently located just a few steps from your home.
Imagine having enough space to display all of your canvases while you're creating new ones. And there's plenty of room for your new multi-media projects and all of their parts and pieces over there. You'll have plenty of room to store and organize all of your supplies for easy access, so no more searching for the Indigo watercolor tube. Not to mention the cement floor ensures an easy clean up of any spills or messes. In fact, your garage is really an ideal inspiration space. It has the largest door in your home that easily rolls up for access to many an artist's muse: the great outdoors.
Dream Garage Option 2: Man Cave
Your wife has her craft area and your kids have their play area, but where is your man cave? Smack dab in the middle of all of it, on the living room couch. So, how about parking your car in the driveway and taking over the garage?
Even a one car garage has plenty of room for a flat screen and a comfy couch. Lucky enough to have a garage that holds two cars or more? Add a ping pong table or a video game area for days when you're hosting some buddies and your man cave becomes the men's cave. Better yet, set up a bar in the corner and don't forget an extra fridge to store some libations and snacks.
Inexpensive indoor/outdoor carpet will take the chill off the cement floor and for the perfect home theater setting; all you have to do is close the garage door for movie night.
Dream Garage Option 1: Kid's Playroom
Kids' toys seem to multiply by themselves, and of course, no child is happy unless they're all out on the floor in sight. How often have you dreamed of a scenario where you don't walk into a room and twist your ankle on the newest Lego creation or wished for more space for your 3-year-old twins to run around in circles without bumping into the corners of tables? Taking the action into the garage is a great way to give your kids room to roam while still being able to keep an ear on things.
Obviously, this scenario is most ideal if your garage is attached to your house or opens up into your backyard. Adding some gym flooring on top of the concrete floor will make it safe for rough housing and easy to clean. Bookshelves and a wall lined with buckets easy to fill with toys during clean up help to keep things organized. Plus, there's plenty of space to leave room for projects in progress or set up larger toys that are frequently used and difficult to quickly put away.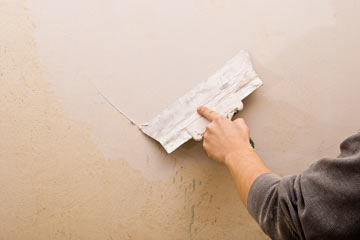 Up Next
Read Shared Walls: Why Fixing Cracks Should Be at the Top of Your DIY List. Keep reading to learn why fixing cracks should be at the top of your list.
---
Related Articles
Sources
"How to Soundproof a Garage on a Budget." Homerecordingconnection.com. Jan. 7, 2012. http://www.homerecordingconnection.com/news.php?action=view_story&id=1398