Tackling DIY projects has become a new American pasttime. Regular Joes, who formerly couldn't tell a hammer from a crow bar, are now empowered to be their own contractors thanks to helpful information from popular home renovation TV shows and information found online. But there are some projects fit for a novice and some that are best left to professionals. Here are a few examples of doable projects, and ones that require a phone call to the pros.
Changing out a faulty light switch or installing a new dimmer switch is something that even a newbie DIY enthusiast can take on. It doesn't require much more than some pliers, a screwdriver and a little help from Google. There are scores of step-by-step instructional sites on the Web that can walk you through this fairly basic process. The one thing you always need to remember is to turn off the breaker switch at the fuse box for the room you'll be working in. If you aren't too comfortable with your fuse box, just cut the main power for this quickie repair. But if your project entails more, like wiring for a new light, it's best to call an electrician.
4
Overhead Light or Fan Installation
This one falls into the category of a medium-sized job. If you have some intermediate DIY skills and know your way around a toolbox, then you should be able to install a simple overheard light or ceiling fan. If you're not comfortable with the task, it's a fairly easy job for a handyman, as long as there's existing wiring. If not, you'll want to put in a call to your electrician.
On the plumbing side of things, a leaky pipe or faucet is something that doesn't require a lot of experience to try and correct. "Try" because it may not be possible once you get into it. Not all leaks are created equally. Some might require a simple tightening where two pipes join with a monkey wrench. In this case, just get in there and batten down the hatches. Other leaks, you may find, are more complicated than that. If you tighten up everything and you're still leaking, then it's time to call in a professional. And here's one more tip - buy some Teflon tape and throw it into your toolbox. This thin white tape is used around pipe threads to prevent leaking.
Even an inexperienced DIYer should be able to put in a pedestal sink in a bathroom. Kitchen sinks and bathroom vanities are a little more complicated because they need to fit into an existing structure, so some carpentry might be involved. A toilet installation falls somewhere in the middle. It's not the most difficult thing to do, but there isn't much wiggle room when it comes to getting it just right. If your toilet is off by a few inches, it can affect the seal and you'll end up leaking things you don't want leaked. Stay away from any kind of shower or tub installation unless you have a lot of experience with this kind of work. Water always finds a place to leak, so leave these jobs to a professional.
Just like with a light switch, changing out an electrical outlet is something a novice DIY enthusiast can likely tackle. There's really not much involved beyond cutting the power at the fuse box, removing the outlet from its existing wiring and attaching a new one before popping it back into the wall. Where you get into trouble is when you have an old home with outdated wiring. Home electrical systems are clearer cut these days, but if you have an old house, then that black and white striped wire in the installation diagram may be yellow or brown. This is when a power meter comes in handy. Or maybe your cell phone to call in a professional.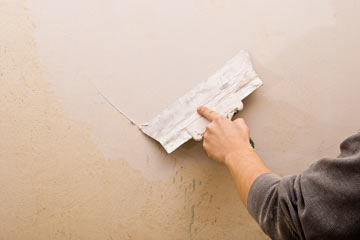 Up Next
Read Shared Walls: Why Fixing Cracks Should Be at the Top of Your DIY List. Keep reading to learn why fixing cracks should be at the top of your list.
---
Related Articles
Sources
Carter, Tim. "DIY Electrical Repairs." askthebuilder.com, 2010. http://www.askthebuilder.com/452_Beware_of_DIY_Electrical_Repairs.shtml

Davidson, Vicki McClure. "Don't Call a Professional: 5 Easy Home Fixes." frugal-café.com, 2010.http://www.frugal-cafe.com/diy-at-home/articles/easy-fixes-in-home.html

"Plumbing." doityourself.com, 2010.http://www.doityourself.com/scat/plumbing

Raskauskas, Barbara. "Should You Do it Yourself (DIY) or Call a Professional?" associatedcontent.com, December 29, 2008. http://www.associatedcontent.com/article/1344996/should_you_do_it_yourself_diy_or_call.html?cat=30

"The Electric Company." Retrojunk.com, 2010.http://www.retrojunk.com/details_tvshows/790-the-electric-company/

"The History of Plumbing." Plumbingworld.com, 2010. http://www.plumbingworld.com/historyamerica.html