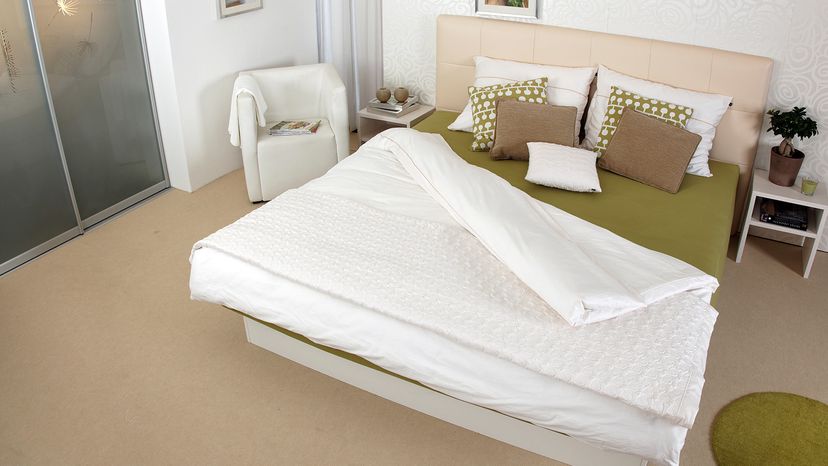 The waterbed was born around a half-century ago as the counterculture's solution to something pretty basic. We're talking a lack of sleep, of course, though the promise of sloshy lovemaking was a definite selling point back in the day, too. It was an almost immediate, groovy-licious success.
By the late '80s, waterbeds accounted for somewhere around 15 percent of the bedding market, or a tidy $2 billion a year, according to a New York Times article at the time. If you were cool back then — or thought you were or wanted to be — or if you valued a good night's sleep on gently rolling waves or dreamed of nights filled with wild surfing passion, you owned a waterbed. Or you wanted one.
Almost as quickly as the waterbed revolution began, though, it crashed. The novelty wore off. The revolution died. The summers of love ended. The era faded away.
These days, sales statistics for waterbeds are hard to come by. But it's clear that things aren't like they were back in the swinging '70s and '80s and even into the '90s. The competition (mainly things like air mattresses and memory foam) has grown. The number of waterbed manufacturers and sellers has shrunk.
Do you even know anyone who still owns a waterbed?
Lynn Hardman does. He still sleeps on one every night. He's also sold thousands of them over the past few decades to countless satisfied customers.
Hardman owns Southern Waterbeds & Futons in Athens, Georgia, and say that business isn't like what it was in the '70s, a time when mattress stores didn't dot every strip mall in every suburb, and mom-and-pop shops didn't have to compete with the internet. But there's still business out there. The waterbed is still hanging on.
"It's like night and day," says Hardman, who has operated his store for 43 years, almost as long as waterbeds have been around. "The waterbed has really followed that baby boom generation from the counterculture of the late '50s to where we are today. The early customers [back then] were younger and, today, it's almost the entire opposite. The baby boomers are older — much wiser — and in some cases buying that final bed."