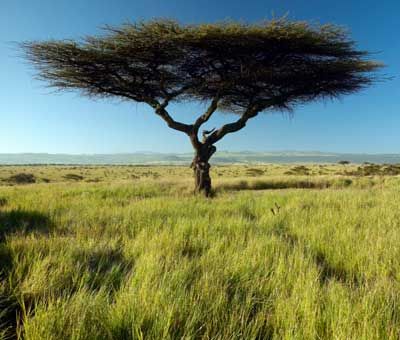 Trees provide everything from cork to fruit to timber to energy. For example, this Acacia tree found in the Kenyan savannah can provide shelter, gum and a variety of other products. Enter into the tall world of trees and learn about a handful of the more than 100,000 tree species. You'll have to look way up to see the next tree.
Currently the world's tallest trees, redwoods can grow more than 350 feet. They requires a cool climate of high humidity, and are found only in the narrow fog belt along the Pacific coast from southern Oregon to Monterey, Calif. If a redwood is a little big for your backyard, the next tree is probably more your speed.
The lemon tree is native to southeastern Asia and probably originated in India. Lemon trees bloom periodically throughout the year and continue bearing fruit in all seasons. The next tree is known for its rooting branches.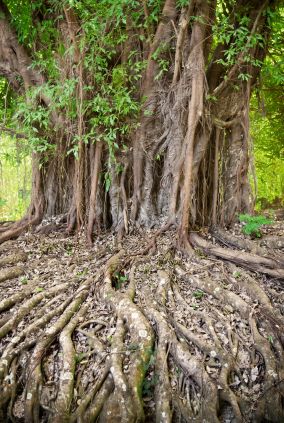 A single banyan tree may cover an area nearly 1,500 feet in circumference and have more than 3,000 trunklike roots. The banyan tree, which is native to India, is known to strangle host trees until they die. The next tree is prized for its fall foliage.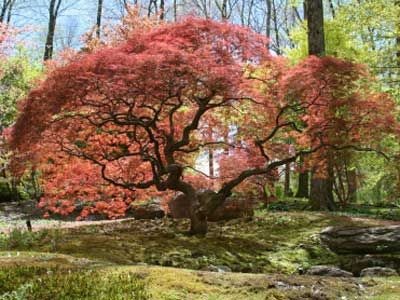 Japanese maples rarely grow taller than 25 feet and are perfect for a smaller yard. Their leaves may be green, bronze, red, purple or bicolored. In the fall, the leaves can changes to gold, russet, orange or crimson. The next tree produces fruit called 'monkey bread'.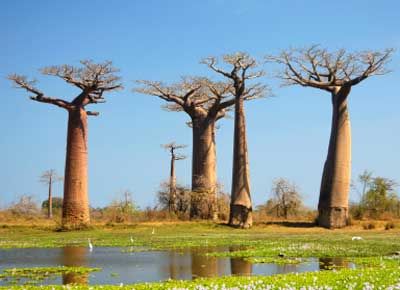 Native to western and southern Africa, the baobob tree can grow to 60 feet tall and 30 feet wide. Materials from this tree can be used to make rope, cloth and packing material. Beware the stink of the next tree in spring.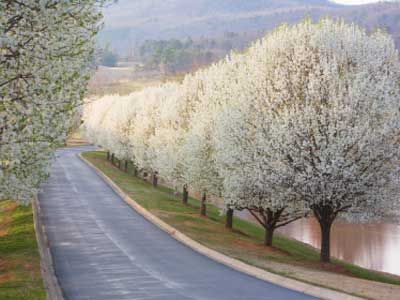 Native to China, the bradford pear is a deciduous tree that's white blooms smell less than pleasant. Bradford pears are quick-growing trees, but are susceptible to ice storms and wind. The next tree species can live more than 4,500 years!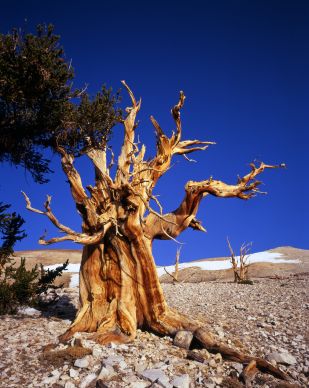 The bristlecone pine tree is among the oldest living organisms and can continue to live even after most of their trunks and branches die, sustained by minuscule amounts of moisture. Bristlecone pines, along with other pines, are called conifers, or cone-bearing trees. The next tree dates back to the time of the dinosaurs, before the evolution of flowering plants.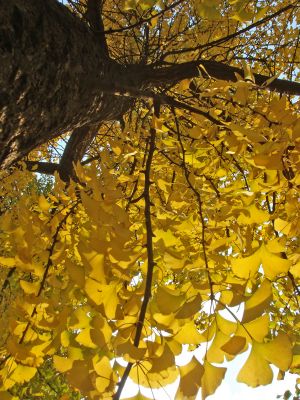 The ginkgo tree has long been cultivated in Japan and China as a sacred tree. Ginkgo biloba is the sole species of the genus and is thought to be the only survivor from a group of trees that died out millions of years ago. Next is a cone-bearing pine tree.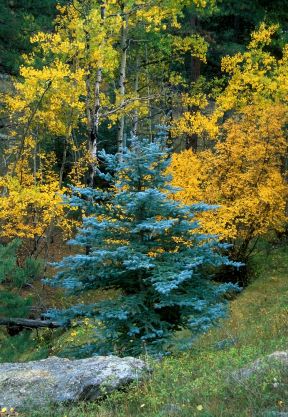 Utah and Colorado both claim the blue spruce as their state tree. Spruces are native to the cold and temperate regions of the Northern Hemisphere and also occur in the mountains of warmer areas. The next tree is native to Chile and Argentina.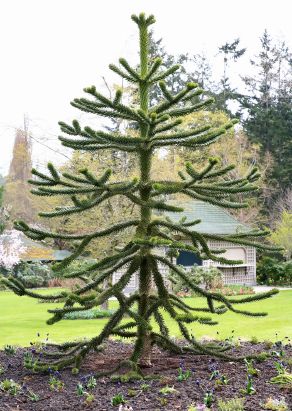 The rare and exotic Monkey Puzzle tree was imported to parts of British Columbia in the early 1900s. Supposedly, this is one tree that monkeys cannot climb. Did you know that cork came from a tree? See it next.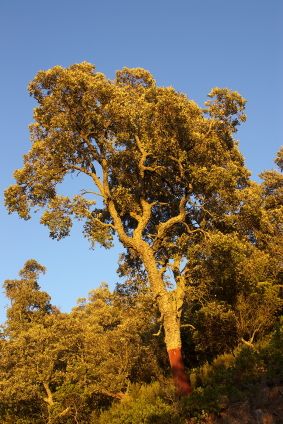 Just about every tree has an outer layer of cork bark, but the cork oak is the primary source of most cork products in the world. These trees primarily grow in countries that run along the coast of the Mediterranean Sea, where there's plenty of sunshine, low rainfall and high humidity. The next tree is a particularly good choice for swampy areas.
The bald cypress, often overgrown with Spanish moss, is the tree that gives the Louisiana bayous and the Florida everglades their exotic atmosphere. In wet situations, it develops 'cypress knees': curious growths that rise out of the ground or water and are believed to help the tree breathe in swampy conditions. The next tree produces a beautiful bloom in spring.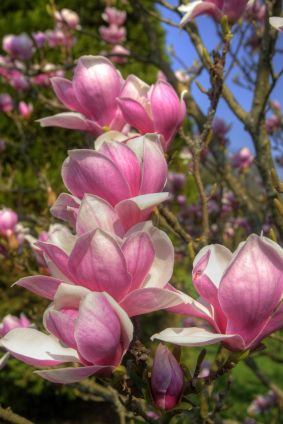 The saucer magnolia, hardy to Zone 4, produces large, cup-shaped flowers in white, pink or lavender before the leaves appear in spring. It can grow up to 15 feet high and just as wide. Where would cooking be without this next tree?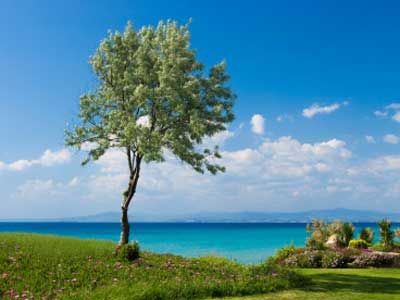 The olive tree is an evergreen that normally lives 300 to 600 years, although some specimens are well over 2,000 years old. Olive trees are native to the Mediterranean region, where they have been cultivated for about 5,500 years. Next is the iconic beach tree.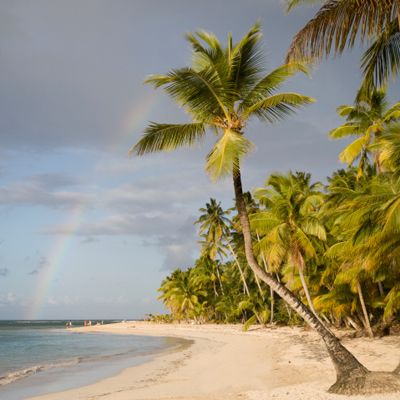 The palm tree is one of a large group of plants that are second only to cereals and other grasses in importance to man. Most palms are trees, but others are low shrubs or vines. Palms are widely distributed in the tropics, subtropics and warm regions of the temperate zones. The petals of the next flowering tree are crinkled like crepe paper.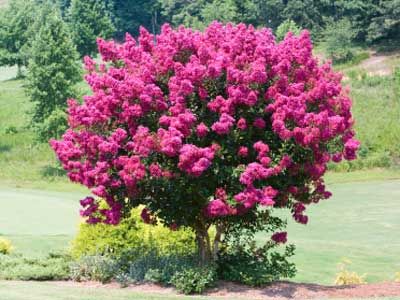 The crape myrtle is a flowering tree with multiple large, showy flower panicles in electric colors that sizzle across the branches-pink, purple, red-violet and white. A favorite in the South, they can reach 25 feet in height depending on the variety. The next variety is quick-growing, short-lived and found mainly along streams.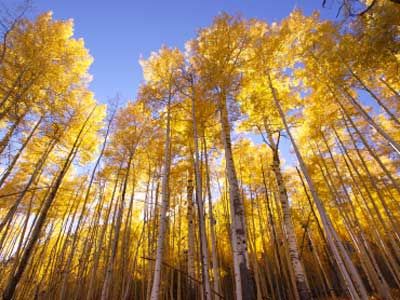 Certain species of poplars are called aspen and cottonwood. Most species are fairly tall, with a rounded or columnar shape. As you can see, poplar leaves turn a brilliant yellow in autumn. Next is another popular flowering tree.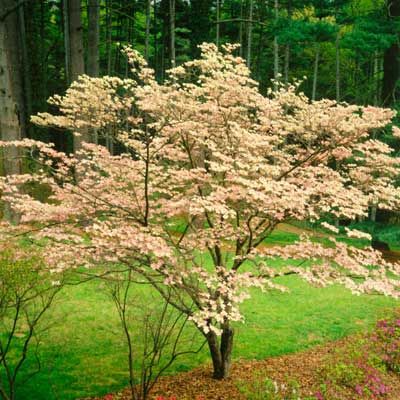 In spring and early summer, the buds of dogwood trees pop open into showy white or pink bracts that light up the landscape for weeks. The trees put on a second show in fall, when their leaves turn a rich red. The next tree bears the acorn nut.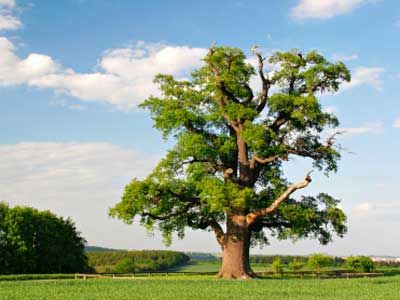 There are about 900 species of oaks, 75 of which are found in North America and are deciduous or evergreen, depending on the species. Next is an extremely valuable timber tree.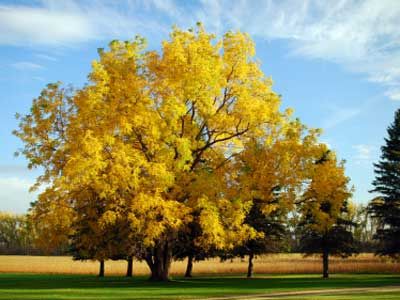 There are some 50 species of walnuts, including this black walnut, perhaps the most adaptable species of its genus. The black walnut is often more than 100 feet in height. Its purple-brown wood, the most expensive domestic wood in North America, is used chiefly for gunstocks and furniture, and as a veneer for cabinetmaking. The next tree is well known for its peeling bark.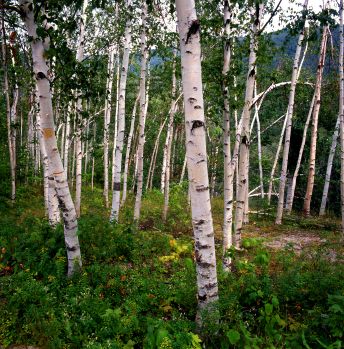 Generally a medium-size tree, the paper birch grows to about 40 feet in height. The bark is reddish brown on younger plants, becoming creamy white with dark horizontal lines called lenticels in the third or fourth year. The bark peels back readily, revealing a reddish orange inner bark. The final tree has graceful, drooping branches.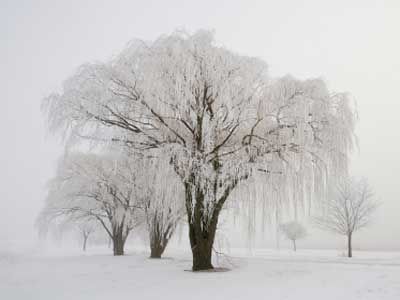 There are about 170 species of willows, including this weeping willow, 65 of which grow in North America. These fast-growing weeping willows have great beauty, but they also drop many small and large branches quite frequently. To learn more about trees, check out the Trees Channel.