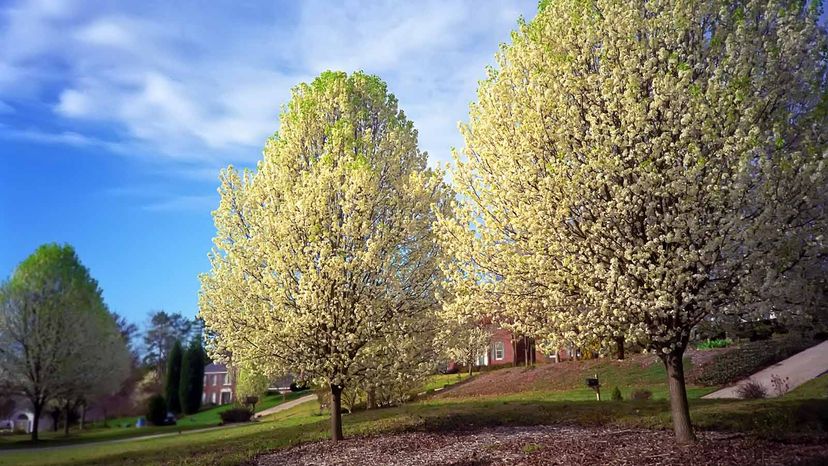 If the Bradford pear tree were a celebrity, it would no doubt be looking for a new publicist.
It's pretty to look at, with its springtime blooms of puffy white flowers contrasted by crimson fall colors. And it was once the darling of subdivision planners across America. But it turns out the tree has a whole canopy of flaws (some of them sexual in nature) that are driving its reputation — sorry for the extra metaphor here — straight into the ground.
Among them: its brittle build, its selfish ways, its poor self-care and — let's be honest here — the fact that it's awfully promiscuous. Also, and this is a flora-specific flaw: It's not even from here!
According to The Washington Post, the tree is a "nightmare," "an environmental time bomb," and "an ecological marauder destined to continue its spread for decades." The New York Times simply calls it, "the most despised tree."
And that's not even talking about the tree's smell, which most people in the world (except for, admittedly, this writer) find offensive. Haters, trolls and straight-up journalists say it smells like, like, like, "semen and rotting flesh," according to The Times. Or, like, "the private booths at an adult theater," according to someone on Reddit.
Or, like, "slightly rotted fish." The last description is courtesy of Alex Beasley, the donor and public relations manager for Trees Atlanta, a nonprofit in the Georgia capital city with a mission to "protect and improve Atlanta's urban forest."
Even he doesn't like the Bradford pear.
"I have never personally heard anybody mention this tree scent as pleasant," Beasley says. "I think it's awful."