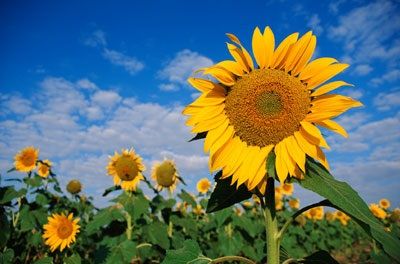 Want to change the entire look of your garden without bulldozing the whole thing? Try annual plants. Annual flowers, like this sunflower, are useful for temporary displays, or for simply adding a burst of color. Come along and dive into the colorful world of annual flowers. Up next, a flower of the amaranth family.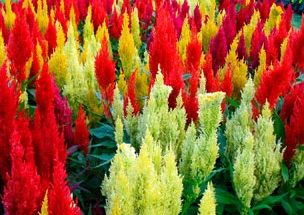 The scientific name for plumed cockscomb, celosia, comes from the Greek word for "burned." These airy, feather duster look-alikes bear the vibrant colors that aptly fit the name. The exotic plumes make superb dried specimens, retaining their color long after harvest. The next annual is among the favorite in American garden flowers.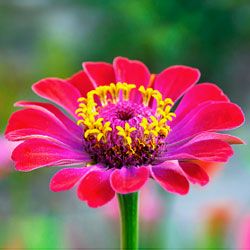 Zinnias hail from Mexico, so they have what it takes to survive the hottest summer weather. Available in a huge range of colors and types, some zinnia blossoms are flat daisies, while others are more formal pom-poms. Great for color lovers, zinnias are hard to beat for their rich reds, sunny yellows or pure pinks. Some varieties of the next annual can grow dinner-dish-size flowers!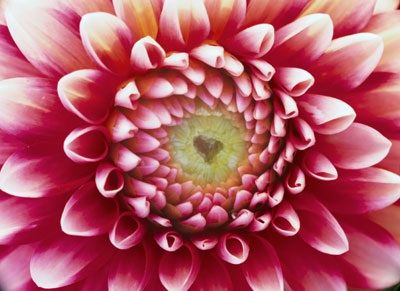 Dahlias deliver brilliant color for as long as warm weather lasts. As with daylilies and roses, growing dahlias tends to be habit forming because they are as beautiful in a vase as they are in a garden. The next annual is grown as an annual plant for its clusters of different colored flowers, called umbels, it can display in a garden.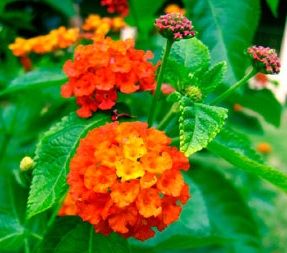 The aromatic flowers of lantana change colors during different stages of their lives, often causing the umbels to be more than one color at once. All parts of lantana are poisonous, and the dark berries that form after each flush of flowers fades may appear tempting to children and pets. Long, trailing stems of the next annual make them ideal for containers of all kinds.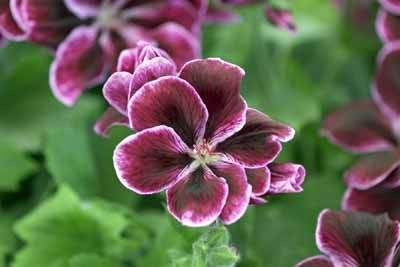 Ivy-leaf geraniums have an entirely different character than their zonal geranium cousins. Their flowers are generally less strident and more toned to the pastel range of their hues. The common name springs from the shape of the leaves. The next flower is also known as 'prairie garden'.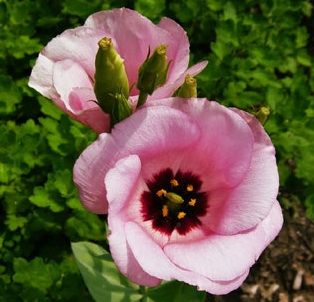 Lisianthus is an annual with roselike flowers. Each blossom lasts for several weeks, and plants bloom nonstop. Popular cultivars are hybridized from native prairie gentians. Next up is an annual flower that blooms so well over a long season that they're a mainstay of gardeners everywhere.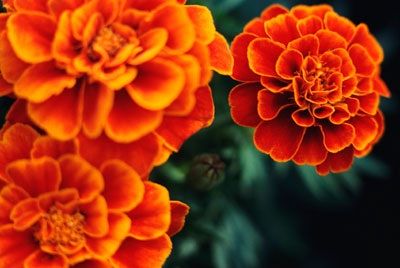 Tremendously popular and easy to grow, marigolds are the best source of sunny yellow color in the summer garden -- or let orange or bronze marigolds carry your garden into fall. The next annual is also known as a 'strawflower'.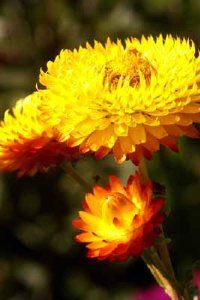 There are many different types of strawflowers. This unique bloom is available in the following varieties: Helichrysum, Everlasting, Statice, Honesty, Silver Dollar Plant and Xeranthemum. The next annual's name honors Fuchs, a German botanist.
There are hundreds of named varieties of fuchsias, the beautiful plants with pendulous blossoms that bloom heavily from spring to fall. Fuchsias are native mainly to tropical and subtropical America, but a few species are found in New Zealand and Tahiti. There are about 800 kinds of the next annual.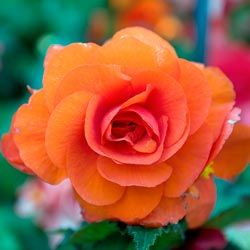 Begonia flower colors vary from white to yellow, pale green, pink, red and brilliant orange. Begonias have medicinal as well as ornamental uses. South American native peoples are known to use certain species to soothe teething infants or to treat colds and eye infections. Next is one of the fastest-growing annual flowers.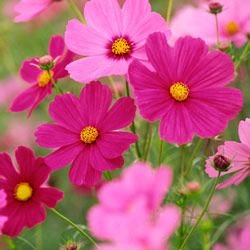 With their long, slender stems and lacy foliage, cosmos are an attractive, fast-growing way to add color to the garden and they make great cut flowers, too. The next annual has a three-petaled blossom, with dark center markings, that somewhat resembles a wistful human face.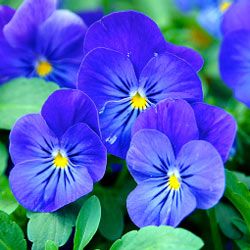 The pansies' name comes from pensee, a French word meaning "thought." Pansies are related to violets and bloom during cool seasons of the year. In the Deep South, pansies are used for winter bedding. The shape of the next annual has been fancifully likened to that of a dragon's head and it can be made to snap open by gently pinching its sides.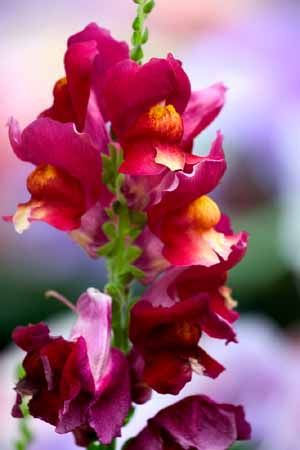 Snapdragons are whimsical plants with lots of carefree appeal. The flowers come in a variety of shades, from subtle pastels to strident, fiery hues. The next annual, so often seen at florists, are nearly weeds in their native South Africa.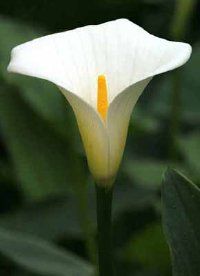 Calla lilies are actually perennials in the south, but since they are not tolerant of frost, they are grown as annuals in other parts of the United States. Next up is an annual that is known by a number of other names, including cornflower, bluebottle, and bluebonnet.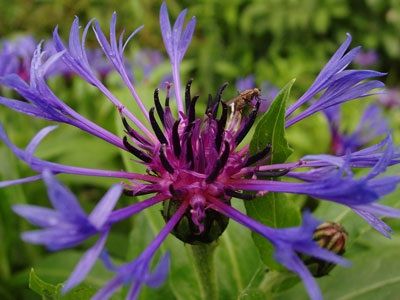 Bachelor's button got its name from its use as a boutonniere flower. In the garden, this full sun annual needs a lot of light. The next annual flower is a good trailing plant used in rock gardens.
Verbena is known for being a garden treasure in areas where few other plants will grow. Some varieties trail; others form mounds of color. Most verbenas are native to tropical America, but about 25 species grow in North America and a few are native to Europe. The common name of some species of the next annual is touch-me-not, referring to the fact that the seedpods burst when touched, scattering the seeds.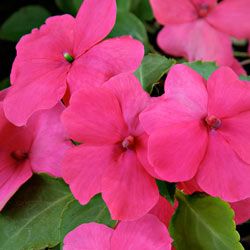 Impatiens have earned enormous popularity for both their long-lasting display of showy blooms and their ability to thrive with little sun. With regular watering and fertilizer, impatiens will bloom non-stop from late spring into fall. The next annual has funnel-shaped blossoms.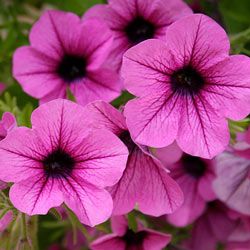 Petunias come in just about any color except orange, and they're a top choice among summer-flowering annuals. Petunias prosper in beds, pots or hanging baskets, and they're great for covering the bare bases of taller flowers. Some are fragrant, especially in the evening or early morning. In Latin, the next annual means "slipper."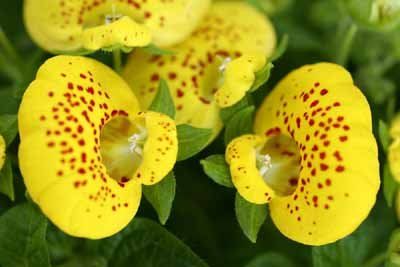 The pocketbook plant's clusters of strikingly beautiful flowers are one to two inches across. Each is shaped like a tiny pouch and is brilliantly colored in red, yellow, and orange, often with contrasting spots and blotches. The next flower attracts butterflies and nectar-sipping birds.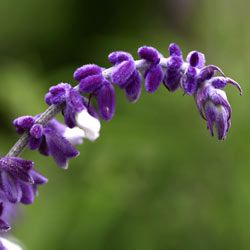 There are more than 700 species of salvia, or sage, many of them spectacular when in flower, and a number with leaves that are variously scented with pineapple, grapes, tangerine, grapefruit, anise, honey melon or fruit salad. The next annual is catching on as a perfect annual for the Southeast because of its heat and drought tolerance.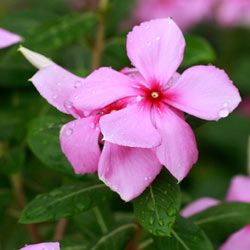 Vinca is also known as Madagascar periwinkle. Lilac, blue, white, lavender, apricot, raspberry, orchid, red, pink and rose are some of the color choices open to you when selecting a vinca plant. In nature, this final annual flower, immortalized by poets, bears single flowers.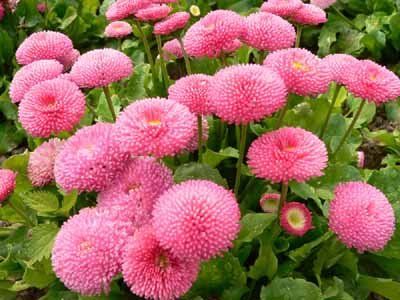 Breeding and selection of the English daisy have added semi-doubles and doubles to the array of varieties available to gardeners. Particularly in the Northeast, the English daisy has become naturalized. To learn more about annual flowers check out the Annual Flowers Channel.