Your communal bathroom may not look as spotless as this but that doesn't mean you have to pitch a fit. Aim for "generally clean" rather than perfection.
© Grant Smith/VIEW/Corbis
Advertisement
Even if you and everyone with whom you share a bathroom abide by these rules, it's unlikely to ensure a spotless environment. No one is infallible. We are human, we have hair. A stray strand here or there is no reason to sound the alarm and release the hounds. Keep your expectations manageable. A generally clean bathroom with minimal clogging, a toilet seat that's normally down and a shower that doesn't double as a garbage disposal are good places to start
If you feel that you must leave a note for the offenders, or hold a dorm or roommate meeting about the general nastiness, keep it civil and try to avoid scolding or finger-pointing. No one likes to feel that their mother just walked into the room. Focus on what needs to change rather than making personal attacks and you just might see a turn for the better.
Author's Note: 10 Tips for Surviving Communal Bathrooms
Try relieving yourself in a bar anywhere across the continental U.S. and you're likely to find that most if not all of the above tips have been completely disregarded. At least in the men's room. Maybe it's the booze, but the foulest, most ill-kept commodes I've ever encountered have been in some of my favorite watering holes. The freedom and disregard for norms that people seem to enjoy on the johns in juke joints and pubs is also apparent by the graffiti that adorns the walls of bar bathrooms from New York to L.A. You won't hear me complain about it. I believe it was at a dive bar in Brooklyn where I encountered this bit of wisdom scrawled above the toilet: "Bathroom graffiti is done for neither fame nor monetary profit and is therefore the purest art form." I don't know about the "pure" part, but otherwise I'm on board.
Related Articles
Sources
Apartment Therapy. "Bathroom Etiquette." March 13, 2008. (June 2, 2013) http://www.apartmenttherapy.com/look-hair-on-the-soap-44833

Esquire. "How Dangerous Is It to Read on the Toilet?" Dec. 3, 2009. (June 2, 2013) http://www.esquire.com/features/answer-fella/toilet-reading-1209

Fennessy, Christine. "The WH Bathroom Etiquette Guide." Women's Health. (June 2, 2013) http://www.womenshealthmag.com/life/bathroom-etiquette

Frieman, Richie. "Awkward Office Restroom Conversations." Modern Manners Guy. April 16, 2012. (June 2, 2013) http://manners.quickanddirtytips.com/awkward-office-bathroom-conversations.aspx

Hyde, Sandy. "Put The Toilet Seat Down – Couples Etiquette." Etiquette School of Ohio. Feb. 27, 2009. (June 2, 2013) http://etiquetteschoolofohio.com/2009/02/27/put-the-toilet-seat-down-couples-etiquette

John Moore Services. "Houston Home Maintenance Tips." Oct. 4, 2012. (June 2, 2013) http://www.johnmooreservices.com/blog/bid/82675/Plumbing-Tips-for-that-Constantly-Clogged-Bathroom-Sink

Kinsman, Kat. "Please don't eat in the bathroom." CNN. July 21, 2011. (June 2, 2013) http://eatocracy.cnn.com/2011/07/21/please-dont-eat-in-the-bathroom

Mashable. "16% of Cellphones Have Poop on Them." (June 5, 2013). http://mashable.com/2011/11/09/tech-germs/

Rainwater, Sarah. "How to Survive with Messy Housemates." Apartment Therapy. May 6, 2010. (June 2, 2013) http://www.apartmenttherapy.com/how-to-survive-116208

Rustici, Mike. "Want a Great Place to Work? Change the Toilet Paper." Rustici Software. July 12, 2012. (June 2, 2013) http://scorm.com/blog/2012/07/want-a-great-place-to-work-change-the-toilet-paper

Ryan, Maxwell. "How to: Hang Your Toilet Paper Correctly?" Apartment Therapy. Jan. 30, 2012. (June 2, 2013) http://www.apartmenttherapy.com/how-to-hang-your-toilet-paper-correctly-165219

Schulz, Nick. "The Crappiest Invention of All Time." Slate. March 7, 2006. (June 2, 2013) http://www.slate.com/articles/arts/gizmos/2006/03/the_crappiest_invention_of_all_time.html

Tilex. "Tile Daily Shower Cleaner." (June 2, 2013) http://www.tilex.com/daily-shower-cleaner

Zupek, Rachel and Balderrama, Anthony. "Restroom etiquette for the office." CNN. 2009 (June 2, 2013) http://www.cnn.com/2009/LIVING/worklife/09/14/cb.bathroom.office.etiquette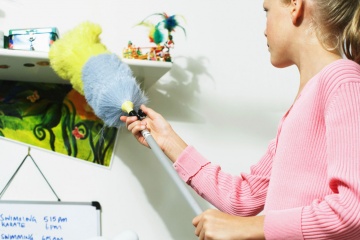 Up Next
If you're not dusting regularly, you're letting all kinds of gross things drift around your living space. Get tips on keeping your dorm dust-free.
---