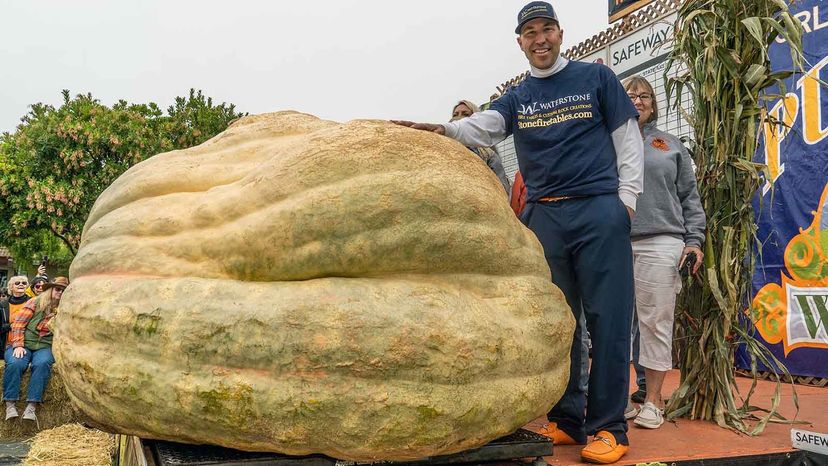 Flannel shirts, fall foliage and colder temperatures are sure signs autumn is here. But there's another obvious thing — and it's a big one — giant pumpkin competitions. They're held all over the U.S. from Alabama to Alaska, but the "Super Bowl of Weigh-Offs" is held in the world pumpkin capital, Half Moon Bay, California.
This year marked the 49th Safeway World Championship Pumpkin Weigh-Off and it did not disappoint. The winner was Travis Gienger of Anoka, Minnesota, and his massive pumpkin, which he dubbed Maverick. This Gorilla-sized gourd weighed in at a whopping 2,560-pound (1161-kilogram), setting a new North American record for heaviest pumpkin.
"Winning the competition felt surreal," Travis Gienger says via email. "This has been a 180-day labor of love and more importantly, 28 years of growing coming down to one day!"
This was Gienger's second time taking home the gold. His 2022 winning pumpkin was 210 pounds (95 kilograms) heavier than his 2020 winning pumpkin. He set the Guinness World Record for heaviest jack-o-lantern in 2020 with that 2,350-pound (1,065.9-kilogram) pumpkin.
Gienger says he started the seeds for Maverick in early April to pollinate the pumpkin around mid-June and then nurtured it until the competition. During those 180 days, he had to water and fertilize it multiple times a day, prune and bury its vines, and keep a close eye out for disease and rot.
"To grow North America's largest pumpkin has always been a dream of mine and to finally achieve that has been a dream come true," he says.