Tired of the same old design options when it comes to decorating your home? Bothered by ugly joints around the floor or window frames? Consider using trim to add flair to your home and break up boring walls and ceiling spaces. You'll find countless options when it comes to trimming out your walls, floors or even staircases. Baseboards, rails and molding made from wood or vinyl can be stained or painted, while newer composite products often contain integral color so they'll never need retouching.
Trim can be used to complement your existing décor or create a whole new look for your home. Whether you prefer a traditional or modern design, you'll find affordable and easy-to-use trim options to spruce up your home and add a personal touch to your walls, floors and other interior elements.
10
Door and Window Casings
Door and window casings are trim units used at doors, windows, archways and framed openings throughout the home. They can range from highly elaborate to simple rectangular profiles and are typically made from wood or vinyl. The outer edge of these casings is usually flat so that it can fit flush against the home's baseboards and other types of wall trim. Most door and window casing products are interchangeable, so if you find a style you like, you can use it to trim almost any type of opening.
Casings create a decorative finish at doors and windows, and it can also help tie different architectural elements together to develop a cohesive style within a room. This trim also serves a practical purpose by concealing unsightly gaps around door and window frames. It may even help mask small flaws in the drywall that can occur when retrofitting doors and windows.
Doors are often trimmed with thin columns known as pilasters, though more basic trim designs are also available. The top of a doorway can be trimmed with an elaborate unit of trim known as an entablature. Entablatures can be more than 1 foot (30.5 centimeters) high and typically feature elaborate carvings or elegant designs [source: Vandervort].
Windows may be trimmed around the entire frame or just on three sides. The bottom of a window frame is often equipped with a shelf, known as a stool, then finished off with a section of horizontal trim called an apron.
In the past, columns were used in home building to provide structural support to ceilings. While these structural columns aren't found in most modern homes, smaller units are often used to mimic the look and style of classic column design. Thinner columns are referred to as pillars or pilasters; these are typically used for decorative purposes. While many builders use these terms interchangeably, pilasters are usually recessed into a wall while pillars are surface-mounted or free-standing [source: Kalyn].
A pillar or pilaster can be used to frame a fireplace, doorway or other opening. These units are also a useful tool for highlighting a piece of artwork or an architectural feature within a room.
Most pillars and pilasters are styled after ancient Greek and Roman column designs. They're made up of three components: a crown, shaft and plinth, or base. Many manufacturers sell interchangeable units to allow homeowners to mix and match different styles to create a unique look. Wood and plaster versions are the most common, though fiberglass offers an attractive and cost-effective alternative for those on a budget.
A mantel is an architectural element that often acts as a focal point within a room. While some mantels may be used to frame a fireplace, others are independent units that serve a purely decorative function. Most mantels are surrounded by molding or trim to create a finished appearance or to contribute to the room's décor. Homeowners will find mantel moldings ranging from simple to elaborate, with an infinite number of profiles and materials available. Because mantels are a focal point, a well-chosen set of mantel moldings can set the tone for the entire room.
The sides of a mantel may be formed from pillars or pilasters to create a formal, elegant look. Chair rail or flat trim can also be used for a simpler finish to complement more modern décor schemes. Mantels may be topped with a flat display shelf, which is then trimmed with simple, rounded base or a more complex profile design [source: Vandervort]. Some mantel molding will only extend as high as the display shelf, while others extend all the way to the ceiling.
7
Stair Stringers and Brackets
No matter what type of staircase you have in your home, there's usually a way to add trim so that the stairs will complement the surrounding décor. In a closed or boxed staircase with walls on at least one side, adding stair stringers can give the staircase a whole new look. Stringers are large, flat panels that range from 1 to 2 feet in height (30.5 to 61 centimeters). They're installed along the joint between the stairs and the wall and typically run at the same angle as the staircase. The top and bottom of each panel may be finished with decorative molding, or it can be left unfinished for a simpler look. While stringers are mostly used for aesthetic purposes, they can also provide some structural support for older staircases [source: Carter].
On open staircases, homeowners can add stair brackets to lend style and flair. These brackets are installed in the triangular area on either side of the staircase where the risers and treads meet. They're often made from wood, though some older units are fabricated from iron.
Picture rail traditionally features a relatively basic design. It's hung 1 to 2 feet (30.5 to 61 centimeters) below the ceiling and is approximately 1 inch (2.5 centimeters) wide, though larger versions are also available. Depending on the style of the room, picture rail can be used alone or combined with crown molding and other trim units. Square or rounded picture rail is the most common, though dentil trim is frequently used in federal or classical design. Dentil trim is composed of a series of equidistant squares or rectangles across the surface, which creates a distinctive look.
Traditional picture rails are equipped with small hooks that can be used to hang pictures or paintings. The picture rail helps to frame the paintings while concealing or eliminating ugly nails and fasteners. While modern picture rail can still be used for hanging pictures, it primarily serves a decorative function by complementing specific design styles. It can also be used as a simple tool for breaking up large wall areas or separating different types of wall finishes.
A frieze is a large panel that's among the most elaborate types of trim around the house. It's traditionally installed between rows of crown molding and picture rail, and it can range from several inches to more than a foot in height. Friezes are most commonly found in classical or Victorian décor. Some modern design schemes may incorporate a solo frieze without any other complementary trims to add an understated decorative element to a room. This is especially true with salvaged or antique tin frieze panels, which can be painted or left unfinished.
Historical friezes are made from carved wooden panels, embossed tin or plaster. They often feature intricate repeating patterns of roses, swirls or other shapes. Some customized friezes may include a family's coat of arms or even a historic or religious scene. More basic units are also available; these are often used in conjunction with ornate crown molding to keep the room from looking too formal.
Chair rail is a type of trim that's installed horizontally along a wall between 2 and 4 feet (61 to 122 centimeters) from the floor [source: Kalyn]. It's primarily used to protect the wall from scratches and dents caused by impacts with chairs. As occupants scoot away from a table, or adjust the placement of a chair, the back of the chair will hit the chair rail instead of the wall. In a home without existing chair rail, new rails can be added to cover minor scratches and damage to the wall.
However, chair rail can also be used to break up a very large or tall wall. An unadorned wall can look too plain or boring, but chair rail can instantly (and subtly) transform the look of a room. It may be used alone or in combination with other types of trim, such as wainscoting or baseboards. Some chair rail is quite elaborate and can be used to complement a traditional or colonial décor. More modern homes will typically benefit most from the clean, straight lines created by simple rounded or square chair rail.
Baseboards are a very common type of trim found along the bottom portion of a wall. They typically have a flat bottom to allow the boards to sit flush against the floor, though the top of each unit can be rounded or flat. Baseboards help protect the base of the wall from damage while concealing floor expansion joints or gaps between the wall and floor. They can also provide a decorative frame around a hardwood floor to draw the eye to the floor's natural beauty [source: Lowe's Home Improvement].
Homeowners will find many different types of baseboards to complement any decorating style. The simplest units are made from rectangular pieces of lumber, while more elaborate baseboards are carved to form elegant shapes or profiles. Baseboards may be used alone for a basic, clean look, while others are combined with quarter round molding. The quarter round molding is placed in front of the baseboards at floor level to help further conceal expansion gaps, or even to protect the molding from scuffs and damage.
Crown molding is a very popular trim material that's typically installed along the top 2 to 12 inches (5.1 to 30.5 centimeters) of a wall [source: Kalyn]. It's used to provide a visual transition between walls and ceilings, while helping set the style and décor of the room. Crown molding can also conceal drywall or plaster flaws at hard-to-finish corners and joints, and it may also hide wiring used for lighting and speakers [source: Lowe's Home Improvement]. The size and style of this trim should be chosen carefully to fit the dimensions and design of a room, as overly large molding can shorten the look of walls.
Many crown molding profiles are styled after ancient column designs. Ogee molding has a simple S-shape, while rosevine profiles feature elegant flowers and vines. Egg-and-dart molding is composed of a series of ovals and lines, while dentil molding is characterized by patterns of squares or rectangles. Crown molding with a cove profile has a simple, curved shape that's appropriate for modern décor [source: This Old House].
Wainscoting is a type of trim that uses large panels to cover the lower half of a wall. These panels may be used alone or sandwiched between baseboards and chair rails. Some wainscoting is topped with quarter round trim to create a simple finish with clean lines. Others are used in conjunction with ceramic tile, plaster or drywall along the upper portion of the wall.
This trim helps protect walls from damage while providing a decorative finish. Modern wainscoting made from vinyl or plastic is even used in bathrooms and kitchens to minimize water damage. As a bonus, this makes it easy to keep walls clean.
Wainscoting can be installed using a variety of materials and techniques to create a distinctive look. Raised profile panels made from wood help add texture and depth to a wall. Tongue-and-groove wooden paneling is made from individual wooden planks for a mid-century look. Simple flat panels can be painted or stained to add color, while maintaining a smooth wall surface that works with almost any décor. For an affordable alternative, homeowners can use a shadow box technique to mimic the look of wainscoting. This method uses thin units of trim to frame boxes or panels directly on the drywall or plaster wall surface. It's easy to install and affordable because no full panels are required [source: This Old House].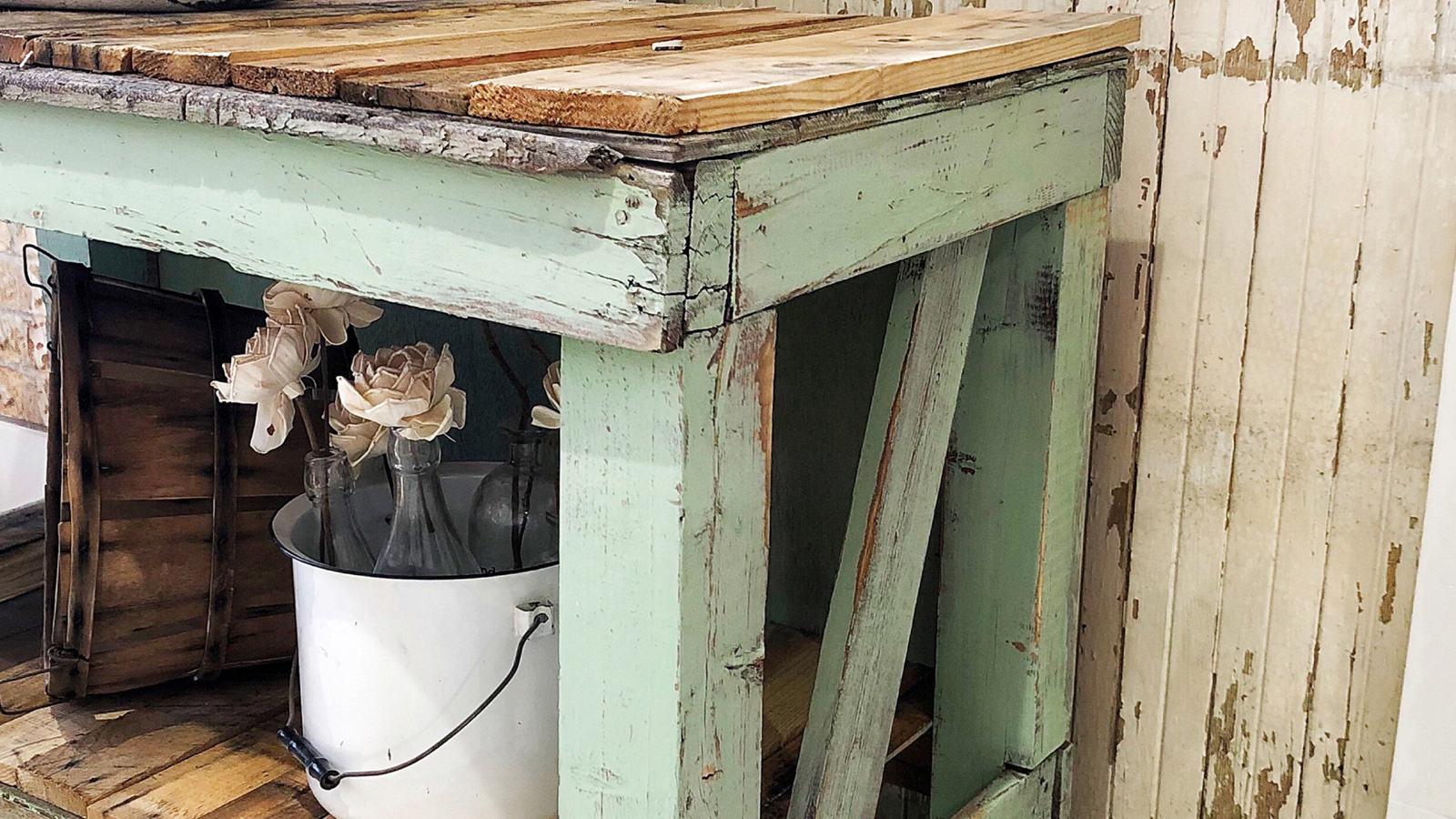 Up Next
Milk paint is the super inexpensive and easy to both make and use. HowStuffWorks looks at this trendy paint alternative.
---
Related HowStuffWorks Articles
Related HowStuffWorks Articles
Sources
Carter, Tim. "Stair Trim Molding." Ask the Builder. 2008. (Oct. 22, 2009).http://www.askthebuilder.com/557_Stair_Trim_Molding.shtml

Kalyn, Wayne. "1001 Ideas for Trimwork." New York. 2005

Lowe's Home Improvement. "Selecting Molding." 2000. (Oct. 22, 2009). http://lowes.com/lowes/lkn?action=howTo&p=HomeDecor/SlctMold.html

This Old House. "Crown Molding Styles." 2009. (Oct. 22, 2009). http://www.thisoldhouse.com/toh/photos/0,,1221648,00.html

This Old House. "Wainscoting Styles." 2009. (Oct. 22, 2009). http://www.thisoldhouse.com/toh/photos/0,,1563982,00.html

Vandervort, Don. "Interior Trim Types." Home Tips. (Oct. 22, 2009). http://www.hometips.com/trim_types.html