The early modern decor mantra, "Form follows function," meant that design should be driven exclusively by what the item or space would be used for. Today, we're less uptight about what "function" means. Even in small city spaces, we make room for a few decorative frills, because we know delight is a legitimate part of function.
The following pages offer a variety of modern decor ideas to guide and inspire your decorating plans. As you plan your home, you'll want to ruthlessly eliminate clutter and pare down to quality basics, but not for some chilly theory. Your goal is a clean setting that saves precious space for living and makes room for those rare decorative finds that delight your heart and express your personal flair.
Some of these treasures may have right-now appeal, reflecting your contemporary sense of style. (Architectural salvage -- using sections of elaborately carved old columns, grilles, and the like as artwork -- started this way.) Others may be true treasures with heirloom value. Either way, your chic modern approach will give them a fresh, fun setting.
People live in the city for many different reasons. You may be there because you're young and you crave the excitement of city life. Or perhaps you want the city's culturally rich, lively, and less homogenized living environment now that your children are grown. Or maybe you feel that a diverse environment is exactly the one in which your child will thrive.
You may be in the city because you're just starting out or you're finally coming back. Or you've been in town a while, but your lifestyle has changed, and you need to redesign your living space to reflect your circumstances. Maybe you're not even living in the city at the moment, but your heart is there. You want to create the sophisticated ambience of city life in your own home, wherever it may be.
Whatever your situation and whatever your motives, you want to bring the best of city living home. To do that, you need to pull together a chic, comfortable home that's city-savvy.
You'll have different challenges and questions to address depending on the type of residence you occupy. If you've got a bland white box of an apartment, how can you make it extraordinary? What can you do to make an old-fashioned townhouse fresh? If you're living in a big industrial loft, how can you make it comfortable?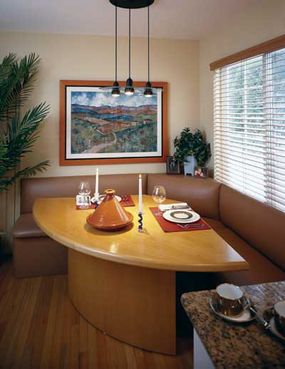 If you're still shopping for your own special place, look at all your options before you choose a type of housing. Different residential spaces have different advantages and disadvantages. Here are a few of the options out there:
Rental apartments, large or small, are great when you are starting out, are starting over, or want to live in a neighborhood for a while before buying that castle in the sky. But you'll have landlord-imposed limits on what you can do with, and to, your space. No red-painted walls, for example, because the color is difficult to paint over.
You'll typically be required to restore the space to its original condition but leave any improvements you've installed. That may include anything from custom window shades and chandeliers to kitchen cabinets.
When you're renting, you'll want to create a personal look in ways that are easy to paint over or take with you when the lease expires. If you want to do more, negotiate with the landlord and make sure all exceptions are indicated in your lease.
Small condos can be great first homes or a smart way to downsize in retirement, but even if mortgage interest rates are low, condo assessments may not be. To get your money's worth, choose a building with the amenities you need.
Then, be kind to your budget, and don't be in a rush to fill up your space. Go for a pared-down style that looks sophisticated but not skimpy, thanks to a few rich color accents and intriguing focal points. Finally, indulge in unusual treatments that express your personal style. Want a red lacquered wall in the kitchen? Go ahead!
Large condos and co-ops can range from the size of a two-bedroom ranch house to that of a lavish multistory mansion. Design and furnishing choices here may be the same as in a single-family house, but the installation challenges are much tougher. Measure everything twice -- especially the dimensions of the service elevator.
True industrial lofts have lots of relatively affordable square footage but few amenities. The same is true of other avant-garde but adaptable buildings that range from retail storefronts to converted garages. You'll have lots of space, but you'll have to carve it into living zones and install kitchen and bath facilities.
If you crave wide open spaces but don't want the reconstruction hassle, consider an industrial building that's already been rehabbed by a smart developer. These converted lofts are available in many cities.
Townhouses and row-houses are multistory homes with a small footprint. Some have individual garages on the lower level. Town-houses share one or two walls with a few neighboring units; rowhouses are a series of houses sharing common walls. Whether they're the wood frame "painted ladies" found in San Francisco or stalwart brownstones and graystones as in New York City and Chicago, these vintage homes look fresh and dramatic with eclectic and modern decorating.
If you're downsizing from a house, edit your furnishings to keep only the highly functional or the truly beautiful. If you've always had a traditional house, why not buy contemporary pieces to fill in any missing functions in your new place? The eclectic mix will give your traditional heirlooms a fresh look.
If this is your new retirement spot and the kitchen and bath need work, consider upgrading with universally accessible elements, such as lower countertops and shower grab bars, so you can stay comfortable in your space through the years.
If you're just starting out, purchase savvy, dual-purpose furnishings that make the best use of minimal space, especially if you're in a studio apartment. Be sure to buy the highest quality upholstered pieces you can afford; they will reward you with years of comfort and cool style.
Then fill in with a few funky accents that also serve a function, such as a small end table or a nightstand. Create distinctly personal background treatments that are as colorful or imaginative as you wish, but keep any new installed products and fixtures neutral in color to protect resale value when you move up or out.
Continue to the next page to learn about the different types of modern decor.
For even more decorating ideas, see: