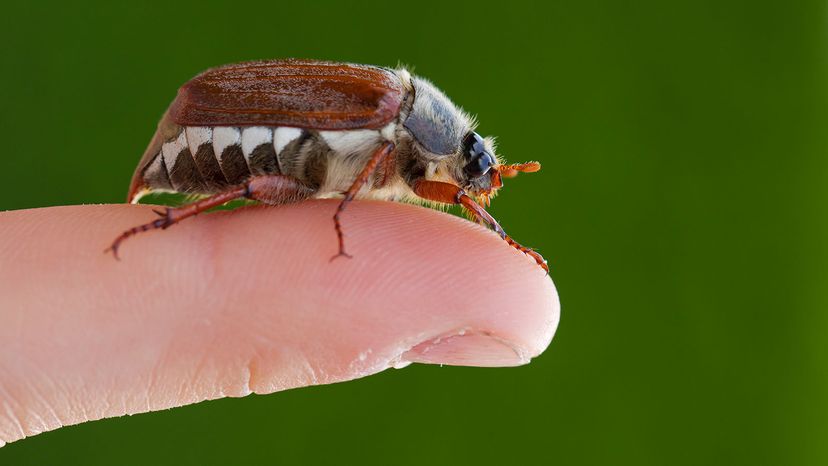 Although not as annoying as itchy bump-inducing mosquitoes or stinging wasps, so-called "June bugs" can still bring their own brand of trouble, come late spring. These beetles are members of the exceptionally diverse family of Scarabaeidae (scarab) beetles, which number more than 30,000 species, 200 of which are North American June beetles. They are about a half-inch (1.27 centimeters) long and with a reddish-brown color. Their scientific name, or genus, is Phyllophaga, which means "leaf eater" in Greek.
These insects are sometimes referred to as May bugs, as they show up at slightly different times depending on their location. "In our area, they emerge in May and begin laying eggs by June and continuing throughout the summer, the adults will congregate around lights at night," emails David Lofquist, region technical training manager for Arrow Exterminators, which primarily serves the Southeastern United States. "So, the nickname June bug is appropriate."
A couple of June bugs flying around are no big deal. If anything, they're simply a little annoying. "For most people, the adults may be a nuisance in the evening hours because they are clumsy fliers and may collide with people, doors, windows and other objects," says Dr. Angela Tucker, entomologist and technical manager with Terminix via email. June bugs are nocturnal, feeding at night to avoid their many predators, so that's why they become an issue once the sun goes down. They're also attracted to light, which is why they hit the windows.
"They are harmless to us in that they will not bite or sting; however, several species will severely damage crops, turf and ornamentals," Lofquist explains.
This is especially likely if you're dealing with an outbreak of Japanese beetles, which are in the same family as June bugs. These little buggers are an invasive species that wreak havoc on gardens and ornamental trees, as they chew flowers, fruit and leaves down to practically nothing.