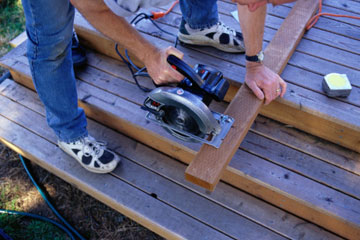 Up Next
Do you know How to Extend an Existing Deck? Keep reading to learn the proper way to Extend an Existing Deck.
---
Author's Note: 10 Red Flags That Should Make You Fire Your Contractor Immediately
Just out of a master's program, I picked up a couple day's work with a friend who had somehow lucked into a contractor's license. I had no idea what I was doing and, truth be told, I don't think my friend had much idea, either. We stumbled around the nail-studded job site in our running shoes and hung out the upstairs windows to pry off siding. Sheesh, for a million reasons that I'm now aware of, we should've been fired immediately.
Related Articles
Sources
DoItYourself.com. "How to Fire a Contractor." (April 26, 2012) http://www.doityourself.com/stry/contractorfireh2

Donovan, Mark. "Prevent home remodeling jobsite theft." HomeAdditionPlus.com. (April 26, 2012) http://www.homeadditionplus.com/home-articles-info/Prevent_Home_Remodeling_Jobsite_Theft.htm

Donovan, Mark. "When to fire a home building contractor." HomeAdditionPlus.com. (April 26, 2012) http://www.doityourself.com/stry/contractorfireh2

National Association of the Remodeling Industry. "Warning signs." (April 26, 2012) http://www.nari.org/homeowners/warnings/

Renovators Place. "Warning signs of a bad contractor." Oct. 8, 2009. (April 26, 2012) http://www.renovatorsplace.com/articles/warning-signs-of-a-bad-contractor.cfm

Samuelson, Kristin and Jon Yates. "Avoid a contractor conundrum." Chicago Tribune. March 31, 2011. (May 1, 2012) http://articles.chicagotribune.com/2011-03-31/business/chi-avoid-a-contractor-conundrum-20110331_1_contractor-project-payment

Staiti, Christopher Thomas. "Ten signs of a bad contractor." Avvo.com. (April 26, 2012) http://www.avvo.com/legal-guides/ugc/ten-signs-of-a-bad-contractor