1
Not Considering Resale Value
Before you sign a thing or hammer a single nail, do some research to check out your potential return on investment. If you're adding bedrooms or bathrooms, for example, this can boost your home's resale value, but by how much?
If you can, find a realtor that you trust, and look at "comps" in your neighborhood. Comps are homes near yours that have the same stats as yours, like the number of bedrooms and bathrooms. Checking out some comps can give you an idea of whether you're sinking more money into your renovation than you'll get back when you eventually sell the house.
Whether you're adding a bathroom, remodeling the kitchen, or replacing carpet with hardwoods, a realtor is your best friend when it comes to sussing out the value of your renovation. He has access to databases of home sales in your area and can tell you what a 2 bedroom/1 bathroom home with an outdated kitchen tends to sell for in your area versus one with an updated kitchen. If homes in your area with wall to wall carpeting are selling for the same prices as similar-sized ones with hardwood floors throughout, you need to decide if you're willing to take the hit to make your house look the way you want.
Author's Note: 10 Major Construction Mistakes
As you probably guessed from reading this article, my husband and I recently went through a couple of serious renovations ourselves. We built a two bedroom, one bathroom addition last winter and had to replace the roof on the older part of the house just a couple of months ago. Like many homeowners, we learned as we went. We were very fortunate to have a neighbor who is also an architect that was able to hold our hand through the big renovation, and he saved us from quite a few of the common pitfalls that come with projects like these.
There were some tough times, especially when we were working on the addition. The hardest part for us, by far, was when they hung and sanded the drywall. Drywall dust gets absolutely everywhere. People tried to warn us, but it still didn't prepare me for weeks of drywall dust on everything in our house. I have never been so happy to vacuum and dust in my life as when that part of the project was finished.
Renovations can be disruptive and noisy, but it's also a lot of fun to watch your home transform and even to get in there and do some of the work yourself.
Related Articles
Sources
Angie's List. "Licensed, bonded & insured." (March 5, 2012) http://www.angieslist.com/contractor/license-bonded-insured.htm

Friends of John Garner Museum. "Historic Building + Renovations = Expect the Unexpected." (March 14, 2012) http://www.friendsofjohngarnermuseum.org/2009phase2construction/expecttheunexpected.html

HGTV. "25 Biggest Renovating Mistakes." (March 14, 2012) http://www.hgtv.com/home-improvement/25-biggest-renovating-mistakes/index.html

HUD. "Rehab a Home w/HUD's 203(k)." U.S. Department of Housing and Urban Development. (March 5, 2012) http://portal.hud.gov/hudportal/HUD?src=/program_offices/housing/sfh/203k/203kabou

Karma Construction. "The 15 Biggest Remodeling Mistakes...and how to avoid them." (March 5, 2012) http://www.karmaconstruction.com/15_Biggest_Remodeling_Mistakes.html

Kirkwood, Chrissy. "Common Mistakes Homeowners Make During Renovations." Trulia. March 21, 2011. (March 14, 2012) http://www.trulia.com/blog/nashville_real_estate/2011/03/common_mistakes_homeowners_make_during_renovations

Soniak, Matt. "Why Does the Leaning Tower of Pisa Lean?" Mental Floss. August 18, 2011. (March 5, 2012) http://www.mentalfloss.com/blogs/archives/97422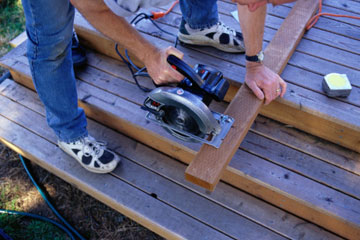 Up Next
Do you know How to Extend an Existing Deck? Keep reading to learn the proper way to Extend an Existing Deck.
---