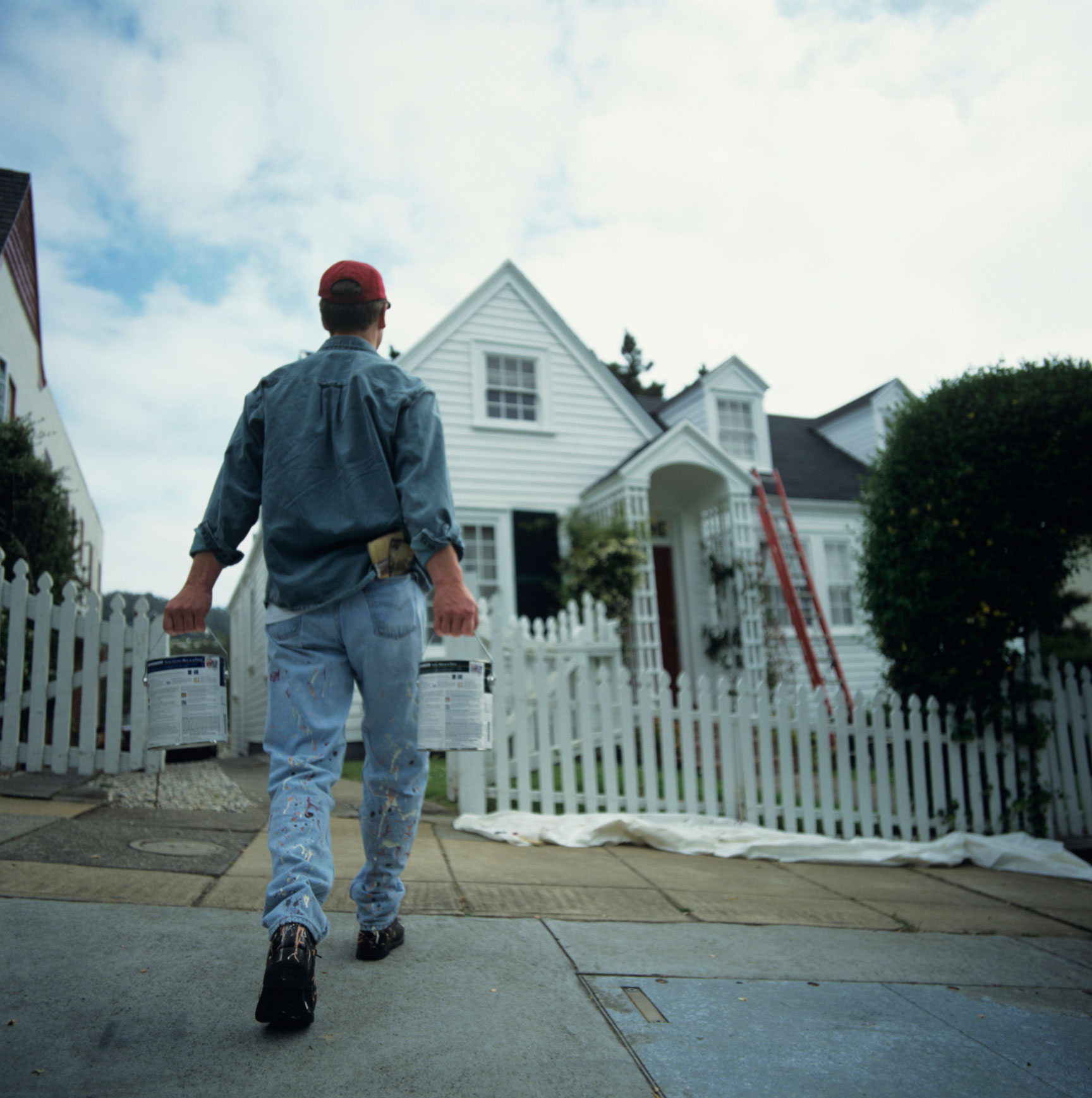 Up Next
If you love your interior paint, can you use it outside? Get the scoop on the different formulations of interior and exterior paints.
---
Author's Note: 10 Tricks for Painting Your Home's Exterio
I will never paint the exterior of my house for one reason: I am scared of climbing ladders. I'm not afraid of heights — it's the fall that gets me. My kids make fun of me relentlessly, pointing out each time my neighbor ascends a ladder to clean out his gutters or repair some aluminum siding. In my defense, my fears are perfectly grounded. Falls from ladders are the leading cause of injury and death among construction workers — 605 workers were killed in 2009 alone and more than 200,000 were seriously injured by falls from ladders [source: CDC]. And I've seen enough slapstick comedies to know that when the father climbs a tall ladder, painful hilarity ensues. Which brings me to the second reason I will never paint the exterior of my house: It's brick.
Related Articles
Sources
Barnhart, Roy; Carey, James; Carey, Morris; Hamilton, Gene; Hamilton, Katie; Prestly, Donald R.; and Strong, Jeff. "Caulking and Patching Your Home's Exterior Before Painting." Home Improvement All-in-One for Dummies. May 2004. (June 20, 2014) http://www.dummies.com/how-to/content/caulking-and-patching-your-homes-exterior-before-p.html

Benjamin Moore. "Exterior House Painting Supplies." (June 20, 2014) http://www.benjaminmoore.com/en-us/for-your-home/exterior-house-painting-supplies

Benjamin Moore. "How to Paint a House Exterior." (June 20, 2014) http://www.benjaminmoore.com/en-us/for-your-home/exterior-painting-tips

Dawson, Mike. "Exterior Wood Primers." PaintPRO. September 2006. (June 20, 2014) http://www.paintpro.net/Articles/PP804/PP804-Primers.cfm

Hurst-Wajszczuk, Joe. "How to Paint Your House's Exterior." This Old House. (June 20, 2014) http://www.thisoldhouse.com/toh/photos/0,,20180479,00.html

Lernley, Brad. "A Pro Confides His Best Tips for Painting Exteriors." This Old House. (June 20, 2014) http://www.thisoldhouse.com/toh/article/0,,202236,00.html

Mahoney, Doug. "Painting Tool Showdown: Brush & Roller vs. Paint Sprayer." Popular Mechanics. Dec. 4, 2009. (June 20, 2014) http://www.popularmechanics.com/home/reviews/4338823

Paint Quality Institute. "Hardboard." (June 20, 2014) http://www.paintquality.com/paint-professionals/paint-tools/prep-prime-paint/exterior/hardboard/paint-paint.html

Reader's Digest. "10 Ways to Increase Home Value with Exterior Paint." (June 20, 2014) http://www.rd.com/slideshows/10-ways-to-increase-home-value-with-exterior-paint/

Truini, Joe. "7 Smart Tips for Painting Your House." Popular Mechanics. (June 20, 2014) http://www.popularmechanics.com/home/improvement/outdoor-projects/7-smart-tips-for-painting-your-house#slide-2

Truini, Joe. "How to Caulk Wide Cracks." (June 20, 2014) http://www.todayshomeowner.com/video/how-to-caulk-wide-cracks/