1
Integrated Home Electronics
Speaking of electronics, our last awesome home feature isn't a room. It's a system that works all over your house and is controlled by a touch screen on the wall or via remotes when you're at home. But you can also control things from anywhere using the Internet, your phone, or tablet computer. It sounds like something in a house from the future, but it's all possible now, and can be as all-encompassing as you want, too. Usually this is called integrated home electronics or home automation.
You may have heard of integrated music systems, which include having speakers installed throughout your home and even outdoors so you can listen to your entire digital library of music no matter where you are. That's just a start, though. You could have your favorite music playing for you before you get home, for example, or turn on the TV in any room in the house and change the channel.
It's not just about media, either. Integrated home electronics means being able to control many other different systems in your home from anywhere. Digital programmable thermostats are awesome, but you can integrate them into a system that allows you to monitor and change the temperature in your home from anywhere. You can turn lights and sprinklers on and off, raise and lower electronic shades or blinds, remotely heat a hot tub, raise or lower a garage door, or even turn on a coffeemaker. Worried about the security of your home while you're away? Monitor motion detectors and video cameras, too, or detect things like water or gas leaks. Yes, it's about convenience and luxury, but home automation is also about safety and energy efficiency.
Author's Note: 10 Best Things to Build in to Your Home
Choosing what constituted the "best things" to build into a home was a challenge. Everything sounds fantastic to me, probably because I don't have any of them. I'm not really into pool or other games so I could probably do without a game room, but my husband would love it. If I won the lottery and built a new home with no limitations, I'd probably consider doing every one of the things I mention here. Presumably, I'd also have someone (or several someones) to keep my big shiny kitchen, bathroom, playroom and game rooms all tidy. At least they would appreciate the laundry and mudrooms, and enjoy the features of my integrated home electronics.
Related Articles
Sources
Anderson, Megan. "Down The Hatch." This Old House Magazine. 2010. (April 20, 2012) http://www.thisoldhouse.com/toh/article/0,,199015,00.html

Berno, Jennifer. "10 Big Hits From the Dream Kitchen." HGTV Magazine. 2012. (April 21, 2012) http://www.hgtv.com/kitchens/10-big-hits-from-the-dream-kitchen/pictures/index.html

Bucher, Kathleen. "Top 5 Luxury Home Features Buyers Want Now." Austin Real Estate Market Trends. July 26, 2011. (April 20, 2012) http://austinrealestatemarkettrends.com/top-5-luxury-home-features-buyers-want-now

FEMA. "Safe Rooms." Jan. 31, 2012. (April 20, 2012) http://www.fema.gov/plan/prevent/saferoom/index.shtm

Frandsen, Lauren. "Make the Most of Your Mudroom and Entryway." Better Homes and Gardens. 2012. http://www.bhg.com/decorating/storage/mudroom/mudroom-decorating/

Integrated Home Technologies. "Our services." 2011. (April 21, 2012) http://integratedhometechnologiesfl.com/services.html

Kennedy, Rose. "High Style in a High-End Kitchen." HGTV. 2012. (April 20, 2012) http://www.hgtv.com/kitchens/high-style-in-a-high-end-kitchen/index.html

Klatt, Mary Beth. "9 Unique Features That Set a Home Apart." Realtor Mag. August 2011. (April 20, 2012) http://realtormag.realtor.org/home-and-design/architecture-coach/slideshow/2011/08/9-unique-features-set-home-apart

Mann, Leslie. "High end is the new standard." Chicago Tribune. Feb. 10, 2012. (April 20, 2012) http://articles.chicagotribune.com/2012-02-10/classified/ct-home-0210-high-end-features-20120210_1_condo-units-home-builders-edgebrook-glen

Robins, Sandy. "Pet-friendly homes for your furry family." MSNBC. Feb. 9, 2006. (April 20, 2012) http://www.msnbc.msn.com/id/11101554/ns/health-pet_health/t/pet-friendly-homes-your-furry-family/

Spicer, Dag. "If You Can't Stand the Coding, Stay Out of the Kitchen." Dr. Dobb's World of Software Development. Aug. 12, 2000. (April 20, 2012) http://www.drdobbs.com/184404040

Sukhai, Tabitha. "How to Make Your Home Pet Friendly." This Old House. 2009. (April, 20, 2012) http://www.thisoldhouse.com/toh/article/0,,20296529,00.html

Summers-Sparks, Matthew. "Eight Rooms, Well Nine, But That's Their Secret." The New York Times. Oct. 5, 2006. (April 20, 2012) http://www.nytimes.com/2006/10/05/garden/05hidden.html?_r=1&ei=5090&en=0fc4a05861b975fa&ex=1317700800&partner=rssuserland&emc=rss&pagewanted=all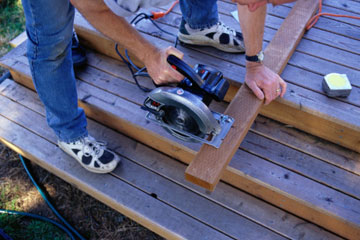 Up Next
Do you know How to Extend an Existing Deck? Keep reading to learn the proper way to Extend an Existing Deck.
---