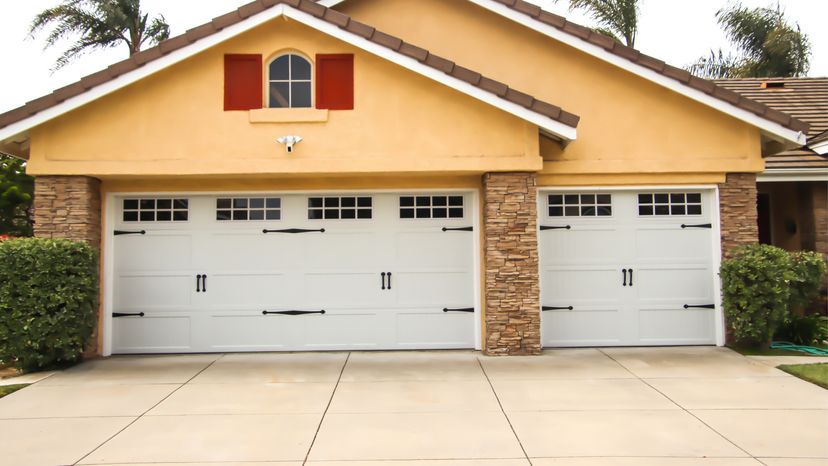 Garage doors can be expensive, but with the right know-how and the right tools, you can build one yourself. The most popular garage door is the roll up sectional garage door. It's typically made of three sections, which are mounted horizontally and hinged together. The door slides with rollers on a track attached to the sides of the door frame [source: DIY Guides]. That's what we're going to build.
Materials:
Electric saw

1½-by-2 studs

⅛ inch plywood

Wood glue

Heavy duty hinges and screws

Rollers

Hammer

Tape measure

Nails

Door handles
Here's what to do:
Measure the width and height of the door opening. We'll make a 12-foot (3.7-meter) wide and 9-foot (2.7 meter) high door opening.

Divide the height evenly by three.

Make three panels, each measuring the width of the door by the height obtained in step 2. Each of our panels will be 12 feet-by-3 feet (3.7 meters-by-.9 meters).

Cut two pieces of 1½-by-2-inch wood studs to the width of the door less 2 inches (5 centimeters). These will allow the door to roll freely. In our example, we'll cut the studs 9 feet-by-142 inches (2.7 meters-by-3.6 meters). These will be the top pieces of the frame.

Cut two pieces of the 1½-by-2 stud to the height of your panel less 2 inches (5 centimeters). This will be placed between the two top pieces. In our example we will cut the stud 34 inches (86.4 centimeters) long.

Place the two 34-inch (86.4 centimeter) pieces between the two 9-foot (2.7-meter) pieces on each end, to complete the rectangular shaped frame.

Nail and glue the wood pieces together.

Repeat the procedure two more times, so you have three panels.

Cut three sheets of plywood to 12 feet-by-3 feet (3.7 meter-by-.9 meter). Glue the plywood to the frames.

Nail a roller on the top and bottom of the 3-foot (.9-meter) side of every panel. Each panel will have four rollers.

Roll the panels onto the tracks.

Screw on the hinges when the panels are one on top of the other on the track (i.e. in the closed position). Attach the panels to one another. Each panel has three hinges, one on each end and one in the center.

Attach one door handle on the inside and one on the outside [sources: Mademan, DIY Guides].