For tough, caked-on grease stains like those you find hardened to the stove and the inside of the oven or stuck to baking dishes after an overnight in the sink, spray vinegar directly on the stain and let it soak in for about five minutes. The acidic vinegar will help dissolve and soften the tough, crunchy part (mostly a food-grease mixture), making it easier to scrub away with a soft sponge.
Vinegar doesn't cut grease by itself the way alkali materials do, but it can help soften up the mess and make the grease-cleaning process much easier. For the best results, apply the vinegar when the surface is hot -- so if it's a cooking tool like a pot or a broiling pan apply the vinegar just after you've used it or reheated it.
Vinegar can also be used as a preventative grease fighter for your pots and pans. Just boil 2 cups of vinegar in your pan for 10 minutes and it will help keep grease from sticking for several months.
Related Articles
Sources
Apartment Therapy. "How to Clean Grease from Kitchen Surfaces." (May 21, 2012). http://www.apartmenttherapy.com/how-to-green-clean-grease-from-138621

Editors of Reader's Digest. "Extraordinary Uses for Ordinary Things: 2,317 Ways to Save Money and Time." Penguin, 2007.

The Happy Housewife. "Removing Grease Stains from Clothes: Ask Happy." March 1, 2011. (May 21, 2012). http://thehappyhousewife.com/home-management/removing-grease-stains/

Hardage, Rachel. "10 New Uses for Baking Soda." Real Simple. (May 21, 2011). http://www.realsimple.com/work-life/10-new-uses-for-baking-soda-10000001030037/index.html

Reader's Digest. "9 Ways to Remove Grease Stains." (May 21, 2012). http://www.rd.com/home/9-ways-to-remove-grease-stains/

Renzas, Erin. "30 Ways to Clean Naturally." MSN Lifestyle, April 26, 2012. (May 31, 2012). http://lifestyle.ca.msn.com/living/greener-living-guide/30-ways-to-clean-naturally?page=13

Williams, Laura. "How to...Cut Through the Gunk." She Knows, Jan. 1, 2012. (May 21, 2012). http://www.sheknows.com/how-to/articles/847769/clean-up-grease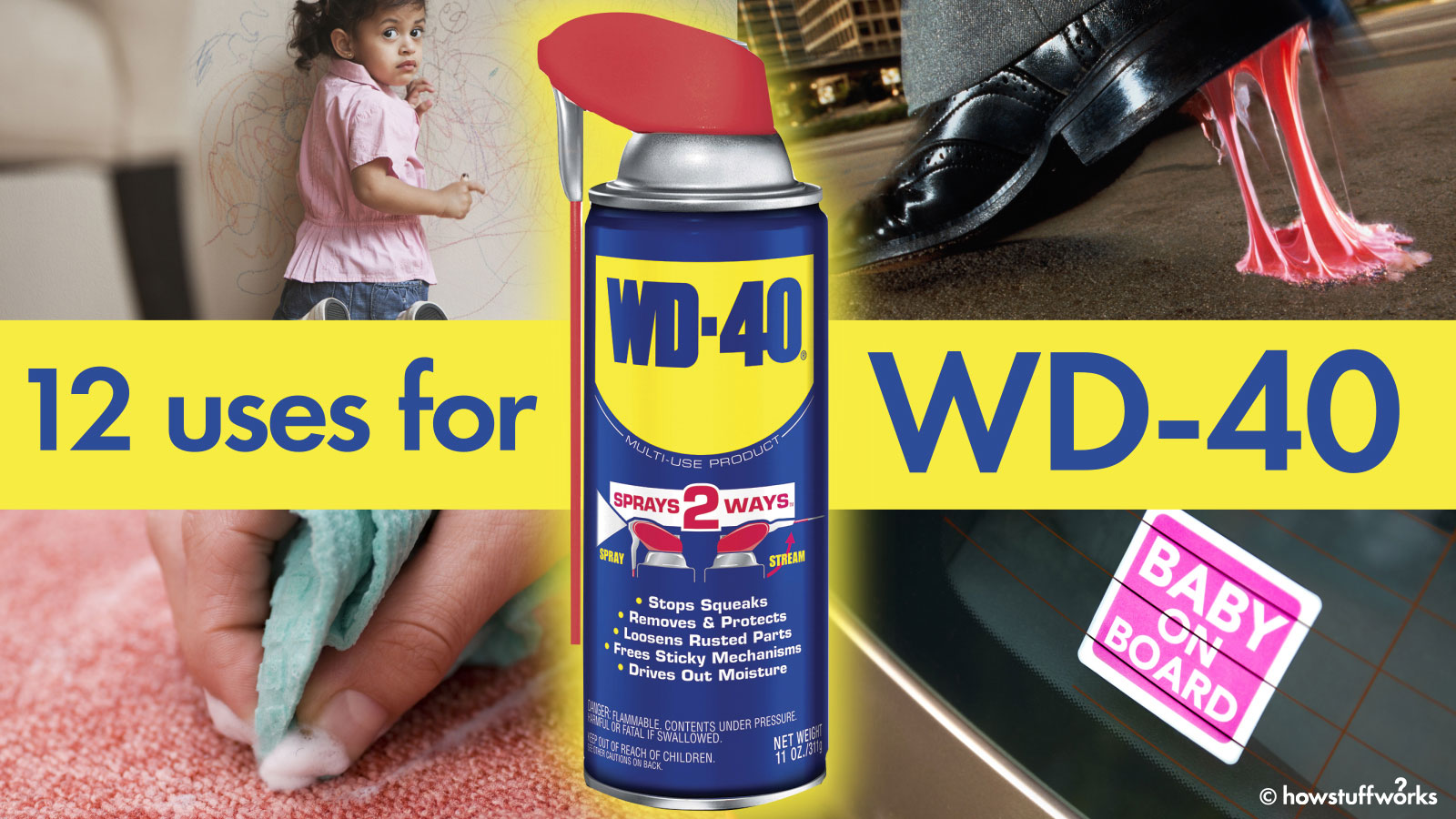 Up Next
There are thousands of reported uses for WD-40, an aerosol lubricant that's as handy as duct tape. We look at 12 of the more creative ones we've found.
---